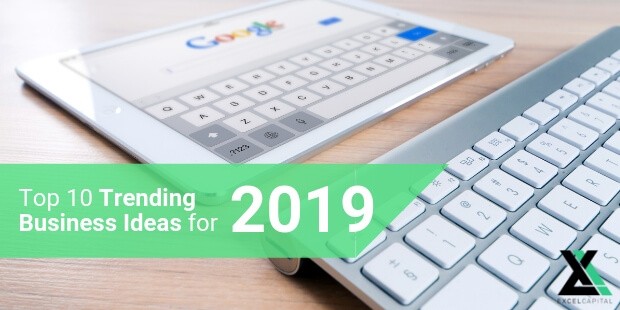 What are the top trending business ideas for 2019?
There are countless developing industries and ripe new business spaces developing throughout the world. However, as the Internet matures, certain industries, skillsets, and spaces stand out above others as unique opportunities based on one or more factors.
As is the overarching trend in the 21st Century, most of the business ideas below can be home-based and many can even be started with little startup capital.
Here are the top 10 trending business ideas for 2019.
1. Skill trade
In an unexpected 21st Century resurgence, many of what were rare and obscure trade skills are now not only profitable but their goods desirable.
Sites like Etsy and Amazon have made it possible to take a trade skill and build a successful business around it:
Here are some examples of skills which are now in demand:
Carpentry
Woodworking
Welding and metalworking
Construction
Masonry
What's better than being able to create a business around a trade you have a passion in while being your own boss at the same time?
2. Software development
According to the U.S. Bureau of Labor Statistics, demand for software development will increase by 17% annually until at least 2023.
Considering it's one of the most in-demand skills, that makes any business attached to software development and engineering a great choice for the foreseeable future.
Examples include:
Software development and engineering
Network engineering
Hardware or software technician
If you already have experience as a software developer or engineer you can start your own company and begin offering your services on sites like UpWork.com as a freelancer while growing your client base and expanding your team:
With countless skills and services relevant to software development being in high demand for the foreseeable future, and the high rates those services command, software development and related fields are not only one of the safest bets out there but one of the most profitable.
3. Subscription box services
In 2018, subscription box services exploded in popularity. Amazon even began offering subscription boxes and marketing them prominently:
A business model rather than a particular industry, many businesses can make use of the subscription box model, and even be entirely based on a subscription box model, to create a more secure, recurring income that the business might otherwise not have.
Here are some example product categories that make for great subscription boxes:
Makeup and other beauty products
Pet
Toys and collectibles
Food
4. Amazon FBA
The largest online retailer in the world is growing faster than ever and they're giving you the chance to get in on a piece of that pie through their Amazon Seller program:
On Amazon, you can sell an original product or inventory of products which Amazon already has listed.
In addition, while you can pack and ship orders yourself, by opting in to Amazon's Fulfillment-by-Amazon (FBA) program, Amazon will take care of shipping, packing, and returns for you for a small fee. This makes the process of selling on Amazon surprisingly simple and straightforward.
5. Virtual reality
While many industries have yet to feel the effects of virtual reality (VR) technology, experts believe that virtual reality will become a primary form of communication in the near future, making this a potentially highly lucrative business to get a foothold in before it explodes.
In fact, according to a report from Statista, by 2020 the global VR industry will exceed $40 billion.
Because VR is expected to change so many aspects of communication and entertainment, there are a nearly endless amount of businesses which can and likely will spawn from the use of VR tech.
Some of these include:
Digital tools for social and business communications
VR workplace training programs
VR product showcases
Platforms for VR education
Theatres for VR films
VR gaming software and hardware
Apps which utilize VR tech for a variety of uses including wardrobe fitting, meditation, gaming, communication, sightseeing (VR travel)
The possibilities are nearly endless and not all businesses based on VR tech need to know how it works. As more companies develop their VR tech that tech will be made more readily available and easier to afford for businesses who want to use it (such as in the case of apps).
6. Online education and consulting
Have something you're great at? Someone else might be interested in learning what you know or paying you for your advice.
Online education has become a hugely profitable space and isn't slowing down anytime soon. According to Stratistics MRC, the online education market has now grown to over $165 billion and will continue to grow to a projected $275 billion by 2022.
Sites like Udemy and Teachable allow you to take what you know and build a course around it, making money from teaching what you're good at.
And if that doesn't interest you, consulting is another booming space that is worth looking into.
For a fee, companies and individuals may pay you for your advice on a variety of topics, assuming you have experience and a track record of results.
Common consulting-related industries include:
Health and fitness
Business and marketing
Branding
7. Senior care services
The first baby boomer hit retirement age in 2011. From then and until the end of the next decade in 2030, the remaining baby boomers will all enter retirement, who make up an astounding ¼ of the entire U.S. population.
According to a survey by the American Association of Retired Persons (AARP), 90% of seniors plan to continue living at home well into retirement as opposed to living in assisted living centers.
That might sound like wishful thinking, but baby boomers are much more well-off financially compared to previous generations. Plus, when you consider the number of seniors who suffer from a variety of health and mobility-related conditions, the opportunity of senior care services becomes clear.
8. Home renovations
If construction is your forte, home renovations and remodeling is a niche that is worth looking into.
Home renovations are slated to boom due to the increasing number of retiring baby boomers. In addition to this, if you've ever been in a position where you needed a renovator, you'd know that finding a good one is difficult and they often keep booked schedules, so getting the one you want when you want them is tough. This means the space is always open for new talent to swoop up those extra clients.
The only difficulty with construction-related businesses is the need for startup capital. Fortunately, you don't need much for home renovations and obtaining a construction business loan to get you off the ground is easier than ever.
9. Food trucks
Food trucks have enjoyed a hot streak for more than a decade now.
What once seemed like a food lover's fad that was destined the sputter out has now been cemented as a natural development of the food and restaurant industry that is here to stay.
Food trucks are great for a few reasons, the most important being that they allow aspiring restaurateurs the chance to start their own food joint without the heavy investment.
Food trucks, by comparison, typically require $50,000 including supplies, as opposed to the $275,000 which the average restaurant requires, and this cost can quickly rise:
If you're lucky enough to be able to secure a business loan for your restaurant, congratulations. However, most young chefs and home cooks who have dreams of opening their own restaurant don't have the resources necessary to generate that amount of capital.
Plus, by building a successful food truck business, you're far more likely to be able to acquire investors who see what you're doing and are willing to invest in you venturing from food truck to bonafide restaurant (after all, you now have a customer base and a proven menu), making it the perfect first step towards starting your own restaurant.
10. Social media management
What was once a collection of familiar advertising strategies business owners could use to market their business has now become an entirely foreign landscape which requires different strategies and a new set of skills.
The Internet era has brought a lot of wonderful things to the world. However, it's also left many businesses in the dust of newer, younger organizations with team members who grew up in the social media era.
Countless businesses aren't taking full advantage of their social media potential, even a decade after the Facebook era began. This has created an incredible opportunity for anyone looking to learn social media marketing and management and offer those services to small businesses.
The world is changing quickly, but the opportunities are ripe
As new technologies are developed that look to change the way we work and communicate, new opportunities and trends will continue to develop.
Fortunately, while challenges exist, so do opportunities for you as a business owner to take something you're great at or have a passion for and build a business around it.