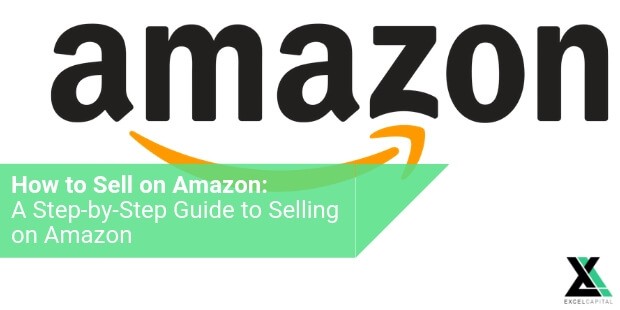 Want to know how to sell stuff on Amazon?
Nowadays, everyone's trying to get in on the opportunity to gain exposure for their business on the world's largest retailer.
In 2018, Amazon reported over $11 billion in profit, their greatest number to date. As still the sole standing behemoth in the Internet retail space and growing rapidly, any business that sells a physical product who isn't on Amazon is likely to be left behind over the coming years (if they haven't been greatly affected already).
If you're an established business with a proven product, you're in the best position to make the most from selling on Amazon.
All you need to do get started on Amazon is set up your Amazon Seller Central account, put up your listings, and learn how to market and fulfill orders and you're good to go. And that's exactly what we're going to help you with today.
In this guide, you'll learn:
How to create an Amazon Seller account

How to list your products on Amazon

How to market and get paid
Including bonus sections where you'll learn how to get funding for your Amazon store as well as tips for selling on Amazon.
So, if you're interested to learn how to make money on Amazon by listing your products, you've come to the right place.
Let's get started!
How to Sell on Amazon: A Step-by-Step Guide
In this section, we'll take you through everything you need to know to sell on Amazon.
This includes three primary steps with several sub-steps:
Step 1: How to create an Amazon Seller account: We'll talk about setting up your Amazon Seller Central account and your Amazon Seller profile.
Step 2: How to list your products on Amazon: Here we'll show you how to get your listings up plus help you choose how to fulfill orders by comparing Amazon's FBA program vs. merchant fulfillment.
Step 3: How to market your product and get paid: Here we'll break down everything you need to know to maximize your earnings from Amazon including advertising with Amazon and getting paid.
First, let's start by creating your Amazon Seller account so you can get access to Amazon Seller Central. Once there, we'll walk you through listing your products.
Step 1: How to create an Amazon Seller account
Selling on Amazon can be a time-consuming process, though well worth it. However, setting up an Amazon Seller account takes only a few minutes.
Start by heading to the Amazon Seller Services website here and click on "Start Selling":
Once there, you'll be asked to fill in some basic information including your:
Business name and address

Phone number

Credit card

Bank account

And tax information
Begin here by entering your legal business name and fill in the abovementioned information on the proceeding pages:
Once sign up is complete, you'll be asked to complete your Amazon Seller profile.
Set up your Amazon Seller profile
Your Amazon Seller profiles both current and potential customers a place to access information about your business including your:
Business description

Shipping, return, and refund policy

And provide feedback
Make sure to fill in as much information as possible. More than just being thorough, a full-fleshed out Seller profile looks more professional than a profile page with very little information.
Once all information has been entered, you'll now have access to Amazon Seller Central and be able to list your products.
Step 2: How to list your products
Now in Seller Central, it's time to start adding your products information. Once you've done that, all that's required before your products show up on Amazon.com is to submit the listings for Amazon's approval.
Listing your products with Amazon is pretty straightforward. If the product is already located on Amazon.com (if you sell office supplies, for instance), you'll only need to upload a few basic pieces of information such as inventory and the condition the product is in.
For most Amazon sellers, you'll likely be creating a new listing. In which case, there are a few pieces of information you'll need to add/upload:
UPC number: This is a unique identifier typically used by retailers to track inventory.
SKU: The SKU is a unique number you create to identify each individual listings.
Product title: Here you'll decide what you want your product to be titled. This is how your product will be titled on Amazon.com when customers search and view your listing.
Product description: Amazon offers several sections for product description including one section that appears at the top of every Amazon listing as bullet points:
And another area further below that for a larger section of text:
Product images: High-quality images and, if possible, video are essential for a quality Amazon listing.
Amazon search terms: These terms are specific to Amazon's search function and will help increase your exposure when visitors search for a relevant product. It's suggested that you test relevant search terms out in Amazon's search bar first to find terms with the most relevant product listings.
Alternatively, if you already have products listed on an ecommerce site such as Shopify and rather not have to retype much of the information you already have there, you can link that account and pull in several pieces of information including your product descriptions automatically.
Once you're done filling in all relevant information and submitting, it may take up to 24 hours for the upload to process. But, once done, your listing will be live and you can view it in all its glory!
In addition, if there's anything not to your liking on your listing page, provided it's your own unique product, you're able to edit your listing information at any time.
Choosing how to fulfill orders: Amazon FBA vs. Merchant fulfillment
Arguably the most important decision you'll make when setting your products up on Amazon is deciding how to fulfill your orders.
Fortunately, for most business owners, it's an easy decision that requires the least amount of effort from you compared to much of the rest of the work involved in getting set up.
There are two ways you can fulfill orders with Amazon:
Amazon FBA: FBA, or "Fulfillment by Amazon" is the ideal option for most vendors. Amazon retains stock of your products in its warehouses and will automatically fulfill orders when they arrive. All you have to do is ship the product to Amazon and handle post-order tasks such as managing reviews, returns, etc.
Amazon FBM: FBM, or "Fulfillment by Merchant" requires you to fulfill orders when they're received. Essentially, you're doing everything you're used to when shipping orders to a customer outside Amazon but with a few more requirements in terms of packaging and other options.
When it comes to deciding which fulfillment system you use, for most sellers it's a no-brainer. Merchant fulfillment has some benefits, most notably the fact that you keep more of the profit by not having to pay fees associated with Amazon's FBA program.
In addition, you can more easily slip in flyers and discount codes to try and get customers coming back. This is something you can do through the FBA program as well, but depending on your product that may be more difficult or impossible. These two benefits, combined, make FBM a good choice for small businesses or those who already have a very small profit margin (however, as we'll talk about in a moment, FBM can cost you sales).
However, the benefits of Fulfillment by Merchant essentially stop there. FBA is preferred by most sellers because Amazon takes much of the work off your hands, which you can use to turn around and invest in more marketing or something else worthwhile.
How Amazon FBA works
The process with Amazon's FBA program works as follows. First, your part of the process involves just two steps:
Pack your items using Amazon's packing guidelines: Multiple copies of a single product can be packed together, you simply must notate the quantity when packing based on Amazon's guidelines.

Ship the items to Amazon's designated warehouse: These will be provided in the shipping guidelines.
Once your part is done and the product has arrived in Amazon's warehouse, Amazon takes over. They will:
Check your shipment and activate your product so that it's now available for sale on Amazon.com.

Store your product in their warehouse

Ship orders as they're submitted using the product in stock

Process a payment to you based on your collective Amazon sales every 2 weeks
To summarize, with Amazon's FBA program they not only activate your product but store your inventory and ship your orders, both of which can save you a considerable amount of time and money.
However, another benefit of Amazon's FBA program is the increased Prime availability they offer all products which you fulfill through FBA.
Amazon wants to control their shipping process, which allows them to maintain their stellar customer satisfaction levels. By shipping your product themselves they're able to do this, hence why they offer such a big incentive to use the FBA program versus fulfilling orders yourself.
Because so many of Amazon's customers opt for the free 2-day shipping made available to Prime members, this benefit can lead to a great increase in sales which can outweigh Amazon's FBA program fees.
Amazon FBA pricing
While Amazon's FBA program has many benefits, there are also fees attached to the program which Amazon collects in exchange for 1) storing your inventory and 2) shipping your orders.
Monthly inventory fees: The first of two major types of fees, Amazon will charge you to keep your inventory in their warehouse.
Amazon fulfillment fees: Amazon fulfillment fees are also charged based on the weight of your product for everything attached to fulfillment including packing, shipping, and customer service inquiries.
However, it's important to note that there are other general fees associated with selling on Amazon which all sellers must pay, whether using Amazon's FBA or FBM fulfillment program. These fees include a listing fee and subscription fee if you're signed up for Amazon Pro.
To know exactly how these fees break down, all you have to do is review your seller's report after making a sale. With that, you can add your cost to advertise, calculate your profit margin, and adjust from there. We'll talk more about that in the next section.
Step 3: How to market your product and get paid
Now that your products are live on Amazon.com, it's time for the real work: marketing and maximizing your profit.
Amazon is a huge site with a ton of traffic, but that potential for massive sales also comes with a ton of competition. And because of the heavy competition you face selling on Amazon, you need to be smart about how you market your product.
Most importantly, don't just expect your product to sell because it's on Amazon. It doesn't work that way. Without a quality listing and the proper marketing, your product will get drowned out among a million other listings that outperform yours.
However, with the proper marketing, selling on Amazon can be extremely worthwhile.
Market your products
Marketing your products on Amazon and generating sales comes down to 3 major points:
Creating a quality listing that converts

Generating customer reviews

Using quality, frequently tested and optimized ads

(Long-term) building an email list
There are several sub-points and strategies that can help you sell better on Amazon, however, when it comes down to it these are the cornerstones.
A quality listing that converts
Without a quality listing, all the advertising dollars and general listing exposure in the world aren't worth much.
Amazon has already worked endlessly to create a well-structured page that convinces people to buy. However, you need quality conversion-minded copywriting and great photos (and video, ideally) to maximize your conversion rate and stand out among your competition.
Ample customer reviews
Before you freak out, know that you don't need a million reviews to compete against other brands.
If another brand has several hundred or thousand reviews, it helps, but all you need to really get rolling and start competing is a few reviews with a preferably 4 ½ star average (preferably, 10 or more).
Getting reviews for your listings can be a slow process. However, if your product is of a high quality and you commit to great customer service, you'll begin to gather steam in time.
Keep in mind that Amazon's sellers policy is constantly changing (and they're very serious about enforcing it), so it's important to check Amazon's documentation if you're unsure whether a method for getting reviews is against their TOS.
Optimized ads
Advertising is more important than ever on Amazon. With recent changes to critical "suggestion" (AKA "also bot") sections being changed to new advertising real estate, Amazon is more pay-to-win than ever.
However, this can be a great opportunity for you as a new Amazon seller because this gives you the chance to compete sooner, provided you're willing to invest in advertising with Amazon.  
Amazon's advertising program is vast. There are banner ads at the top of most searches:
Banner ads within search listings themselves:
In addition to this, on product pages there are now several places you can advertise, giving you the chance to pay to be featured prominently on the product pages of your competitors, similar products, or products which are frequently bought along with your product.
One example is just below your bullet-point description near the top of the listing:
Another is in the right sidebar of every listing:
And another which was previously populated using an Amazon algorithm that showed you similar products you'd like is now strictly sponsored advertisements as well:
As with Facebook, YouTube, and Google advertising, the only way to find out what works best is to test your ads regularly and consistently optimize. However, by investing time into advertising effectively on Amazon, you can greatly increase your sales.
In fact, nowadays it's very difficult to get your sales ranking up to page one (where the best-selling products are and, therefore, where you want to get to) without advertising, making it all the more important.
Building an email list
Speak with any major seller on Amazon (particularly small businesses), and they'll tell you that building an email list is the single most important thing you can do to increase your Amazon sales long-term.
As noted, this is a very long-term strategy. However, to have a group of current and previous customers which you can market to on a regular basis through an intimate format such as email can't be beat in terms of revenue vs. work invested.
Additional strategies and marketing points
By no means is this all you can do to increase your sales on Amazon. However, these are the evergreen, major areas you need to invest the majority of your time into.
For example, many brands like to launch their products with a bang to trigger Amazon's algorithms and quickly bump their product up to the first page within days.
However, the strategies which allow you to do this are constantly having to be modified as Amazon alters its policies and how it operates, so take that with a grain of salt and be careful about doing anything that could put you at risk of violating Amazon's TOS.
How to price your product effectively
Now that you have a better idea of what it takes to get started and successfully launch your products on Amazon, it's time to make sure you're priced effectively. 
There are a lot of tools online which you can use to compare prices across different products, however, they're not required. All you need to make sure you're pricing your product properly is to do a quick search directly on Amazon.
First, compare prices across the entire first page of your product and jot them down. This is a search for manila file folders, letter size, 100-packs:
Depending on your product, you'll have a mix of premium and lesser-known brands and low and high price points. Generally, lower price-point items will sell faster while higher price-point items will sell slower.
Across the first page of the above search, there were price points from roughly $10 to $30 for the exact same item (give or take differences in quality between brands).
Typically, it's better to start at a higher price point so you can maximize profit as opposed to thinking you have to put the price at rock bottom from the get-go just to be competitive. That might be the case depending on competition and the product, but start high first and test your results.
It's more about a quality listing and great advertising than a low price, so if you've got those two boxes checked off and you're generating reviews, you can still sell with a higher price point and come away with a much higher profit margin.
Review your profit margin
Because selling on Amazon incurs additional fees you don't typically have to pay when selling something in-store or on your business's site, it's important to review your profit margin and continuously work to widen that margin.
There are two primary ways you can maximize your profit margin:
Optimize your advertising to reduce cost while maintaining or increasing results

Reduce the cost to produce the merchandise
The likelihood is, you're constantly working to reduce the cost of production. So maximizing profit typically comes down to reducing ad spend.
This can be done by continuously optimizing your ads over time. Given enough time, it's common to be able to reduce the CPA (cost per ad) while at the same time increasing results.
To review your current cost breakdown and calculate your profit margin on Amazon, use Amazon's Seller dashboard or, similarly, the Amazon Seller app. By reviewing your individual product sales, you can see your entire cost breakdown. Add in your production cost and you've got your profit margin.
Get paid
Getting paid with Amazon is easy. Amazon will process an ACH payment on a bi-weekly basis automatically. Nothing is required on your end.
However, for those who prefer or need more frequent payments, there are services which offer daily or weekly payouts in exchange for a fee for added flexibility, such as Payability:
Payability collects a 2% fee based on your Amazon sales in exchange for expediting your bi-weekly payouts to daily transfers. There are no additional fees or repayment terms attached to the service.
The only conditions required for being approved for Paybility and other similar services is 90 or more days of history selling on Amazon and more than $2,000 monthly revenue.
Amazon Seller fees
We talked about Amazon FBA fees and calculating your profit margin earlier.
If you've already reviewed your detailed product sales reports, you're likely already aware of most or all of the fees listed below.
However, they're important to take into consideration when calculating what you'll be taking home.
The basic (Non-FBA) Amazon Seller fees are as follows:
Monthly seller fee: This fee varies depending on if you're on the Pro plan or the basic individual seller plan. For Pro plan owners, you pay $39.99 per month. For basic plan owners you pay $0.99 per sale.

Monthly storage fee: Each month you'll be charged a nominal fee based on the inventory Amazon holds for you in their warehouse(s).

Pick and pack fee: This is the fee Amazon charges for them to pack your product and ship them to your customers.

Referral fee: Generally the largest of Amazon's fees charged in exchange for levying Amazon's customer base, this is typically 15% or less of the product sales price.

Return processing fee: A fee charged to sellers in exchange for Amazon processing order returns.
Most of the above fees are nominal, however, they can add up. Despite this, the sales potential that Amazon affords more than makes up for the cut they take in your profit.
How to get funding for your Amazon store
Selling on Amazon requires you maintain a consistent stock of inventory.
Worst case scenario, you get stuck without inventory and not only miss out on sales but your sales rank which you've worked so hard to build up gets hit in the process.
Fortunately, there are several options available which can serve as useful back ups in case you're ever low on inventory and won't get paid quickly enough to purchase more before running dry, including Amazon's own Amazon Lending program.
Amazon Lending
Established in 2011, Amazon Lending offers loans to Amazon sellers for as little as $1,000 and as much as $800,000 with competitive interest rates based on your sales volume and repayment term.
The only downside to the program is that it's by invitation only. You'll know if you're eligible for the program when you receive a message in your Amazon Sellers inbox like this:
With Amazon Lending, the funds you receive can only be used to purchase inventory which you'll sell on Amazon. They cannot be used for any other business expense or purpose.
However, if that's what you're in need of, and you have enough history and sales volume on Amazon to receive an invite, it may be the ideal funding method when you need capital to produce inventory.
Alternative lending options
I know what you're thinking: what if you've just started on Amazon and haven't received an invitation to Amazon Lending?
Even if you have an established business history, you won't be able to use Amazon Lending, so you'll need to look elsewhere when you need funds to cover inventory expenses, whether due to seasonality, an unexpected spike in sales, or any other reason.
Here are a few alternative financing options that are ideal for product-centric businesses needing access to funds for inventory expenses:
Business line of credit
If you have a recurring need for capital for a reason such as seasonality, a business line of credit may be the perfect solution.
With a business line of credit, you get access to a continuous pool of credit which you can tap into any time you need it, assuming you pay off what you borrow.
Learn more about business lines of credit here.
Short and medium-term loans
Short and medium-term loans are very much like a traditional loan: you receive a lump sum and pay that sum back with interest, with the only difference being whether the repayment term is 3 months to 2 years (short-term) or up to 5 years (medium-term).
Short and medium-term loans are ideal if your need for funding is not recurring such as due to a sudden influx or spike in sales from an increased product ranking or high-profile exposure.
Learn more about term loans here.
Tips for Selling on Amazon
Amazon might be a profitable platform for most business owners, however, it also takes a lot of work to make the most of your time and marketing dollars spent as well.
That's why we've provided a few tips below to help get you started:
1. Keep up on the latest trends and changes
Setting up an account on Amazon takes patience (but can be handsomely rewarded). However, even more patience is needed to keep up with the frequent changes that Amazon makes to its platform as a whole.
Amazon is constantly refining its system, to the point of frustration for many of its sellers. They change how sales pages are structured, how marketing works (they recently revamped how ads work and where they appear in the most recent shakeup), and what they require of its FBA merchants.
However, investing the time to keep up with these changes is almost always worth it. Amazon only continues to grow and shows no sign of slowing down, making your efforts to sell on Amazon more valuable over time.
2. Experiment, experiment, experiment
Amazon provides a ton of great features to its merchants as part of is Amazon Sellers program. This, in conjunction with the complexity of the platform, means you're rewarded for frequent experimentation.
Things you can experiment with include:
Listing copy and descriptions

Product pricing

Imagery and video

Ad price, location, copy, and imagery

Review generation strategies
Make sure you're not only experimenting frequently but keeping tabs on what works, what doesn't, what has worked for other currently successful Amazon sellers, and what future improvements you might be able to make based on all this.
3. Provide "Wow" customer service to maximize the power of reviews
Warren Buffett himself has said that providing the kind of memorable experience that your customers can simply describe as "Wow" is one of the major keys to business success.
When selling on Amazon, you have the opportunity to generate feedback and reviews from buyers. A lot of it will be positive and some of it will be positive. No matter what the feedback, you need to have a system in place that both generates customer reviews and handles negative reviews during the rare occasion that you review them.
For most sellers, this means following up with customers a week or two after purchasing. Amazon does this automatically, however, these automated emails are typically ignored by buyers who are used to seeing them in their inbox.
Many suggestions for dealing with negative feedback exist, but one of the best is simply to respond to that negative feedback or review immediately and offer a resolution based on what they state the problem is.
Representing your brand on Amazon is critical for business success
On the Internet, websites act as real estate and digital retailers as something akin to major malls or department stores. By comparison, if Amazon were a department store, it would probably take up a space equivalent to a small state– and it's getting bigger.
Learning how to represent your brand and make money on Amazon is critical if you hope to be successful moving into the future. We hope this guide serves you in helping get your Amazon presence off the ground and doing just that.