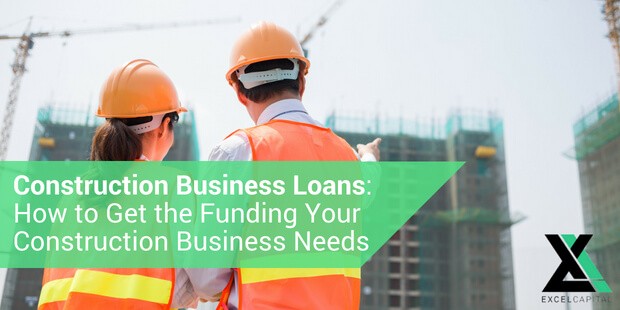 As a contractor, you know that obtaining construction business loans when you need it motheir local bank. Soon to find out that with out pledging collateral banks will more often not decline a construction business loan. 
However,  in the event that collateral and stellar business credit are present the application and approval process for a construction business loan can be very long and tedious. With underwriting times often taking as long as  3 months.  When it comes to lending to contractors we understand how it can be frustrating to get approved for funding. 
*For more information on common reasons why your business loan application might be declined, read: 3 Reasons Why Business Loan Applications Get Declined By Traditional Lenders and Alternative Financing Solutions.
But there's good news– there are now many alternative non-bank lending options available when it comes down to lending for contractors which can be used to obtain the funding your construction business needs, whether it be for:
New equipment
materials purchases for an upcoming Job
Payroll costs and new hires
Paying bills
Bidding on new jobs
Past due business taxes
Past Due Invoices
Whatever you need funding for, there are alternative lending options available to you which can get you the funds your construction business needs.
At Excel we have over a 90% approval rate when it comes down to lending to contractors since we have a specialty platform dedicated to underwriting construction business loans. 
Construction business loans options
So, what are your options?
Well, you've got a lot. And it all comes down to what you need the funds for.
As mentioned above, no matter what you need funding for, there are several options available for you. However, some loan options are designed for specific needs while others are more general.
Equipment Financing
Equipment financing is used to help you purchase whatever equipment your business needs to run smoothly.
The loan amount is dependent upon the type of equipment needed, as the repayment term is usually as long as the expected life of the piece of equipment.
Invoice Factoring
Invoice factoring is used for short-term cash flow issues, especially when your business doesn't qualify for a traditional bank loan or any other alternative solution.
The lender will factor your business' customer's invoices to match your working capital needs.
Split Funding or Merchant Cash Advance
Split funding, or a merchant cash advance, is a loan based on a purchase of your future credit card sales at a discount.
Payments are collected at a set percentage of your credit card sales, which is nice because that means when business is down– so are your payments. And when there is no business– no percentage.
For that reason, this method really helps during a particularly volatile market or rough patch in your construction business.
Term Loans
Our fourth construction business loan option, term loans have a set repayment schedule and interest rate and mature between 1 to 10 years depending on the term of the loan.
However, keep in mind that this type of loan requires financial statements as well as 2 years of business history and one filed tax return.
ACH Loan
And ACH loan has a fixed repayment schedule of daily, weekly, or monthly and requires a fixed payment plan. Depending on the lender and the health of your business, a personal guarantee may be required. These are often called unsecured business loans
Business Lines of Credit
A business line of credit is a rotating line of credit which you can dip into whenever the business needs it most.
Similar to a credit card, so long as you pay off your balance you can continue to use that line of credit continuously. Interest is then only paid off the amount that is used.
Asset-based Lending
Lastly, with asset-based lending, the assets of a business, such as inventory, accounts receivable, and other balance-sheet assets are used as collateral.
Plus, because this financing type is secured with collateral, interest rates tend to be low. Having applicable collateral also makes an asset-based loan easier to obtain.
What do I need to obtain a construction business loan?
Although alternative lender's guidelines are not as strict as traditional bank and lending institution guidelines, they still take your credit score– and several other factors– into consideration when determining your eligibility.
For that reason, it's important to know what those critical factors are so you can put yourself in the best position to be presented with an approval.
These are the "4 C's of obtaining a business loan":
Collateral
Typically, collateral comes in the form of property or liquid assets which are offered as a form of insurance in case you ever can't pay the loan back. This is what people have come to be used to with bank loans, which are secured due to that collateral. Banks generally require collateral for construction business loans so be prepared.
However, alternative lenders are unsecured, meaning alternative lenders don't typically take collateral as security for the loan.
Most fintech, or alternative lending, products are only collateralized by your receivables and limited to business-related collateral, not personal.
Cash flow
The second 'C', cash flow is a critically important factor when applying for a loan.
Lenders like to see a healthy average ledger balance in the business account. And, if there are many returned or insufficient items in the account, lenders will often be reluctant to extend credit.
Capacity
Capacity refers to a track record of being able (or not) to make the revenue needed to pay back your loans.
This can be in the form of copies of contract invoices or a copy of your accounts receivable report.
Character
Lastly, the final 'C' character is determined by taking a look at the borrower's personal credit history.
Some of the factors taken into account here are your total debt, delinquent accounts, available credit, and whether you're making payments on time.
Keep in mind that even if you don't satisfy each of the above factors, there are several other factors which alternative lenders take into consideration during the approval process.
But this is just one of the many benefits of alternative lending.
Why alternative lending?
In recent years, the way that banks lend money has changed.
It's now far harder to obtain construction business loans than it ever was before and the application and approval process is tedious and time wasting.
However, now alternative lenders have afforded business owners and contractors the chance to get the funding their business needs without having to jump through insane (and, frankly, outdated) hoops to get it.
Alternative lenders us more sophisticated algorithms for deciding the health of your business, taking into account much more than just your credit score (so don't worry if you don't have stellar credit), making it easier than ever to get the funding your construction business needs.
But the benefits of alternative lending don't stop there:
There's often no personal collateral or guarantee required
Minimum paperwork
Poor credit accepted
Repayment terms are flexible
Fast processing
No application fees
Builds your business credit
Funding in as little as 2 business days
How to obtain construction business loans
Ultimately, it's up to you to do your research and find out what your best options are.
It's your business and no one is going to look out for it like you will, so take the necessary steps to educate yourself and then take action to obtain the funding your business needs, whether that's to keep things afloat or to take things to a whole new level.
Whatever the case, don't let a lack of funding hold your business back from realizing it's potential.
To apply for a construction business loan with Excel Capital, only four things are required:
Four months of recent business bank statements
Four months of business credit card processing statements
A one-page application
And just a few minutes to get started
We've made the process simple and straightforward so you can get back to what is most important– running your business.
Once everything is received, you can be presented with an approval and funded in as little as one business day– that's right, just 24 hours.
Get the funding your contracting business needs by completing our short, 2-minute application.
We are experts in construction business loans – See the Excel difference for yourself.
Latest posts by Excel Capital (see all)