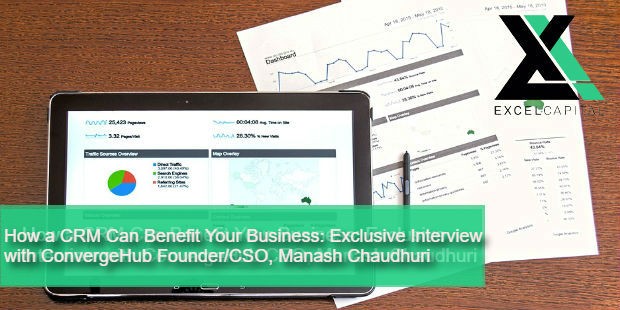 Using a great customer relationship management (CRM) is extremely beneficial when it comes to running your small business. Not only does this type of software help to analyze customer interactions and data, it is also a great tool for marketing, inter-office communication, and overall company improvement. Excel Capital Management sat down with ConvergeHub's Founder/CSO, Manash Chaudhuri to discuss their software and the benefits of using a CRM. Check out our exclusive interview below!
Excel Capital Mamagement: For business owners who may not be familiar, what exactly is a CRM?
Manash Chaudhuri: CRM is an acronym that stands for Customer Relationship Management, a technology, practice, or strategy designed to help businesses to perk up their interactions and relationships with potential and present customers. A CRM system also helps organizations to streamline business processes, stay connected to customers, and improve profitability. In general, when people talk about CRM, they usually refer to software, a tool that helps with contact management, sales and support management and more. A  CRM system helps us to focus our organization's relationships with individual peoples, which includes customers, colleagues, service users, or suppliers. It also helps in finding new customers, winning their businesses, provide customer support and other additional services throughout the relationship.
Here is an illustration of what a CRM is and what it can do for an organization:

ECM: What are the benefits of using a CRM system and what kinds of industries typically use them? Can business owners of all industry-types benefit from using the software?
MC: The primary benefit of implementing CRM system in an organization is that the software can help to provide a clear 360-degree view of your prospects and customers. Using a CRM platform, you can view everything in one place- a customizable, simple dashboard that can tell you customer's previous history with your organization, the past and present statuses of their orders, any outstanding customer issues, and more. A CRM can also help you to include information from your prospect and customer's public social media activities- their preferences and dislikes, what they are socially sharing or saying about your brand or your competitors. Marketing personals can use a CRM system to better understand their sales pipeline activities, which makes forecasting more accurate and simple. Using a CRM, you can find a clear visibility of every leads or opportunity, highlighting a clear path from inquiry to sales. Though CRM system has traditionally been only used as a sales and management tools, customer service is also seeing great benefits in using this software, which once embedded in your business DNA can even help HR and supply-chain-management in your company. Yes, all type of companies can benefit from using CRM, such as in market verticals namely – banking, consultants, customer support, law firms, finance, merchant funding, real estate, investment banking, healthcare, e-commerce, retail, insurance, professional services, and others.
ECM: When it comes to sales and marketing, why would you suggest business owners use a CRM rather than do everything manually or staying in communication via old-fashioned email?
MC: An active sales and marketing team can generate a deluge of data. Hence, more administration works mean less time for everything else in your company. Moreover, your reps can be out of the office talking to customers or for finding out valuable business information- but too often all these information gets stored in laptops, handwritten notes, or remains inside the heads of your sales and marketing teams. However this traditional way of retaining customer and business information can make details get lost, meeting not followed-up on time and prioritizing customers can be a matter of intricate speculations, rather than a conscientious exercise based on facts. Moreover, modern day customers may contact you over a broad range of platforms including emails, phones, or social media- asking questions about an issue or for following up on orders. Even, if you have successfully collected all these data, you may often face the challenge of making sense and extracting intelligence from this disparate information on diverse platforms. Reports can be hard to create and they can waste your sales and marketing team's valuable selling time. Managers in your sales and marketing team can also lose sight of what their teams are up to, which means that they cannot offer the right support at the right time. Hence, without a common platform for customer interaction like CRM software, customer information, details of their interactions and communications can get lost in the flood of information, leading to slow and unsatisfactory response, which is why CRM software in need for replacing the traditional method of doing everything manually or staying in communication via old-fashioned emails. To put it briefly, a good CRM system gathers information from a huge variety of sources. It gives you unprecedented insights to spot problems, improve what you offer and identify gaps in your marketing and sales processes, which cannot be performed by following legacy methods or in this world of social media just by staying in touch with your customers over email.
ECM: To get back to marketing, email marketing campaigns are a huge deal these days. Why might a business owner use a CRM, such as ConvergeHub, rather than a software such as MailChimp, which is typically used for this sort of thing?
CH: If just sending email-blasts are your key concern, then email automation software like MailChimp can serve up your purpose efficiently. However, if you are looking beyond that, for a next generation software that offers a comprehensive marketing, sales and service suit then nothing can replace ConvergeHub. MailChimp like most of the other Email marketing solution relies on email tracking and web analytics, however, when you have a prospect showing interest; all these softwares will then have to export the data and then import or manual enter the data into some form of Sales management system. This is where ConvergeHub brings a lot of value. ConvergeHub not only offers a complete Email marketing solution and it also has a very nice handshaking mechanism which seamlessly move your prospect data from Marketing to Sales by just click of a button. It is a huge time saver and it can deploy your DRIPs or customer behavior based segmentation or other related automation activities without missing a single moment. Therefore, while MailChimp offers just limited marketing automation with basic functionalities, ConvergeHub is more than just a newsletter and email marketing tool. ConvergeHub is a fully functional customer engagement platform and a reliable and far more innovative MailChimp alternative, which can also integrate email automation software like MailChimp within its scalable platform.  
ECM: Tell us a little bit about your company, ConvergeHub and what makes it a leader CRM systems.
CH: ConvergeHub is a powerful all-in-one cloud CRM software that combines Sales, Marketing, Customer Service, and Billing in one unified platform, which enables businesses to attract more prospects, win more deals, and build stronger customer relationships. ConvergeHub is a fully featured CRM and does not call for expensive add-ons. It is perfect for small to medium sized businesses that have the same software needs as large enterprises but do not have the additional budget to spend on multiple standalone software applications and their integration.
Some of the features that make ConvergeHub so special to owners of businesses include:
        

Sales Force Automation-SFA

        

Marketing Automation

        

Customer Service / Support / Case Management

        

Document Management and Collaboration

        

Partner Management

        

Project Management

        

Invoicing and Payments

        

Reports and Dashboards

        

Customizable Modules

        

Social CRM

        

Use of minimum mouse clicks
Finally, ConvergeHub CRM for SMB is also a price performance leader, which lets you create unlimited lead, contact, account, templates, automation, and you can ask for help anytime from our support team without worrying about additional cost.