In an Emergency, Business Loans Can Help You! Here's How!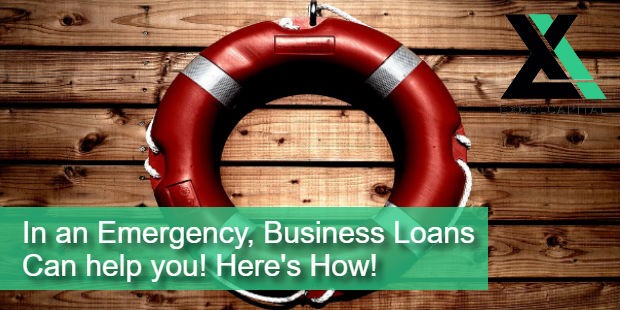 You can't control everything in life, and this is no different when it comes to your business. Whether large or small, emergencies happen, and when it comes to your company,  Emergency Business Loans may come to the rescue when a quick injection of working capital is needed.  
With alternative financing solutions, business owners avoid a long wait for an approval and have the ability to resolve any issues within 24 hours. Since we have funded over 1,000 clients we have had our fair share of emergency situations where merchants required a quick injection of capital due to an unforeseen circumstance. As a business owner, I am sure you know putting out fires is a big part of the job. Below, I have written a few scenarios that we've encountered over time where business owners needed Emergency Business Loans or other quick financing, and we were there to help!
A trucking company needing a loan due to a semi-trailer breaking down. Without a Quick Business Loan, the company would have had a severe cash flow crunch if they didn't get the truck back on the road the next day. Excel Capital Management was able to provide this trucking company with a Short-Term Loan in the amount of $55,000 (point to the page for this) in order to repair the big rig and get back on the road.
A general contractor came to Excel in need of a business loan to pay for materials to complete a house remodeling. Since most general contractors don't get paid until a job is completed, often times they must pay for all the required building materials out of pocket. We provided this general contractor with an Emergency Business Loan in the amount of $75,000 leaving him with capital to purchase his required materials for the current job, as well as additional capital left over to catch up on other bills and expenses.
An accounting firm lost their main administrator three weeks before tax time. Most accounting companies make majority of their revenue between January and April 15th. Due to the business seasonality, this firm had a revenue slow-down and and were depending on them to be able to provide their services in the busy season. This all occurred at the same time they received their main administrator's notice. We helped them receive an Unsecured Line of Credit in just two business days to assist with the hiring emergency.
An auto repair shop's car lift broke down leaving them with a need of $10,000 to buy and install a new one. Without the lift operating in the shop, the mechanics were on pace to lose up to $2,000 per day. Excel was able to provide them with a Split Funding solution for $11,500 within 24 hours of applying. The lift was installed the same week.
Lastly, most recently, Excel Capital Management client, Michelle Smith, owner of a popular Georgia convenience store encountered a financial hardship due to a severe thunderstorm. Unfortunately, high winds and rain caused bad structural damage to her store. As a result, Ms. Smith had to put all of her existing business capital into repairs and maintenance, thus, resulting in a late payments on bills and a lack of inventory purchases. Not having such a pretty appearance due to the construction, as well as understocked shelves, meant less customers, and ultimately less revenue. After doing some research online, Ms. Smith decided to apply for an Emergency Business Loan with Excel Capital Management. After supplying her funding specialist with a filled out application, four months of recent bank statements, and four months of recent credit card processing statements, as well as an explanation of her situation and why she needed additional working capital, Excel was able to approve her quickly. Ms. Smith was able to obtain an Emergency Business Loan of $75,000 just three days after initially applying!
We can go on and on, but as you can see, there's a time and place for everything. During certain situations, Emergency Business Loans are the right solution. Working capital acquired through a traditional lending channel can prove to be quite the lengthy and tiresome process. That said, often times, business owners receive an unfortunate decline after providing piles of paperwork and waiting weeks for a response. Traditional lenders have strict rules and guidelines, and usually, analyze all of your business history in order to make a decision. What makes obtaining Emergency Business Loans through an alternative finance solution provider, such as Excel Capital Management, different?
For starters, lenders that provide Emergency Business Loans typically take everything that makes up your business into play when presenting an approval and offer. These factors include your cash flow, business credit score, character, personal credit score, length of ownership, revenue, and for large funding rounds (over $100k) they can request tax returns and financial statements. While this sounds serious, it is actually beneficial. If you're lacking in one area, often times, the others will make up for it. Not being 100% up to par shouldn't mean an immediate decline. In addition, the paperwork requirements are simple. Generally, all an alternative lender that offers Emergency Business Loans needs is four months of recent business bank statements, four months of recent business credit card process statements, and a simple application. Additional documentation may be requested if needed, but typically and approval and funding can occur in as little as three business days! Emergencies are just that, emergencies and need to be handled with urgent care. Getting funded shouldn't be a lengthy, tedious process. You need to get your business back on track after all.
Why not go to the bank? 
Most traditional lenders can take weeks or months to get you approved for funding. With our Unsecured Business loans and lines of credit programs, we can have your business approved for an Emergency Business Loan as fast as 10 Minutes. 
Since we are leaders in the alternative lending market we have the ability to expedite your funding process and have business capital you need to put out an emergency in a timely fashion not after its too late.
Has your business fallen on tough times? Need access to additional capital quickly? Emergency Business Loans could be just the answer to put your business back on track for success! Call one of our funding specialists today at 877-880-8086 or APPLY NOW to learn what your business qualifies for!
When looking for funding you need to consider how the business funding will help and is the cost worth it. When faced with an emergency in your business ensuring a fast turn around time to resolve an immediate need is more important than saving a few points of the cost. Think about a typical business Emergency – Not being able to meet payroll for example –
How much of a loss will it be if you lose a valuable team member? An Emergency business loan can give your business the funding it needs to cover payroll and avoid losing key players on your team due to a simple cash flow disruption. 
Latest posts by Excel Capital (see all)