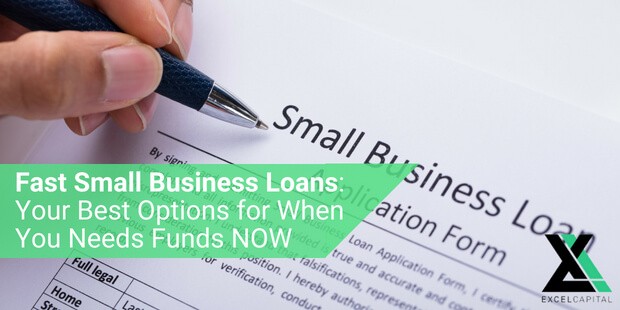 You've spent countless hours investing time and energy into your business.
You've done everything you could to prepare yourself for the future and the inevitable curveball.
However, there are some things you just can't plan for– good and bad– when it comes to owning a business.
Whether it's catching up on a bill or getting the funds you need to invest in new equipment when something breaks, a quick infusion of funds from fast small business loans can be just the thing you need to keep your business running smoothly.
Fortunately, the days of having one and only one lender you could go to (the bank) are long over.
Now, you have numerous options for getting the financing you need faster than has ever been possible, whether it's to keep things afloat or grow to new heights.
What can you use a fast business loan for?
If you need funds quickly, it's critical to understand what you can use fast small business loans for now so you can get the best loan for your business' needs.
Here are a few examples of the kinds of things you can use  fast small business loans for:
Unexpected issues
Business, like life, often hits you with one unexpected surprise after another.
Sometimes, it's less about pushing for growth and innovation and more about riding the current flow of things, maintaining a meandering path to success while you put out fires along the way.
For that reason, having access to fast business loans can be exactly what you need to keep things running smoothly. Giving you the flexibility to put out fires as they happen, not after they left a path of destruction that needs to be cleaned up.
Business Expenses
Many business owners don't know that several alternative loan types can be used for everyday expenses.
You don't need a special product launch or equipment purchase to get funds fast. If you just need it to stay afloat during a slow season, a fast small business loan could be just the thing.
Inventory and Equipment Purchases
New equipment can be one of the costliest purchases for a business at any stage, whether it's new computers, machines, or vehicles.
Acquiring working capital is one of the most common reasons for obtaining new equipment and inventory because it doesn't cut into your existing cash flow.
Plus, you can pay it off over time.
Expansion
Sometimes, you need capital to handle issues in the business.
Other times, business is great and you need capital just to keep up with growth, from opening a new location to building on a preexisting one.
A fast business loan can give you exactly what you need, when you need it, so you don't have to pass up on taking advantage of this growth phase.
New Hires and Employee Training
Similarly, during times of growth, it's common for business owners to be running low on cash, trying to keep up with demand.
However, if you're all tied up just trying to keep up with demand, you won't have the cash flow to invest in the new hires and employee training you need to handle that new demand over the long-term.
What are your Fast business loan options
In the past, your only option was to walk into the bank and hope they'd approve you for a loan.
However, nowadays, thanks to alternative lenders you now have a diverse collection of options available to you no matter what your need.
Here are several fast business loan options:
Unsecured business loans
An unsecured business loan does not require hard collateral, such as property or savings, hence why it's an unsecured loan (as in lenders take nothing to secure the loan's repayment).
However, it's important to keep in mind that because the loan isn't secured, interest rates tend to be higher.
Learn about unsecured business loans.
Business lines of credit
Business lines of credit offer a unique option if you need funds fast. As opposed to a single loan, a business line of credit– once approved– gives you recurring access to credit whenever you need it.
If your business is at all seasonal, this can be the perfect option to solve your short-term cash needs on a more consistent basis than getting a new loan every season.
Lines of credit don't require collateral, however, because they're not secured your credit score usually needs to be at least 540+.
Learn about business lines of credit.
Split funding / Merchant cash advance
Split, funding, or a merchant cash advance, is a lump sum which is then paid back by deducting a percentage of your daily credit card sales.
The advantage of split funding is in the nature of the repayment plan. When business is good, repaying the loan is easy. When business is down, the percentage-based nature of the repayment amount means your daily payment drops considerably and becomes easier to manage during those slow times.
Term loans
A term loan, either a short-term or medium-term loan, is straightforward: they're designed to fill a need based on their description, a short-term loan taking care of a short-term need and so on.
Term loans are perfect when you need one lump sum to take care of a single purchase quickly.
How to get approved for a fast business loan
So, you know the diverse range of uses for a fast small business loan and you know your numerous options.
But how can you give yourself the best chance for approval?
First, let's talk about what lenders look for when reviewing a loan application so you can be well-prepared when submitting your application.
What do lenders look for?
Here are the five primary factors that lenders look for when reviewing a loan application:
1. Credit score
As opposed to traditional banks, alternative lenders don't base approval strictly on your credit score.
Being approved for a business loan was once much more difficult. Even now, traditional lenders such as banks use an old system that only takes your credit score into consideration.
However, having said that, there are some important items which you need to consider with regards to your credit:
Bankruptcies

Foreclosures

Tax liens

Negative items (

NSF 

and overdraft)  in your bank statements
The above factors, while not disqualifying, will show negatively with lenders. Keep them in mind as you're putting your things in order and take care of whatever you can before you apply (if possible).
2. Annual revenue
How is your business' revenue? Up year-to-year or has it been more of a rollercoaster?
Your annual revenue is an important sign of a healthy business, so it's one of the more important factors to keep in mind.
3. Current debt obligation
Current debt obligation is important to lenders because they want to know how soon you'll pay off the loan– and how likely they are to get it back without a fuss.
Here are some things to keep in mind:
Do you already have a loan you're currently paying off?

Is there collateral involved?

Have you had a loan in the past? Did you pay it on time?

 
Most importantly, lenders want to know that they're not "second position", meaning they're second in place to be paid back.
4. Profitability
Beyond just revenue, lenders want to see how much your business is actually "bringing home" after you pay for all inventory costs, fees, marketing, payroll, and other expenses.
The reality is, you might have a large number of regular sales and a great looking annual revenue. However, if your profit margin is low and you're struggling to make your bills, that doesn't look good in the eyes of a lender.
It's important to keep in mind, however, that most business loan types under $100,000 do not require a review of your profitability.
5. Cash flow
Similar to annual revenue and profitability, cash flow shows what is coming into the business. However, far more than just money coming in, cash flow is a more exact indicator of how liquid you are and how much extra cash you have on hand.
Lenders want to see that you not only have money coming in but that you're being good with that money and have the habit of retaining extra funds for handling unexpected drops in business that could threaten your ability to pay the loan back.
What do I need to qualify for a fast small business loan?
Now that you know what lenders look for when reviewing your application and what you need to get in order to increase your chances of being approved, it's time to talk about what you need to qualify.
For the most part, this all depends on the type of loan you decide is best for you. Two loans may require different paperwork and minimum qualifications compared to one another.
If that all sounds confusing, don't let it overwhelm you.
When you submit your application, we'll guide you through the entire process step-by-step so you know what is required to qualify.
Having said that, there are some universal minimum qualifications to keep in mind.
For most loan types, these two basic requirements exist:
In business for 6+ months

And the business is in good standing

$10,000+ gross monthly revenue (for unsecured business loans)
Most of our loan options do not require:
Now that we've covered the basic qualification requirements, let's talk about the documents that will be required to apply.
What documents are needed to apply for a fast business loan?
Now that we have the basics covered for what you need in place to get approved what you'll need to apply, let's get your documents in order.
Lucky for you, the documentation requirements for alternative lenders loans is simple and straightforward compared to traditional bank loans.
First, a very short, simple application is required to get your information in the system and get you started.
For that, all you'll need is your last 3 months of business bank statements.
Once you've gotten that out of the way, it's important to keep in mind that one or more of these additional documents may be required after submitting your application:
Copy of photo identification (all owners)

Business license

Voided check

Proof of ownership

Property lease or landlord contact information along with last 3 month's rent checks
Try to have as many of these documents on hand before you apply so you can streamline the process as much as possible to reduce the time it takes to get an approval.
With that in mind, exactly how long does it take to get approved and have funds deposited into your account?
I need a fast business loan, how long does it take to get approved?
If you're reading this, chances are you don't just need a business loan– you need it fast.
Clearly, time is of the essence. So, exactly how long does it take to get approved?
Approval ultimately depends on how quickly you can provide the documents requested by the lender, as mentioned a moment ago.
However, in general, approval takes just 24-48 hours from the moment you submit your application.
And, once approved, it takes just 1-2 more days for the funds to be received into the account of your choice.
Take the right steps when applying for  fast business loans
With all the information you need to make a smart, informed decision at your fingertips, it's your turn to review the information and take the next step.
Follow these points when applying for a small business loan:
1. Identify your business' needs
The first and most important thing you need to do is take a long, hard look at your business and decide what you need.
Why are you applying for a loan? What will you use the funds for? What will that get you? And when will you pay it back?
Having a plan in place for both utilizing the funds and paying the loan back is critical for making the most of things on both ends.
So, take the time to sit down with key team members and review your answers to these questions.
2. Research the options that best fit that need
Now that you know your options from earlier and are aware of your business' needs after having reviewed the questions in point #1, it's time to research the options that best fit that need.
Based on the information listed earlier, which of the loan types is the best fit for you and your business?
Check different lenders, different loan types, and get a feel for what you believe is best for your business.
Remember, it's all about getting as much information as possible.
The more information, the better decision you can make for your business, which will help you make the most of the capital you receive to move your business forward.
3. Choose the best business loan option and apply
Once you're done reviewing your own situation and narrowing down the best loan options, it's time to take action and apply for a fast small business loan.
When applying with Excel, we'll go over all your options with you to make sure we can help you meet your business' needs.
If you're in need of a fast small business loan, there's no time to wait around.
You could get an approval decision in less than 24 hours, with funds available as soon as 24 hours after that, so you can get the working capital your business needs to keep moving forward without skipping a beat.
To see what you qualify for, simply complete our short one-page application by clicking here.
It's never been easier to get the funds your business needs, whether it's to buy new equipment, make new hires, pay bills, or expand into a new location.
So, Click here to complete our one-page application and see how much you're approved for today.
Latest posts by Excel Capital (see all)