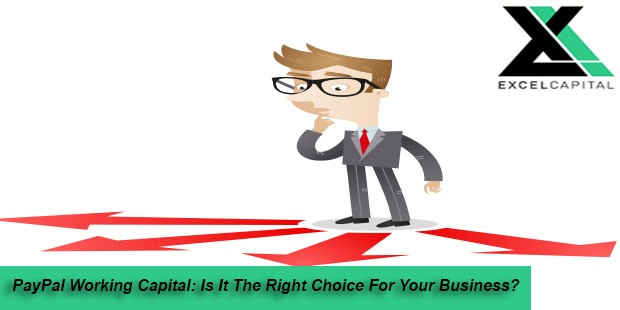 With the evolution of technology and way people shop and pay for goods and services many small business owners nowadays have to adjust to the electronic payment environment. With the launch of PayPal working capital it changed how historically Paypal was deemed an online business only form of accepting payments specifically, for e-commerce and eBay stores. This is now more of a misconception and according to a survey taken in December of 2016 by Statista.com 34 Percent of North American retailers are now accepting Paypal as a form of payment for their brick and mortar businesses. It should come as no surprise that since this high of a percent of retail business is taking Paypal at the physical stores there is an ever-increasing demand for Paypal working capital and other types of funding based on alternative payment cash flow. So you might be wondering, "How does paypal working capital work?" Well have broken down the whole process for you below so read on!
Percentage of Digital Payment Processing methods That American Retailers accept or plan to Accept as of December 2016 as of December 2016.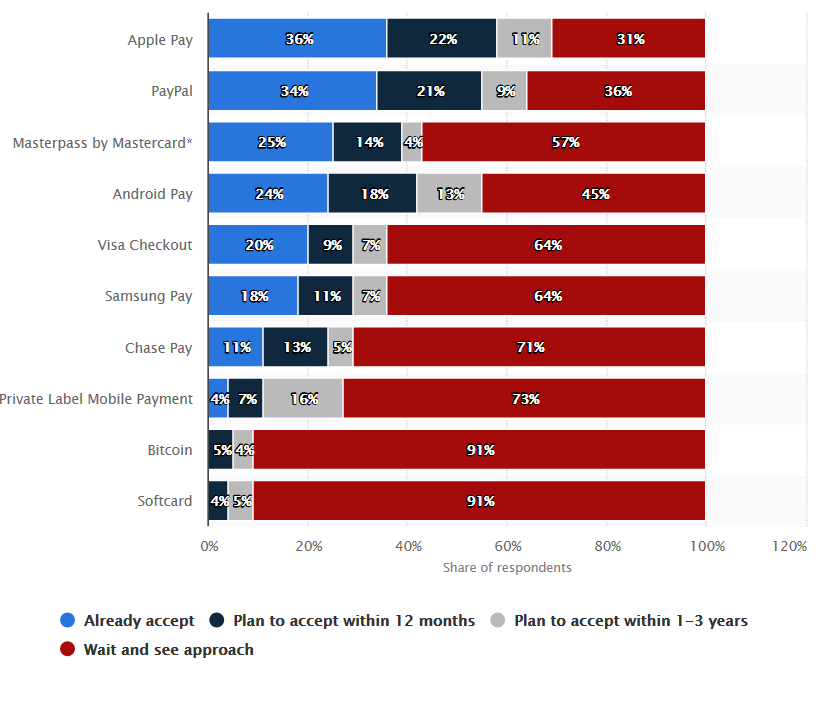 According to Debanked.com an alternative lending neutral media outlet Paypal funded over 1.5 Billion dollars in 2016 through the Paypal working capital program they offer. While that seems to be an unimaginable amount of most business owners most transactions are specifically underwritten based on the Paypal volume and not the entire business revenue. While a majority of the business' still simply accept cash, credit, and checks. With the evolution of payment options, there's also an evolution of funding products that can be used to receive fast business loans and you do not need to accept Paypal only to receive this type of working capital loan products.
How does Paypal working capital work?
According to PayPal's site, the program is considered a loan that's is backed by your Paypal sales which requires a personal guarantee. What the company does is give you a business loan that has only one fixed fee attached, not an interest rate. This fixed fee is also known to many as a factor rate, with the fee and the principal loan amount being repaid as a fixed percentage of your PayPal transactions. Although technically there is no set term for the capital according to Paypal's agreement the entire balance must be paid within 18 months. If the total balance is still being repaid (due to a slow down or lack of acceptance of Paypal) Paypal will then debit the entire balance from your account in one shot. The Payal Working Capital program works very similar to a merchant cash advance or split funding product. Although robust in funding amounts this product is still limited in scope. What does a business owner do who do not accept PayPal or wants a higher dollar amount than what his PayPal revenue justifies?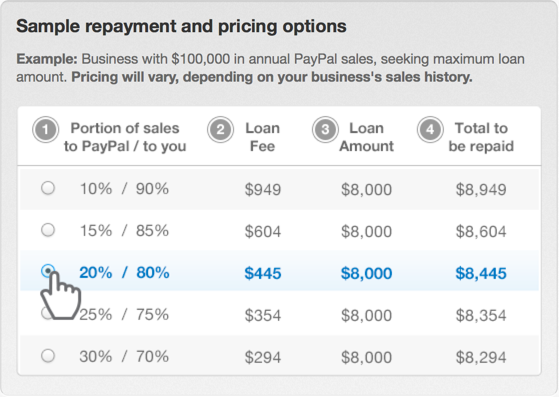 Is Paypal working capital right for me?
Paypal working capital is a great product but is not right for every business. Even in this day and age with a rising amount of businesses accepting alternative electronic payment options like PayPal, Apple pay, and a slew of others new forms of payment, most brick and mortar and service-based businesses still do not accept Paypal or any other type of electronic payments. According to a recent Intuit survey, only 45% of business owners accept any form electronic payments or credit or debit transactions. This leaves an overpowering majority of small business owners who can't qualify for a Paypal working capital program. If you are a young entrepreneur this might leave you scratching your head as to why. We have come across a few reasons
The main answers to that actually lie in the same article by Statista.com. For many business owners, it boils down to the cost involved in accepting credit cards as illustrated in this infographic from the survey.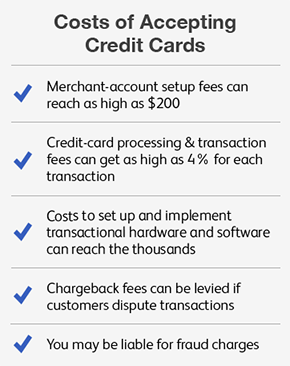 Another common reason that we come across frequently with loan applicants. Most business owners just do not need to. Many service-based and manufacturing companies typically get paid via Cash, Wire or ACH and simply do not want to incur the costs involved for a service they will not use regularly.
Many business owners that do not accept electronic payment tend to do so for tax purposes as well. They believe that if they only accept cash they won't have to pay Uncle Sam for the proceeds of the cash transactions. While this may be true in many cases if the person paying cash reports the transaction on their taxes this type of reasoning might not be valid and can cause problems down the line.
What if You Do Not Accept Payal at Your Business?
There are many other programs that can either utilize different revenue streams to put together offers. What revenue streams are eligible for funding and what funding programs does that allow you to tap into? Most Alternative lending programs like to use basic cash flow to provide offers. This might sound strange and not typical of traditional bank requirements. These type of programs where designed to offer funding to companies who can't wait for a bank, don't have the collateral requirements, don't have positive financial statements and tax returns, have less than perfect credit or are deemed to be in high-risk industries like restaurants, contractors and auto repair shops and many more. To view a full list of a banks (bank of America) basic restricted industries click here.
A few Alternative lending programs that strictly require cash flow are:
Unsecured Business loans:
These programs are generally utilized when no electronic payment is ever accepted other than wires and ACH payments. These programs are fast to fund (can be funded in 24 hours) and generally require minor documentation. Unsecured business loans are a great product for business owners who have less than perfect credit, need funding quickly and do not have any collateral or receivables.
What is required for Unsecured Business Loans:
1. 6 Months in business
2. $7,500 in Monthly Gross Revenue
3. Bad Credit OK
4. Limited overdrafts and NSF's in the bank account
5. Does not allow to link your PayPal account to increase underwriting revenue and increase offers
Business Lines of Credit
Most business owners are not financial product experts but have the misconception that lines of credit are not attainable without strong credit, positive financials (tax return, P&L, and Balance sheet review) and collateral.
Excel Capital offers a true line of credit program that you can qualify for in less than 10 minutes and requires minimal paperwork.
Our Business lines of credit are flexible and allow you to utilize funding when you need it with the click of a button. Our line of credit program is designed to approve you for the maximum amount and allows you to draw down as you need it. This way you only pay for what you use but can still sleep at night knowing that in an instant you can have the cash available. With monthly payments, you don't have to worry about daily or weekly payments.
What is required for A business Line of Credit:
1. 540 Credit
2. $5,000 in monthly revenue
3. Limited Overdrafts and NSF's in the bank account
4. Allows you to link your paypal account to increase underwriting revenue and increase offers
Accounts Receivable Factoring:
Many Business owners have heard of this type of funding but don't fully grasp what the details are of Accounts Receivable Factoring. In many industries that do not have a retail location or storefront merchants invoice their clients for service rendered and work complete. Generally, invoices can be due in a certain time frame generally on completion of a set task, Net 30, Net 60 or net 90. Depending on the industry it can even go out further than that. These types of payments are not typically covered by Paypal Working Capital or any other form of electronic payment but are usually paid via Check, Wire or ACH. What this type of funding helps small business owners do is help pay for any working capital or expenses that may be incurred during the waiting period to collect the money. In this type of funding program, the credit of business owner is not the determining factor. What underwriters look at is the creditworthiness of the vendors that are obliged to pay the invoice. So if a business owner has contracts with big name brands or companies the factor (person financing your invoices) tends to not rely on a credit score of the business. With this funding, you can always factor any new invoices to get more upfront capital into your business bank account. Keep in mind the factor will collect the invoices and disburse a set amount back to you based on how much of your receivables you sold in your factoring agreement.
What is required for Accounts Receivable Factoring:
1. The invoices need to be due at least net 30 and cannot exceed net 90
2. Invoices must be for work complete (not progress payments)
3. Invoices must be from businesses and not consumers
4. No other liens on your receivables
5. Minimum 10,000 in receivables.
With these two programs offered by Excel you do not need to accept any form of payment other than cash and check (as long as it's being deposited into a business bank account) and can be an alternative to Paypal Working Capital and just as effective or even more so in many ways. As alternative lending grows and evolves alongside electronic payment processing more new forms of business funding will emerge alongside new companies that will innovate ways merchants accept payment for goods and services. Paypal working capital is a great way to leverage your Paypal sales but is not a one size fits all solution to all businesses.
Written by Excel Capital Management President, Nathan Abadi
Latest posts by Excel Capital (see all)