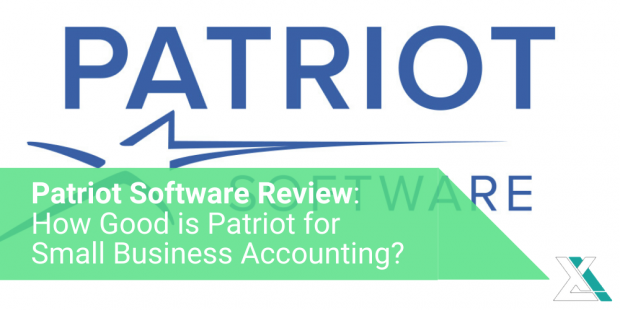 What is Patriot software?
There is –a lot– of small business accounting software out there. 
Don't take our word for it. 
Actually, scratch that. Take a look at these:
Clearly, we've written a thing or two about accounting software in the past and there are some great ones. 
So, how do Patriot Software solutions stack up? 
Chances are you've heard about Patriot somewhere and you're wondering if the software is comparable to other accounting tools like Quickbooks, Quicken, and Ultipro 
Patriot accounting software is a payroll and human resource management software that helps with various small business accounting tasks.
There's a lot that it can do, including virtually all the basic accounting tasks you'd hope for in a small business accounting tool, but like all software, it has its cons as well.
So, for this official Patriot Software review, let's start by digging into Patriot's features first to see what it has to offer– and whether it's right for your business. 
Patriot Software: Features
All the Patriot Software solutions taken together include virtually all the basic and somewhat more advanced features you'd want in a small business accounting tool.
Features include:
Payroll reports
Check printing
Direct deposits
State and federal tax management
The software also offers personal portals for employees wishing to see the status of upcoming deposits and print W2s among other things.
There isn't currently any mobile app available, but the website is responsive on mobile and easy enough to use. 
Patriot, who offers several small business software solutions, also set up integration between their tools such as their Patriot TIME software which tracks employee time and Patriot HR for more comprehensive personnel tracking. 
However, keep in mind that each of those will add to the price, though Patriot still remains even then comparable to the other more "all-in-one" HR software solutions. 
And any decent accounting software is about much more than just their basic features, but that's especially true for Patriot. 
So, let's talk about the pros and cons of the software as a whole.
Patriot Software review: Pros and cons 
Patriot has several unique pros without many cons.
Here they are: 
Pro: Amazing support
One of the prime features of Patriot Software isn't the software at all, but the support. 
Patriot is known for having stellar, industry-leading support. 
Not only does support respond promptly, Patriot, like several other competitors, but also makes experts available to you for support in setting up pretty much anything. 
This can be especially helpful if you've never done something like payroll before which often requires an accountant's special knowledge to do right. 
Even if you've never used accounting software in your life, Patriot makes it easy to get everything set up by making experts available to you at every step of the way. 
Pro: They also offer help with setup
Beyond getting help from an expert, if you're the kind of person who likes to do things themselves, Patriot has something for you as well.
They have an extensive, dedicated setup wizard. But the wizard isn't tucked away, hidden in the menu or some obscure settings page. 
Rather, the wizard pops right out when you sign up and walks you through everything step-by-step. 
Pro: Has virtually every feature you could ever want
If you include their extensive list of add-ons through their other offerings, Patriot offers a wide range of small business accounting tools and features, pretty much everything you could ever want.
Payroll? Accounting? Direct deposits? Time tracking? All check, check, and check. 
With that said you'll have to pay…
Con: Price can get high with add-ons
Patriot Software's pricing is comparable to any accounting software. 
However, due mainly to the fact that they separate their Patriot software for accounting and Patriot software payroll solution into different products, once you add on everything extra you need– let's say, payroll and time tracking with Patriot TIME– the price is no longer cheap. At least, compared to other solutions.
Con: Not for businesses with 100+ employees
One of the only major cons of Patriot is that it's designed specifically for small businesses with <100 employees. 
If you have more than 100 employees, you'll need to use something like Quickbooks, which is built for scale. 
However, for most small businesses, this is a complete non-issue. 
How much does Patriot Software cost?
Now to what is arguably the most important question of all: how much does Patriot Software payroll and accounting solutions cost?
The good news is, if you're in need of one specific feature Patriot will be about the same price (possibly even cheaper) as other accounting solutions. 
The bad news is, as we mentioned earlier, features add up quickly.
Here's a detailed breakdown:
Patriot Accounting Basic: $15
Patriot Accounting Premium: $22.50
Patriot Basic Payroll: $10 
Patriot Full-Service Payroll: $30
*+$4/Employee for all versions of Patriot Accounting/Payroll.
Add-ons exist for both time tracking and contractor/vendor management, the former being $5 / month and the latter $10.
Patriot accounting software alternatives
Patriot accounting software offers everything most small businesses need in accounting software. However, there are several other alternatives that offer unique features and/or competitive pricing.
They are: 
Quickbooks
QuickBooks is the single more feature-rich accounting software. If you need a rare set of features of just like a ton of the extra features it offers, it could be for you.
It's ideal for businesses who are growing quickly and want something that fits them now while still be perfectly suited to grow with you. 
Quicken
If an accounting software that's simultaneously a great personal finance tool in one sounds good to you, Quicken may be the best option for you. 
However, it's not as feature-rich as Patriot or Quickbooks and generally falls a bit behind them in terms of purely accounting features. 
Ultipro
Our final option, Ultipro is another feature-rich accounting software, though this offers even more complex features that even Quickbooks can't rich.
Having said that, Ultipro balances it out with a much higher price tag than your average accounting software. It's also know for being somewhat difficult to use. 
So, if you're a larger company that needs some high-level feature, it may be the right choice for you.
What is the best payroll software?
There is no strictly "best" accounting software.
However, there may be one that's a better fit for you than the others.
For one, most accounting software is of comparable price. Ultipro is one of the few examples of costlier accounting software. However, it's because of their rich list of features. If you're a larger company and you're in need of some of the features they offer that most accounting software doesn't, they're likely a good fit for you.
If you don't need any snazzy features and you're a business of one (or a few), something like Freshbooks or Patriot might be the better option for you. 
And if you have a small or medium-sized team and simpler accounting software like Freshbooks no longer cuts it, Quickbooks may be the perfect fit. 
Patriot Software review summary: Is it good?
It's true that the accounting software space is filled with great solutions (and others that are not so great).
Even so, Patriot stands as one of the premier accounting solutions for small businesses of less than 100 employees. 
If you're in need of your first small business accounting software, or you're not happy with your and are considering a switch, Patriot is a great option to check out that can serve pretty much all basic small business accounting needs. 
It can get a bit costly when you start throwing in add-ons, so be sure to shop around and compare price vs. features. But as a basic accounting or payroll software, it's comparable to many of the best. 
And don't forget to check out our other guides on small business accounting: