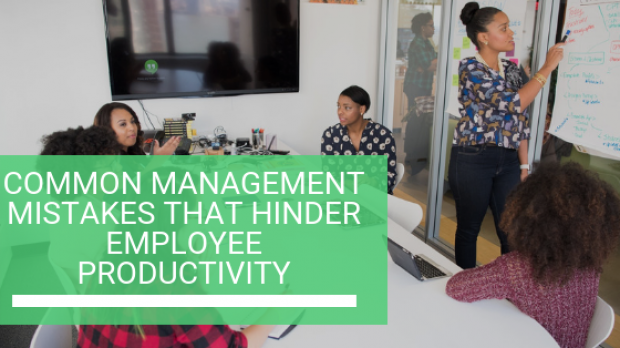 In a perfect scenario, employees are cared for by their managers, motivation is through the roof, and productivity is evident throughout the company. But the sad reality is, most workers feel overworked and undervalued by their employer. A 2018 Gallup report found that only 34% of employees are engaged in their work, and as engagement is connected to productivity, this isn't a very good number.
Moreover, in their quest for better employee productivity, some managers make mistakes that drastically reduce it instead. So where should you start? It's important to remember that it's not all about simply implementing policies or offering incentives, as your job involves understanding where your employees need help, too. A white paper on how to 'Become a Pillar of Productivity' by Special Counsel emphasizes the importance of conducting an evaluation of your team, including yourself, to see where exactly your inefficiencies lie. This way, you're able to identify your specific productivity pain points and go from there. To give you an idea of some of the most common workplace productivity leaks from a managerial standpoint, here are four mistakes to look out for:
Not providing constructive criticism or feedback
Being granted the privilege of leading a team means having to know when to give constructive criticism to help them improve their work. Providing constructive criticism is one of our '4 Helpful Tips to Increase Employee Productivity' because it lets them know what is expected of them, what they're doing well, and what they could be doing better. Depending on the size of your team, check in once a week with your employees and remember to provide guidance wherever needed.
Not recognizing achievements
Along with regular feedback, you should also focus on providing a healthy dose of positive reinforcement. Having a balance of both makes employees feel appreciated and motivated to continue their work despite making mistakes. In fact, HR Daily Advisor report that 83% of employees find recognition more fulfilling than rewards or gifts, proving the profound impact of simply showing appreciation.
Recognition comes in many forms. Create an environment that enforces positive recognition by regularly pointing out small successes to build a habit within your team. You can also consider offering monetary rewards or mini gifts for a job well done.
Not engaging with your employees
Engaging with your employees about matters inside and away from the workplace makes them feel that you care about them. Give them an opportunity to voice out their concerns about workplace matters, whether it's through anonymous or centralized methods. Remember to also check in on them regarding personal matters. Something as simple as remembering their anniversary or checking in on them when they're sick will make them feel cared for. And you can go the extra mile by offering simple support methods such as giving them the day off or letting them work from home.
Not communicating clearly
A lack of clear communication can lead to misunderstandings that can cost thousands or even millions of dollars. Employees who are given tasks without a clear description of what is expected of them or how these fit in the bigger picture may simply do things the way they deem fit. Be a hands-on manager, explain how their work ties in with other projects, and clearly outline what you expect of them. This way, you ensure their success and yours, as well.
At the end of the day, it's the simple things that can boost (or impair) employee productivity. A good leader who can set the foundations of a productive workplace by motivating, inspiring, and listening to employees while avoiding the pitfalls described above will reach their goals much faster.