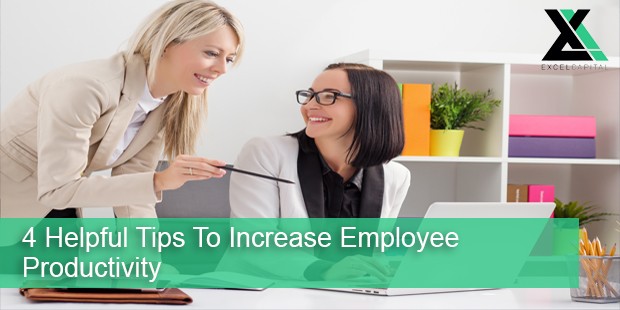 Every successful business owner understands that their company is only as strong as it's weakest link. Improving and sustaining employee productivity is a must when it comes to running a successful operation. Here are a few helpful tips for increasing employee productivity and establishing healthy, working relationships with them.
Communicate, Communicate, Communicate.
Communication, as you know, is probably the most important aspect of being a boss and operating a business. Without proper communication skills, you and your employees will have a difficult time delegating tasks, performing day-to-day tasks, and ultimately, achieving business goals. As the leader, it is your job to find a clear and effective means of communication between you and your employees. Not only should you make sure employees understand what you ask of them whether through email, conference calls, or in-person meetings, they should also feel comfortable and safe communicating with you and others within the company about tasks, goals, ideas, questions, and concerns. Lack of communication leaves many people lost and confused. There is no room for that in a successful business.
Ensure Employees Understand Your Expectations
All businesses should have clear goals and expectations in mind. Your employees are there as assets to your company, therefore, everyone should understand what they are responsible for and what is expected of them on a day-to-day basis, and overall during their time at your company. A confused mind will do nothing, meaning it is your job to present a clear plan and opportunities for all employees to learn and grow. Everyone should know what they need to do at all times while striving to progress and do their job more efficiently, as well as learn additional skills to move on to higher positions.
Eliminate Negativity
You know what they say – misery loves company. The working atmosphere at your business is a very influential factor when it comes to employees and their performance. As a business owner, it is your job to ensure all employees feel comfortable and confident at work. Eliminate all negativity from both your side and your employees'. Observe the work environment and develop a way to remove or improve negativity. Lack of communication, lack of organization, lack of motivation, and pessimistic personalities are all negative traits that should be addressed and dealt with accordingly. Not everyday will be full of sunshine and happiness, however, this should not slow down productivity and drive.
Provide Constructive Criticism and Feedback
The number one thing that most employees appreciate in an employer is constructive criticism and feedback. Most people tend to work better when they understand what is expected of them, what they're doing well, and what they could be doing better. Instead of simply reprimanding an employee for a mistake or incomplete task, meet with them to address what you expect to be done differently next time, what you feel was done well, and what you appreciated. Similarly, with a job well done, praise and rewards are a big productivity enhancer. Everyone loves to be rewarded for a job well done, and this doesn't always have to go as far as a raise – a simple "good job" could brighten anyone's day. Providing appropriate incentives and honest feedback is crucial when it comes to being a successful business owner and employer.