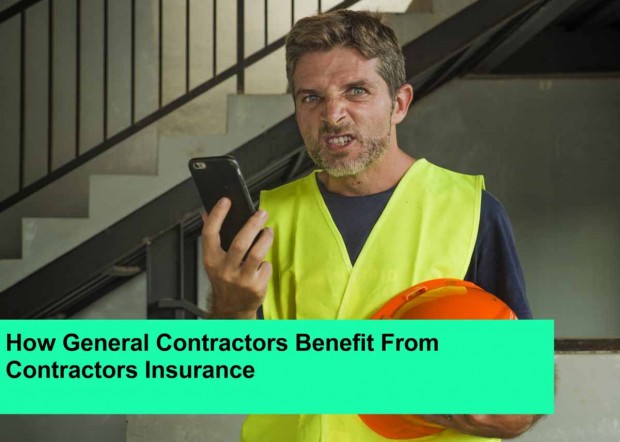 Working as a contractor has a lot of things going for it. You get to work flexible hours, the income is typically better, and you're basically your own boss.
As a contractor, you also happen to carry specific responsibilities, among them purchasing contractors insurance.
Some states and industries may not require contractors insurance, but if you care about your business, you should get insurance protection regardless of whether it's a requirement or not.
And if you're a general contractor, then it's even more imperative to have contractors insurance coverage. As the prime contractor of a construction project, a general contractor stands to benefit immensely from having the right contractors insurance policies.
The responsibilities of a general contractor
The overall operations of a construction site fall under the supervision of a general contractor. The management of employees,  acquiring construction business loans , dealing with contractors and suppliers, and reporting on a project's progress to those that commissioned the project are also part of a general contractor's responsibilities.
Being the one in charge of an entire construction project means a general contractor is responsible for lots of workers, subcontractors, equipment, tools, and materials. The job is so massive in scope that not getting the proper type of contractors insurance coverage for any of them would be the height of irresponsibility, at the very least.
So what benefits can a general contractor get from contractors insurance?
Protection from claims
Construction is one of the most dangerous professions in the world. Thousands of construction workers worldwide suffer injuries while on the job. Workers can also cause injuries or property damage to third parties within the construction site when, say, a tool slips from their hands. If you're the general contractor of a project when the things mentioned above take place, you can expect claims and lawsuits to head in your direction.
However, if your company has workers' compensation insurance, any employee injured while working for you won't have to worry about the expenses for their medical treatment. And if they lose wages because of their inability to work, workers' compensation will cover it. With workers' compensation, there would be no need for you to pay what is due them out of pocket.
As for third parties that suffer injuries or sustain property damage in the middle of your construction project, any claim they make can be paid for by general liability insurance, if you have one. Even if claims turn into lawsuits, your general liability policy will cover your legal expenses as well as the compensation the court might award your employees if it rules in their favor.
Protection for tools, equipment, and materials
The tools, equipment, and materials in a construction site can prove to be tempting for thieves. In fact, theft is not uncommon in construction sites. You wouldn't want to lose them to these people. You wouldn't want them to suffer any kind of damage as well. You are, after all, responsible for all of them, being the general contractor.
However, if you have a builders risk insurance policy that provides protection for tools, equipment, and materials, you will have one less thing to worry about. Builders risk insurance also provides coverage for the structure itself. So if fire, wind, lightning, hail, explosion, vandalism, and vehicles or aircraft cause any damage to the structure, you can rest assured that most builders risk insurance policies will pay for it
Compliance with state requirements
As mentioned above, not all states require contractors insurance, but most of them do. As a general contractor, you would want your entire project to be compliant with regulations set forth by the state within which you're operating. Having general liability insurance, workers' compensation insurance, and other types of contractors insurance is resounding proof that you are, indeed, following state laws.
Reputation boost
Clients, in general, will always want protection for any project they're paying for, and that's why they usually hire contractors with the proper insurance coverage. In all likelihood, they'll only choose from a pool of insured contractors, and ignore everyone else. Having the right contractors insurance policies assures you then that your company's name will be in that shortlist for any major construction project.
Peace of mind
Few things can give a general contractor peace of mind better than proper contractors insurance coverage. Considering the risks involved in construction, you'll be more at peace knowing that if anything untoward ever happens with your ongoing construction project, your contractors insurance provider will always have your back.
While no one purchases contractors insurance and actively wishes that they get to use it, having that kind of coverage prepares you for any complications that might take place. In an industry that can be particularly stressful for its players, having contractors insurance policies can make you feel confident that your business will go on, even when somebody gets hurt or property gets damaged, stolen or lost.