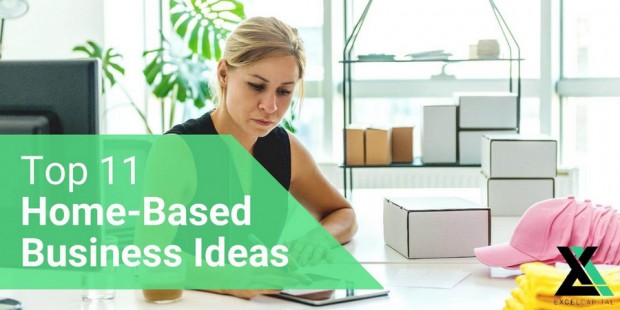 We put together the top home based businesses for 2019
Starting a home-based business might seem too good to be true. (Especially if you're used to working in the corporate sector.)
However, the opportunity to make a healthy living online while working from home is as real as ever.
If you have an internet connection, you already have the only essential tool you need to get started.
Many of the most prominent home-based business ideas require a certain skill set. However, that skill set can be developed over time while you build your business.
Plus, freelance websites like Freelancer.com and UpWork.com make getting started a smooth and easy process.
With the introduction of fin-tech, traditionally non-bankable businesses such as the ones we discussed below or now able to obtain working capital through our Home based business loans programs.
And other business ideas require no previous skill set at all, making them the perfect place to get started.
Below, we've put together a list of the best home-based business ideas for 2019.
No matter what your previous profession, skill set, or schedule, there's something for you.
Top 11 home-based business ideas
1. Blogging
Blogging is one of a few business ideas on this list that makes use of the explosion in demand for information that coincided with the Internet's birth.
As a blogger, you can take something you're already an expert at and build a platform around that expertise.
By writing in-depth blog guides, tips articles, and how-tos around a topic, you can build an audience of devoted followers who you then offer digital products such as eBooks and online courses.
If you love to write or are interested in the idea of putting together articles around a particular topic you love, blogging may be the ideal home-based business for you.
2. Social media management
Every company, from big-name brand to that little restaurant around the corner you love to visit on Friday nights, uses social media in some way.
As a social media manager, you can start as a freelancer with multiple clients, helping them get their business noticed using the latest digital marketing strategies, while building your business into a full-fledged agency– all from home.
And with the explosion in value of social media paid advertising over the past half-decade, brands and small companies alike now invest considerable sums into advertising on platforms such as Facebook, YouTube, and Instagram.
If you're already obsessed with social media and know how to easily navigate around the major platforms, social media management is a home-based business worth looking into.
3. Consulting
Similarly to the explosion in demand for information that the digital age brought about, many are also now searching out experts online to help them learn and grow, whether it be themselves in some way or their business.
As a consultant, you can offer your knowledge in an advisory capacity, creating plans and even helping implement them.
Popular spaces where consultants are sought-after include digital marketing, business, fitness, health (general), and professional and personal performance.
4. Graphic design
Do you have graphic design experience? Were you that person everyone asked for help on small design projects at your last job? Do you love to draw or make any kind of art?
If you answered yes to any of these questions, you might have found your home-based business idea and starting a graphic design business might be right for you.
As a graphic designer, you get to flex your creative muscles for a living. You can create attractive social media artwork, blog images, PDF designs, or any other countless digital visual assets.
5. Programming
Programming is harder to get into than writing or graphic design. However, it's easier than ever to start learning.
It's also an incredibly valuable skill that is only becoming more valuable. And any business based around programming (software-as-a-service or an app) can be highly lucrative.
The great part about programming is you can start with something simpler like website design and still make a great living. Then you can work your way up to creating your own software offering as you learn and improve your skills.
Plus, as mentioned, the value of programming knowledge and skill is only becoming more valuable over time– and fast.
6. Virtual assistance
Being a virtual assistant is a super easy freelance gig to start off with. 
As a virtual assistant, you'll do a variety of tasks for entrepreneurs and business execs. Tasks such as answer emails, create spreadsheets, manage appointments, edit, and even organize events.
This variety of tasks doesn't just help keep things interesting, however. It can also serve as a valuable springboard for learning what it takes to run a large business as you grow and expand.
If you're known for being incredibly organized and tend to be the one that your group of friends defaults to when planning an event or working on a project, this could be the perfect fit for you.
7. Professional crafting
In the past, blacksmiths, seamstress, and woodworkers were incredibly important parts of modern society.
However, over time, technological advancements during the Industrial Revolution all but phased them out of necessity.
But the Internet has breathed new life into crafters everywhere, with everyone from metal workers to jewelry makers now having the perfect combination of tools available to them to start a home-based business doing what they love.
Sites like Etsy and to a lesser extend Kickstarter have literally made countless full-time crafters, from custom woodworking and jewelry to clothing and everything in between.
And social media, especially Pinterest, serve as the ideal marketing platforms to build a craft-centered business around given its emphasis on imagery.
If you love any kind of crafting, now is an amazing time to be alive if you're willing to get your hands dirty and build a business online.
8. Online courses
Similar to blogging and other online business ideas, the online course industry is an incredible opportunity to take something you're an expert in and design a business around offering that knowledge at a price.
By offering your expertise in the form of an online course, either through sites like Udemy or your own platform on something like Teachable, you can create an educational resource once that pays you continuously.
Plus, the price that online courses demand tends to be high, anywhere from a couple of bucks to even several thousand depending on the niche and perceived value of the material, so the profitability potential is high.
In fact, the online course industry is now worth nearly $30 billion. Talk about opportunity.
9. Data entry
Data entry is possibly the simplest and easiest business you can start online, though it's not as lucrative.
Instead of working for one company, you can make use of your mad typing skills and one of several freelance sites to build up an entire client base whom you serve.
It might not be the most attractive of home-based business ideas, but it's something that literally anyone can start right away and make a living.
10. YouTube
Being a YouTuber is similar to blogging but can be different.
As a YouTuber, you'll create videos on a subject you love or are an expert on and entertain an audience, gathering subscribers, attracting sponsors, and upping your game over time.
And that's the key word with YouTube: entertain. As opposed to something like blogging or consulting, YouTube is either 100% entertainment or 1-part education, 1-part entertainment (also called infotainment).
Either way, you need to know, or be willing to learn, how to entertain while you're delivering either laughs or useful or interesting information.
If you're naturally funny, love to entertain, are a videographer or have some video skills, or are an expert in a subject that naturally lends itself to video (such as cooking) and would love to teach that skill, YouTube could be the perfect platform to build your business around.
11. Online retailer
Becoming an online retailer and selling your own (or someone else's) product online is one of the most straightforward home-based business ideas there is– and it has huge income potential.
Given its massive success and dominance over the online retail space, it's no surprise that Amazon is one of the quintessential retail opportunities online.
Anyone can create an Amazon Seller account and begin either reselling name brand products or producing your own to sell on the behemoth shopping platform in little time (check out our guide on How to Sell on Amazon to learn how to get started on Amazon).
In exchange, you can gain great exposure, utilizing Amazon's massive online traffic to immediately bring eyeballs to your products.
But Amazon isn't the only opportunity. Many have used platforms like Shopify to start their own retails sites, driving traffic via SEO and social media.
Either way, an online retail store is perfectly suited for working from home.
What kind of home-based business will you start?
Chances are, one or a few of these home-based business ideas have peaked your interest.
The question is: which will it be?
Now more than ever before, starting a business from home that allows you to have full control over your schedule isn't just a possibility, it's simple and straightforward to get started.
As with any business, these ideas still take hard work to build. But if you're interested in working from home, the trade-offs you receive in freedom and control (and, in many cases, income potential) could be well worth it.