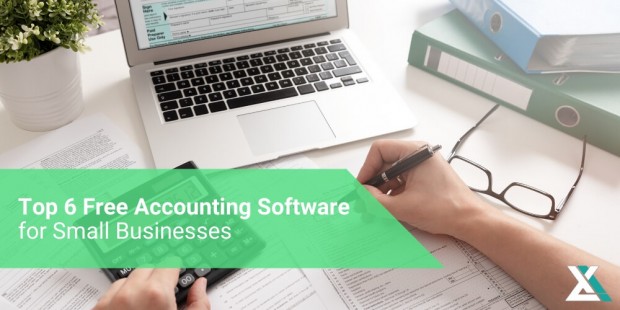 Free accounting software comes in all shapes and sizes.
There's the simple and intuitive kind with a user-friendly interface.
Then there's the more comprehensive kind which tends to be a bit dated in terms of front-end design but can do the job almost as well as premium accounting software. 
Lastly, most premium accounting software offers a 30-day free trial. That allows you to dip your toes into each of the premium software before having to commit.
Ultimately, whether a free accounting software or a free trial of a premium one is best for you comes down to:
Are you averse to paying for accounting software? Maybe your business is new and you're trying to minimize expenses as much as possible.
Or do you mainly just not want to get locked into committing to a software choice that you end up not liking?
Fortunately, no matter where you land, in this article we're going to cover both the best free accounting software and a quick list of premium accounting software that offer free trials.
The Top 6 Free Accounting Software for Small Business
Keep in mind, the list below isn't in any particular order, as most free accounting software generally offer the same features.
Some do have a paid version you can take advantage of if you end up liking one so much that you want to stick with it but need some more premium features.
However, keep in mind that generally, premium accounting software offers a lot that base-free accounting software doesn't.
With that said, let's get to the list:
1. ZipBooks
One of the more recognizable names in the world of free accounting software, ZipBooks offers virtually everything you'd want in a free accounting software for small business purposes.
ZipBooks offers:
Reports
Invoicing
Billing
Expense management
And more
Some features you'll need to do a little extra leg-work for, such as online payments (can link up Square or PayPal) and payroll, which they offer a paid add-on for $39/Month (which is sometimes discounted).
However, those features aside, ZipBooks can do about everything you'd need a basic business accounting software to do.
Try ZipBooks accounting software for free
2. TurboCASH
TurboCASH offers many of the same features as ZipBooks and then some, such as:
Reports
Invoicing
Purchase orders
VAT
Multiple users/companies
However, what is unique about TurboCASH is:
It's been around since 1985 (!)
Its large online community, boasting more than 100,000 users across the U.S., Canada, Europe, and Australia.
If you're new to business accounting, the helpful community itself could be considered a valuable feature.
However, keep in mind that the software is a bit on the complicated side. So, it's definitely not best suited for new business owners or particularly built for solo business owners, including sole proprietors and freelancers.
Try TurboCASH accounting software for free
3. GnuCash
Similar to TurboCASH, GnuCash has been around for quite a while.
The software itself is a bit dated not, but it has gotten the job done for thousands of businesses since being founded in 2001.
GnuCash offers features such as:
Reports
Invoicing
Vendor tracking
Job costing
And more
The nice part about GnuCash is that it's a free download– no strings attached. No using the software from the website via a backend login like most online accounting software does.
You simply click "Download" and you're good to go and use it to your heart's content.
Try GnuCash accounting software for free
4. CloudBooks
CloudBooks, not to be confused with QuickBooks or FreshBooks, is a no-cost accounting software that offers:
Reports
Invoicing
Expense tracking
Time tracking
Multiple users
Estimate calculator
And more
CloudBooks is unique in that while they do have an entirely free version, there are limitations in place.
As opposed to offering a premium version with additional features, the free version of CloudBooks is limited in the number of invoices you can send per month at 5.
If you want to send more invoices than that per month, you can opt-in to the basic paid plan at $10 per month.
Try CloudBooks accounting software for free
5. Zoho Invoice
One of the most recognizable names in the accounting software space, Zoho has several offerings– and it's arguably one of the best free options available.
Zoho Invoice is Zoho's free accounting software offering (while Zoho Books is their paid premium offering), with features such as:
Reports
Invoicing (Up to 5 customers)
Automated workflows
Expense tracking
Time tracking
Client portal
One unique feature of Zoho is that they offer the ability to add users without moving up to their paid tier.
So, if you like the features that Zoho Invoice offers but don't want to have to pay for a full plan for multiple users, you add another user for just $2 per month (or $20 per year).
Try Zoho Invoice accounting software for free
6. Wave
Another one of the most recognizable names in the free accounting software space, Wave is a free accounting software with many features.
Those features include:
Reports
Expense tracking
Income tracking
Invoicing
One notable feature that Wave doesn't offer is direct payments, which they charge a pretty standard 2.9% + $0.30 processing fee for each credit card payment (and 1% per ACH payment).
Wave also doesn't offer payroll through its free service, which you'll need to pay between $20-35 monthly for + $4 per employee or contractor included on your payroll.
Try Wave accounting software for free
Premium accounting software with free trials
Earlier, we touched on the fact that free accounting software is often missing useful features that you might need to do your business accounting optimally.
That's why a nice middle point between:
Finding something free to start off with and
Getting the features you need to properly run your business accounting
can be taking advantage of one of countless premium accounting software's free trials.
If you're not really concerned with paying for accounting software so long as you know it does what you need it to do, and you mostly just don't want to get hooked into some paid plan before you figure out if the software works for you, you're in luck.
Some of the best premium accounting software have generous 30-day free trials you can use to try each software and find which works best for you.
Those companies include (click on the links below to go to their free trial page):
Keep in mind, being premium accounting software, all of the above options offer virtually the same features.
However, there are some small differences between the services that you'll want to check out, mostly in terms of user interface and extra features.
For example, FreshBooks can serve as a great dual business + personal accounting software, something you don't need but might want while QuickBooks is great if you also need a place to keep track of your company inventory.
Ultimately, though, you can't really go wrong with any of these options, so give them a try and see which feels/works best for you.
Which free accounting software is the best fit for you?
There are a ton of different free accounting software options out there, from truly free to free but limited and finally free trials on premium software.
Which works best for you depends on several factors, including:
Which less standard features you need
How the user interface feels
And how tech-savvy you are
At the end of the day, there's no way to know which free accounting software solution will work best for you.
However, they're free! You can try several out before committing to one that you like.
So, consider which features are critical for you and your business and make a shortlist of a few that seem like they're a good fit on paper.
From there, you can expedite the decision without the whole process being too time-consuming (because let's face it, you probably have better things to do than wade through accounting software!).