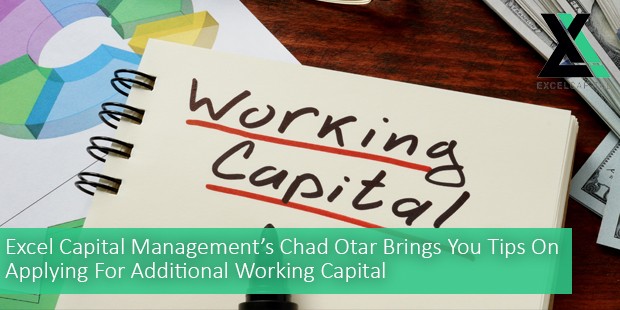 "Congratulations, your business has been funded!" These are the words all business owners love to hear. You know have the funds you need to open a new location, hire additional staff, purchase more inventory, or do virtually anything else to grow your business, but what happens when the funds are used up, your business is back on track, and you're thinking you need more money?  At Excel Capital Management, we understand that each business owner and their respective companies are unique, and we take this very seriously. Our sales representatives and client retention team understands the importance of maintaining a long-term, friendly relationship. It's our job to be there when your business initially applies for funding, and thereafter when  additional working capital may be needed. We pride ourselves on successfully funding businesses of all industry types – sometimes more than once, so here is some advice on applying for additional working capital for your business from our Co-Owner/Managing Partner, Chad Otar.
When Are Business Owners Typically Eligible For Additional Working Capital with Excel?
Chad Otar: At Excel, we like to notify our existing clients that they are eligible for additional funds  after they have paid off 50% of their current funding. By this time, the business owner should be able to obtain additional capital needed and manage it well.
When Is It The Right Time To Take Advantage of Additional Funds?
CO: Just because your business is eligible to receive additional capital after a prior funding doesn't always mean it's the best time. Business owners should have a plan for what they'd like to do with the new funds before applying. The capital should be used to a business owner's advantage, and at the same time, the business owner should make sure their accounts are in good standing to be able to properly manage the money.
How Should Your Business Make Use of the Additional Capital Obtained?
CO: When working capital is used correctly, you should immediately see a turnaround! The original funds could be used to purchase inventory, hire new staff, train existing employees, open a new location, and more. This, in turn, should cause an increase in revenue, and there is no better time to use additional funds to increase the growth and allow even more cash flow. It is in good practice to use additional capital for anything necessary for the business – especially when business is booming! Maybe the second location you opened could use more advertising or staff. Maybe your employees need to be trained on how to use the new equipment you purchased. Additional working capital you obtain after your initial funding should be used to improve your business even further!
If Your Business Is Not Approved For Additional Funding, What Options Do You Have?
CO: Just because your business isn't approved for additional funds at a specific point in time, our representatives like to maintain ongoing relationships with our clientele. We will work with you to understand why your business has been declined for additional funds, what steps to take to rectify the situation, and we will stay engaged to let you know when you are eligible.
Based on the above, do you think now is the right time to obtain more capital for your business? Excel Capital Management is here to help. Call one of our funding specialists today at 877-800-8086 to learn about what additional funds your business is eligible for!