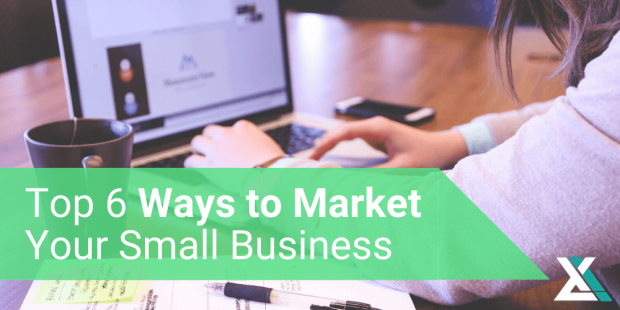 Are you at a loss about how to market your small business online?
Have you looked through countless pages, read about a hundred different marketing strategies, and you feel no closer to know what you should actually do with your time and marketing budget?
You're not alone.
The Internet is filled with marketing suggestions. "101 marketing ideas" this and "1,000 marketing ideas" that.
They sound impressive, but the truth is, most of it is just noise.
(A lot of it outdated or just plan incorrect noise, by the way.)
No, you probably shouldn't look at some obscure guerilla marketing tactic as a go-to marketing activity. And no, getting business cards isn't marketing.
Top 6 Ways to Market Your Small Business Online
It's not surprising that the main challenge for most companies is simply getting enough eyeballs on their brand, according to a recent HubSpot survey:
Digital, or online, marketing is still pretty new, so most companies have yet to figure things out.
And yet, you only have so much budget to allocate to marketing, so you need to figure out what works and it needs to be cost-effective (see challenge #3).
That's why we've organized this list of the top 6 ways to market your business online.
These are the pillars of online marketing and where you should consider placing your time and money; everything else is just noise or novel marketing tactics that have a low chance of working or are only effective for a small number of industries.
Here are the top 6 ways to market your small business online.
1. Create high-value SEO blog posts
According to Net Marketshare, Google is responsible for 94% of the entire Internet's organic traffic. Think about that for a second. 
For most businesses, SEO is the foundation of their online traffic.
It's no surprise, then, that 61% of marketers say that improving their SEO and growing their search traffic is their top priority.
Whether it's through:
High-value blog posts
Useful and brief how-to or informational YouTube videos, or
Sharable resources such as infographics
For most businesses the single most important investment is SEO.
2. Start a podcast
Why is starting a podcast on an article about marketing?
Because what most businesses still don't realize is iTunes, and other podcast directories, are their own kind of search engine.
Why does that matter?
Because according to Music Oomph, 32% of the U.S. population listens to podcasts monthly.
And that number is growing– fast.
Podcasts are popular, really popular, and they're a great way for most businesses to connect with their ideal customer.
For example, take a method Gary V. often suggests: if you're B2B, make an industry-relevant podcast marketed specifically at your customers that offers tips, news, and interviews experts in the space. Chances are, no one in your space is doing it and, over time, you'll become the go-to expert in your industry.
But you can create that same kind of effect for most industries, even if you're not B2B.
If you sell a supplement or some kind of health food, start a podcast geared toward your ideal customer that interviews health experts.
Your audience will be your target customer, whom you can then direct to your product or service in ad spots throughout your podcast, podcast description, various links, and through the general increase in brand awareness.
3. Run a giveaway
Everyone loves a good giveaway. After all, with a minute of their time and for free– often just their email– they have a chance of getting something cool!
Since bursting onto the online marketing scene, giveaways have remained a powerful marketing strategy that virtually any brand can take advantage of one way or another.
Like this example from Pajamas for Peace:
And the best part is, sites like Rafflecopter and RafflePress make it super easy to create giveaways online in a matter of minutes.
Just make sure your giveaway includes items that are relevant to your brand's service or product (or even includes your product(s) like the example above).
Too often companies run giveaways with iPads or something else impressive that has nothing to do with their brand, only to get a bazillion emails of people that really weren't interested in their product and just wanted a free iPad.
As a result, those new leads are low quality and the giveaway was a bust. Run a giveaway with something highly relevant to your brand and you'll attract leads that are likely to be interested in what you have to offer.
4. Scale online ads
Online advertising on platforms like Facebook, YouTube, and in Google searches is wildly popular among businesses, and for good reason.
Digital advertising is known for being extremely profitable when done right and a reliable way to attract a consistent flow of quality leads.
The only problem with digital advertising, especially when considering that most of the items on this list require a very low investment, is that it'll cost you.
However, the good news is that even if you don't have a massive ad budget, virtually all ad platforms offer starter coupons (often as high as $100) you can use to start generating leads right away with little or not investment of your own capital.
That way, you can get a feel for how digital ads work, find out what converts for you, and start running a small campaign as you continue to test conversion rates and build up from there.
5. Snag media attention with a unique product or
This is probably the most unique point on this list, and not a surefire method, but it's common enough and powerful, warranting it as a marketing effort every business should at least consider.
Getting your business featured by the media is a big deal, as a single good media plug can mean hundreds, or even thousands, of new customers for your company.
There are different ways to do this, from simply sending out a press release when you launch your product to sending out requests for segments on local news programs to using a service like HARO (Help A Reporter Out) to try and get yourself quoted in print and digital platforms.
Typically, this method works best when your product or service has some uniqueness to it. Is your product or service fresh or does it offer an interesting twist on something classic? Does your business operate in some new and interesting way, or do something odd?
Anything out of the ordinary is cause for getting featured and typically the best route if you're considering using this method.
6. Build an email list
Email is still the undisputed king of digital advertising.
And it makes sense why. Social is powerful for businesses, but conversion rates are often low and it's a better audience and lead nurturing platform than it is at attracting new leads and customers.
For most of us, our social feed is crowded and we treat messages more as public announcements than anything.
However, email is a private, intimate message from one person to another.
Email is a quasi-sacred space where you receive personal messages from colleagues, peers, family, and friends. If you can get into someone's inbox, you're in good company, and they're much more likely to listen to what you're selling.
Sure, you need to get them on your email list first before you can market your products or services to them, which is why we included it at the end of this list.
However, doing that is easier than ever with tools like Mailchimp and ConvertKit offering free plans to start with everything from opt-in form and landing page templates to advanced tag functionality to help qualify your leads with ease.
Get out there and market!
Marketing your business online is easier than ever, though it can be really hard figuring out what exactly the best ways are for doing that.
There's a ton of advice online about this and that tactic, but many strategies quickly become outdated or aren't useful for all industries.
However, the points we covered today work for every industry across the board, almost all are low-investment, and evergreen. In other words, they're not going away anytime soon.
So, get out there and start marketing your business!
Frequently Asked Questions
How do you create a marketing strategy for a small business?
There's no one-size-fits-all method for crafting an effective marketing strategy. But here are some tips:
Think about your goals: What do you want to accomplish? Your strategy should be designed around that.
Think about when you want to accomplish those goals: Some strategies are more long-term (see: SEO, email). If you have a Kickstarter coming up soon, you might rather focus on getting some traction on social and through the media.
Think about what works for your industry: Social isn't great at attracting leads for every industry, so don't feel obligated to include it there if it's better reserved for lead nurturing.
What is the best way to market a business?
It all depends on what you're marketing.
Typically, you want your marketing efforts to be evergreen. That means it's not a one-time or fad method that you won't be able to replicate.
It's also best to think about how you're building an audience, by offering a place where your current customers and fans can meet for all things related to your brand, such as your social accounts, regular emails, blog, or podcast.
Any of these channels offer a recurring form of marketing that is much easier to maintain and can generate a recurring flow of leads with low investment compared to traditional advertising.