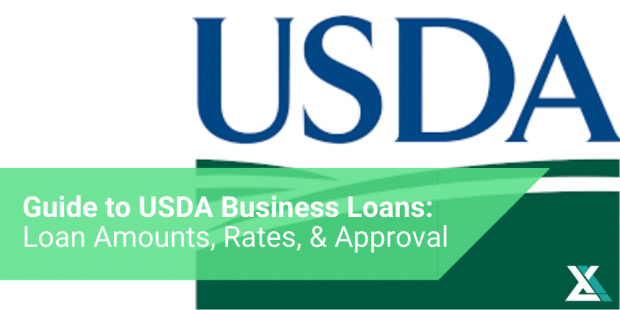 If your business exists outside major cities in rural American, you know the disadvantages that come with the territory.
It's hard to get supplies and shipments, harder to meet with clients and customers, and not really possible to entertain them as guests when the need arrives.
Plus, there's the problem of inadequate access to certain basic resources like printing services, a local post office robust enough to offer all the shipping supplies you'll need, not to mention a reliable Internet connection in many cases.
The USDA understands the unique challenges that face rural-based businesses, so they sought to help out by doing what they can. Hence, USDA business loans were born.
What are USDA business loans?
Referred to as the USDA Business and Industry (or B&I) program, the USDA offers a business loan program to small businesses located in rural areas.
The purpose of the program is to both support small businesses and create jobs in rural communities.
Similar to the SBA's business loan programs, the U.S. Department of Agriculture themselves don't offer the loan but rather guarantee a portion of the loan for lenders, who can then pass on the savings to you.
What can you use a USDA business loan for?
USDA business loans have a variety of uses, including:
Working capital
Inventory purchases
Equipment and supply purchases
Debt refinancing
Updates, repairs, and general development
Agricultural production of various kinds
And real estate development
USDA business loans can be used for pretty much anything so long as it's tied to the growth of the company in some way.
And they're also available to nonprofit organizations, making them a great funding option for rural nonprofits of all kinds.
How do I qualify for a USDA business loan?
Qualifying for a USDA B&I loan can be a bit tricky, as they have pretty extensive qualification requirements.
However, that's mainly to make sure that the program is going towards helping the businesses that it's designed to help.
To qualify for a USDA B&I loan, you'll first need to be located in a rural area. According to the USDA.gov website, you qualify under this section if:
Your business is located in a rural area "outside of a city or town with a population of fewer than 50,000 people."
Your headquarters is based in a larger city "as long as the project is located in an eligible rural area."
You must be located in the U.S.
And projects can be funded "in rural and urban areas under the Local and Regional Food System Initiative." The USDA suggests checking the eligible addresses for Business Programs here.
Next, you'll also need to be one of the below types of businesses:
For-profit
Nonprofits
Cooperative
Federally-recognized tribe, or
Public body
However, keep in mind that these types of businesses are ineligible:
Church-based organizations
Lending institutions
Insurance companies
Charitable organizations
Gambling establishments
Fraternal organizations
Raceways
And golf courses
Finally, you need to meet these additional requirements:
Must be a U.S. citizen (or permanent resident): If it's a business, 51% or more of the business must be owned by U.S. citizens or permanent residents.
680+ Personal credit score: For businesses, this includes a history of on-time payments and no negative marks such as bankruptcies and judgments.
Collateral necessary
Personal/Corporate guarantees
Some types of insurance in certain cases
Complete a feasibility study
Business must be in good standing
Is my business in good standing?
In terms of USDA business loans, that last one includes a few things.
First, you must have enough cash flow to show that you have the ability to pay back the loan.
Second, your business must have a positive 'tangible balance sheet equity position' either of 10% if you're an established business or 20% if you're new.
What does that mean?
Tangible balance sheet equity is: 
Your balance sheet – Intangible assets = Tangible balance sheet equity
*Intangible assets include things like amortization of a loan, client and customer lists, and patents, trademarks, and copyrights.
Also, keep in mind that the lender you choose to work with may have additional qualification requirements on top of the USDA's factors.
Be sure to check with your lender to find out what their additional qualification requirements are.
USDA business loans terms & rates
While the lender you work with will specify your exact loan details, the USDA has certain universal guidelines in place for all USDA B&I loans no matter who offers them:
Here's a breakdown of all USDA loan amounts, terms, and rates:
USDA business loan amounts
There is no hard maximum on USDA business loans, which can reach above $10 million dollars. However, the typical range is between several hundred thousand to a few million.
How much you're approved for is based partially on what you'll be using the loan for, what the USDA calls the "loan-to-value" ratio.
Depending on what your loan-to-value ratio is, you'll need to make a down payment to cover the remaining amount of the value of the loan.
For example:
So, if you're looking to purchase or rent several large pieces of construction equipment for a building project totaling $250,000, the USDA loan would cover $175,000 while you'd need to make a down payment of $75,000.
Now, let's talk about USDA loan terms.
USDA business loan terms 
Similar to USDA loan amounts, their terms depend on what you're using the loan for as well.
For example:
Keep in mind that if you're using the loan for several different uses in one– for example, a real estate development project where you're purchasing land, equipment, and hiring workers– your loan will be blended based on the various different purposes, essentially taking on the form of several separate smaller loans.
USDA business loan interest rates
Lastly, USDA interest rates are competitive, often being similar to SBA loans at between 6-9%.
However, keep in mind that your interest rate is set by your lender, so make sure to check that you're getting a competitive rate before signing any agreement.
In addition to this, your interest rate can be fixed, variable, or a combination of both.
In addition to interest, there are a few USDA loan-specific fees, including:
Guarantee fee: 3% of the guaranteed loan amount
Renewal fee: 0.5% annually (from the outstanding principal)
Keep in mind that, similar to your interest rate, this doesn't include any potential lender fees that might be in your agreement, so make sure to check before finalizing anything.
How do I apply for a USDA business loan?
Does a USDA B&I loan sound like a good fit for you?
If you believe you qualify for a USDA business loan, you simply need to find a lender who offers USDA loans.
Remember, the USDA doesn't offer business loans directly, but through other lenders who they've approved to offer their loan program.
How does it work?
Your lender will take the information and submit your application to the USDA for pre-approval. A USDA rep will then meet with you and your lender to determine eligibility.
Once it's been pre-approved, that's when you'll be able to submit a full application to the USDA.
How long does approval take?
According to the USDA.gov website, approval takes anywhere from 30-60 days from the date you submitted your official application, with funding taking 30-90 days.
What do I need to apply for a USDA business loan?
To apply for a USDA loan, you'll need financial documents, which may include:
Personal + business credit report
Bank statements
Balance sheet
Profit & loss statement
Cash flow projections up to 2 years
Business plan
Resumes of all business owners
Keep in mind that additional documents may be requested based on your specific situation.
However, in general, it's best to get everything together that you have in advance just in case, so the approval process isn't slowed down.
Frequently Asked Questions
How much can you get approved for with USDA business loans? 
There is no hard maximum on USDA business loans, though they typically don't go any higher than $10 million. How much you can get approved for depends on several qualifying factors, so you'll need to submit an application to see what you're approved for.
Does the USDA do small business loans?
The USDA offers small business loans through its USDA Business and Industry program, a loan program that backs loans for rural-based businesses and business projects to help grow small businesses and develop jobs in rural areas.