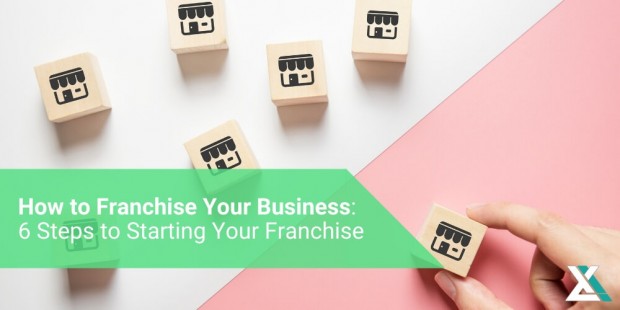 Want to know the steps to franchising your business? Franchising offers a big potential return on investment, but it also comes with a big cost. Read on to learn more.
What is franchising and how does it work?
Thanks to fast-food restaurants in the 1950s like McDonalds, franchising is a household term.
How does it work? Franchising is a legal structure that allows businesses to sell the right to open their own franchised locations of that business.
With franchising, you can elicit the help of eager franchisees to help grow your business, with the potential to significantly increase the rate of that business' growth.
In exchange for being able to open a franchise, franchisees will pay you a franchise fee along with ongoing royalties based on sales from each of their locations.
However, to franchise your business, you'll have to create the legal documents and operational guidelines necessary for those franchisees to operate– and that's no small task.
Not to mention, the training, systems, supplier connections, and support they'll need to run their business (just to name a few things).
But before you do all that, the first step is to create your Franchise Disclosure Document (or FDD).
Your FDD details 23 different sections or pieces of information related to the business that helps disclose to the franchisee the information they need to make an informed decision about becoming a franchisee.
Once they're ready to get started, to sell a franchise you need to provide them a franchise agreement (best prepared by your attorney) to make the sale official.
That all sounds great and everything, but making the move into franchising is an enormous undertaking. So, you shouldn't take it lightly.
First, let's talk about the pros and cons of franchising so you can better understand why you might want– and not want– to open your business up for franchising.
Pros and cons of franchising
Franchising has both big pros and big cons, both of which you should be aware of when considering whether to franchise or not.
Here are the pros and cons of franchising:
Con: It's expensive
You're going to need a lot of extra cash– or funding– to go into franchising.
That's because franchising requires legal prep, systems set up, supplies, and everything else needed to set up your franchising program and help your franchisees get off the ground and stay in business.
At the end of the day, franchise experts suggest you have $500,000-1,000,000 before considering going into franchising. Anything less is a risk to your primary business.
Pro: But the payoff is (potentially) huge
With that said, the payoff for franchising is enormous; there are few ways to multiply your business revenue as effective as franchising.
It will do much more than help you get a return on your investment. After the first few years, franchising could be a huge portion of your annual revenue for the remainder of the life of your business.
Con: It takes (a lot of) time
Franchising isn't just monetarily expensive, it's time expensive too.
From the day you launch your franchising program and get your first franchisee, it can be years before you see any real return.
If you're not willing (or able) to invest 3-5 years in franchising before seeing a profit, you're probably not in a position to pull the trigger yet.
However, if you understand that franchising is a long-term endeavor and you have the capital and business stability to invest fully in it now knowing you may not see a return for several years, it's worth considering.
Pro: Franchising can put you on the map (literally)
A successful franchise business can single-handedly exploded your number of locations, especially if you snag a few great franchisees in key markets.
More than just the revenue, the want franchising can expand your business into new markets you otherwise might never have entered makes it an invaluable vehicle for exponential business growth.
How to franchise your business
Now that we've covered the big pros and cons of franchising, let's talk about how to do it in detail.
There are essentially 7 steps to franchising any business. They are:
1. Create a Franchise Disclosure Document (FDD)
First, you'll need to create your FDD, which we touched on earlier.
An FDD is required by law to provide potential franchisees the information they need on your business.
Make sure that when you're creating your FDD you:
Include the ability to purchase multiple franchises, often referred to as multi-unit, and
Make sure the FDD is multi-state, meaning it's valid for all U.S. states where a franchisee may want to open a franchise
2. Register your FDD
Now that you have your FDD completed, you'll need to register it in certain states so that it's valid.
Certain states are considered "franchise registration states", such as New York and California, while others have instated similar franchise guidelines that require registration.
For more information, check out the latest information on all 50 states from this spreadsheet resource by the International Franchise Association.
3. Write your operations manual
Once your FDD is done, you'll need to create the operations manual which all franchisees will follow to run their franchise.
This manual should be extensive, including everything from:
Training guidelines to
Serving instructions
Recipes
Operational conduct
And anything else relevant in terms of running of the franchise location and adhering to brand conduct guidelines
Make sure not to skimp on this and invest the time necessary to create something that will clearly lay out what is required of your franchises.
4. Create your franchise company
Franchises must create separate franchise entities from their main business (for example: Barron's Burgers vs. Barron's Burger Franchising, Inc.).
Along with this, you'll need to create a separate business bank account for this new entity, which is what will be used in the creation of your FDD.
5. Draft your franchise development plan
Now that the real technical stuff has been taken care of, it's time to cover two more vitally important steps that will influence the success of your franchise.
First, you'll want to create your plan for how to franchise will grow, develop, and support its franchisees.
Your franchise program will only be as successful as the time and effort you invest in it (if you'll excuse a tired old phrase), so take time to think about:
How will you support your franchisees?
What new systems do you need in place?
How can you streamline preexisting processes to help with the implementation of your new franchise program?
What kind of budget are you setting for the next 1-5 years for franchising?
And how will you market your franchise? (More on that in the next point.)
6. Create your franchise sales strategy
Next, and an easy step to gloss over, you'll need to sit down and create a comprehensive franchise sales strategy.
The last thing you want to do is invest all this time and money in setting up your franchise only to have a subpar marketing strategy to go along with it.
And yet, it's the easiest thing to forget about in the larger scheme of things.
Take time thinking about how you'll reach out to potential franchisees, whether through digital advertising or organic reach, both, or something else altogether, and what percentage of each.
Consider recently successful franchises and study how they had such explosive growth and you could take from that to improve your own marketing plan.
What documents do you need to franchise your business?
Now that we've covered the steps to getting your franchise started, you might be wondering a little bit more about the documents we mentioned earlier.
When it comes down to it, there are really just two primary documents you'll need to draft to get your franchising journey started (besides the typical business documentation you already have):
Operations/Franchise manual
Franchise Disclosure Document (FDD)
Of those two, it's the latter that has strict requirements.
There are 23 separate items, or pieces of information, you must include in your FDD to provide to prospective franchisees.
Those are:
Franchisor and all parents/affiliates: Parent companies, etc.
About your business: How long have you been around, where do you operate, who are your competitors, and any other detail you feel would be important such as special documentation or requirements necessary for you to operate your type of business.
Bankruptcy: You must list if you or any other executive has filed for bankruptcy while working at the company.
Litigation: Any and all litigations regarding your company must be listed.
Initial fees for starting a franchise with you
Other fees: Deposits, etc.
Initial investment: An estimate of what is required to get started
Restrictions (on suppliers/vendors): What vendors must be used for certain supplies? Etc. List them all along with any necessary instructions.
Expectations/Obligations: What do you expect from franchisees? What do you commit to providing to them?
Financing opportunities: If you're offering any sort of financing to franchisees to get started, list it.
Training: How will franchisees be trained? What programs will you offer?
Territory: Are they receiving a protected territory? This must be clearly outlined along with all other relevant details.
Trademarks: List all trademarks associated with the franchise system and whether they're filed with the U.S. Patent and Trademark Office, along with all other relevant information.
Copyrights, patents, etc.: List all along with proprietary information.
Obligations to participate: What obligations are you setting forth for franchisees to participate in the franchise on a day-to-day basis?
Selling restrictions: How much control do you have over what a particular franchise sells? What may or may they not sell? This needs to be outlined in detail.
Transfer/Renewal/Termination: All relevant information related to this and any disputes must be mentioned in its own section as well.
Public figures: Have you hired any celebrity or equivalent to advertise your product? List them here.
Financial performance: You're not required to include Financial Performance Representations, but whether you are or aren't you must list that here
Outlets: List al corporate and franchised outlets over the past 3 years along with projections for the future.
Financial documentation: Statements, etc.
Contracts: List all contracts that the franchisee must sign for you, the franchisor.
Receipts: Include two copies of the receipt page, which is the signature page confirming the proper delivery of the FDD.
Remember, an FDD is required by law, so take every precaution to make sure you've filled out your FDD and can check off all 23 individual points.
Take your business to the next level with franchising
Franchising your business is a huge step forward that has a big price with even bigger potential returns.
Take the time to heavily consider the cost of franchising your business, whether you're truly ready, and whether you're prepared to make the time and financial investment necessary to create a successful franchising program with your business.
Frequently asked questions
What is franchise tax?

Franchise tax is not a tax charged to franchises, but rather a tax paid by some businesses for the privilege to operate in a particular area (in most cases, a particular state). Franchise tax is paid in addition to federal and state income taxes. 
How long will it take to franchise my business?

Typically, it can take anywhere from 90-120 days. This all depends on various factors unique and not unique to your business, including local state regulations, requirements, and your own team. 
How much does it cost to franchise a business?

The initial fees to start your franchise– drafting your operations manual, creating your FDD, and the legal infrastructure and systems your franchise system will require– will likely cost anywhere from $20,000 – 30,000. 

However, keep in mind that the cost to franchise your business is in reality much higher when you factor in the time and monetary investment necessary to market to, train, and support franchisees, from several hundred thousand to several million over 3-5 years.