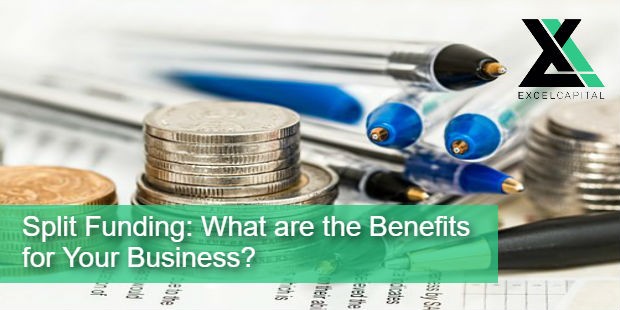 No matter what the industry type, almost all small business run into a point over time where they need additional working capital. Whether you need the working capital to cover basic business expenses during a slow season, a little extra cash to take care of payroll, money to purchase bulk inventory, or anything else pertaining to the business – access to funding is crucial for any business owner. Today, let's discuss on probably, the most popular, alternative funding option out there, the cash advance business loan.
What is Split Funding and How Does it Work?
Split Funding is more commonly know as a Merchant Cash Advance. This type of business funding solutions is a flexible and cash-flow friendly way to access additional working capital for inventory purchases, equipment upgrades, hiring, employee training, payroll, taxes, and anything else your business could use the money for. Split Funding is especially great for businesses whose owners value having the amount they remit fluctuate with their daily payment card receivables. In simpler terms, a flat percentage of your business' credit and debit sales are automatically remitted daily. If your business does a large amount of sales one day, a larger payment is taken out to pay back the advance. If a small amount of sales is done that particular day, you pay less. There is no fixed payment amount or maturity date. A larger repayment amount is sent on busy sales days than on slow days, and the process stops as soon as the advance is paid back in full.
What are the Perks of Split Funding for Small Business Owners?
The primary purpose of Split Funding is to service the financial needs of small to medium sized business owners. However, there are unique advantages included in the service that tailors to a specific business owners need. Here are some of those advantages:
Unlike traditional business loans, funds from split funding disburse in as little as three to four business days.

Split Funding does not require a minimum credit score to qualify. Therefore, any company struggling with a weak credit profile qualifies for the funds they need.

Traditional business loans typically require some form of collateral to secure a loan. The collateral requirement causes many business owners to face the fact they may lose precious assets in case they cannot make their payment. However, split funding does not require any personal collateral to qualify. Business owners who have limited assets never need to worry about losing their collateral.

Since there is no fixed payment with split funding, business owners who run into financial trouble or weakening sales do not carry the burden of a fixed remittance.

Since payments come from a small percentage of credit and debit sales, a business owner will actually see their payment decrease during lean times. There is no advantage quite like this with traditional business loans.
What Can Working Capital Acquired Through Split Funding Be Used For?
As mentioned in our opening paragraph, many business owners obtain funding at some point in their business' lifecycle to help out with various needs. The great thing about split funding is that it can be used for virtually anything as long as it pertains to the business. Here are some common uses:
Business Expenses
By acquiring working capital for your business, you will be able to pay for things that may have not been affordable in the past. You may need office supplies, new computer software, or you may have a few bills to pay. These payments can all be made possible with working capital.
New Hires and Employee Training
Once you business starts to boom, you may need some extra help. Maybe you want to hire additional cashiers for your store. Maybe your restaurant needs additional wait staff or hosts. Maybe your medical office needs another receptionist. Maybe you even need to hire a few accountants to help take care of your finances. Additionally, many of these employees will need adequate training. Working capital can be used for all of these things!
Inventory and Equipment Purchases
Many business owners choose to use working capital to take advantage of bulk pricing on inventory and equipment. Similarly, equipment such as machines, computers, vehicles, and more can reach well into the thousands of dollars. Because many vendors require a large upfront payment for this type of pricing on inventory and equipment, working capital gives business owners the funds they need to purchase the items they need before it's too late.
Unforeseen Problems
Unfortunately, with every business, problems do arise. Equipment fails, vehicles breakdown, natural disasters occur, employees leave. The headaches are unforeseeable and can be expensive, but working capital can help to cover the costs in a matter of a few days.
Marketing & Advertising
One of the most important things you can do is market and advertise your business to the world. Website development, paid ads, and social media marketing is a big job, and hiring a team of professionals can be pricey. Having enough working capital in order to cover these expenses can help tremendously.
Research & Development
Constantly developing your products, goods, and services is essential for staying ahead of the competition in your industry. Additionally, doing the proper market research and analyzing your target audience and consumers is key to knowing what your customers want. Working capital can certainly be used to help fund this process.
Product Manufacturing
Similar to research and development, product manufacturing may be a constant need depending on your industry and business capital may be needed during slow periods or when business is so great, that you must quickly meet the demand.
Office Space & Business Locations
Maybe you need an office space or facility in order to properly operate. Working capital can be used to acquire the appropriate space during the startup face or shortly thereafter.
What's Needed To Qualify and Apply?
Split Funding is fairly easy to qualify for! Most lenders generally only require that the business have at least two months of operating history, documented gross monthly sales of $10,000 or more, $7,500 or more in monthly credit card sales, and no open bankruptcies. As you can see, if you business is out of the startup phase, qualifying for this business funding options is simple. After this criteria is met, the documentation you must provide is simply a one-page application, four months of business bank statements, and four months of business credit card statements. Most business owners receive a call with an approval within 24 hours and are funded in as little as 3 business days!
Complete our online application and see how much you can be approved for: Apply Now