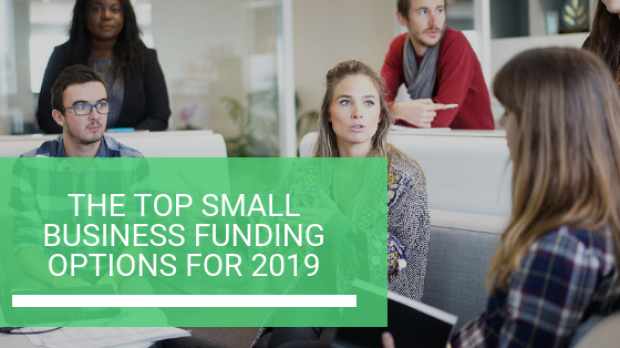 While small businesses are the lifeblood of the global economy they definitely face their fair share of challenges, particularly when it comes to small business funding.
A lot of new entrepreneurs just aren't used to handling this kind of cash flow, aren't sure of how to cover taxes or payroll, and find wrangling with the intricacies of small business financing on a day-to-day basis – as well as big picture – to be a bit of an uphill challenge.
Sadly, oftentimes the small business funding problems cripple or even close businesses before they have a chance to get squared away.
According to the US Small Business Administration 30% of all businesses fail because they run out of money. Traditional lenders aren't all that friendly to small businesses, either, only approving around 26.9% of all small business loans that are applied for.
Worse, 45% of all small business owners are unaware of the fact that they have a business credit score and aren't taking advantage of funding options or packages that may be available to them.
To help you sort out your own funding and to hit the ground running with financing packages that makes sense for your business we've put together this quick guide.
Let's dig right in!
Sneak Peak at the Top Funding Options for small business Available
For starters, it's critical to know that you are going to have a whole host of funding options available to you as a small business owner – including options you may not have even known existed to begin with.
As a quick overview, these are just some of the funding solutions you might choose to leverage moving forward:
•           Traditional Loans
•           SBA Lending Packages
•           Business Lines of Credit
•           Business Credit Cards
•           Equipment Financing Options
•           Invoice Financing Packages
•           Short Term Loan Packages
Below we are going to go little deeper into everything that these financing solutions have to offer you as a smart and savvy this owner today.
Starting Your Search Right
The overwhelming majority of small business owners that seek out funding for their operation are going to do so when they "just feel like they need to" – which may or may not be the right move to make.
Obviously, as an entrepreneur with your finger on the pulse of your business you'll have a good idea of when financing is needed. But there's a lot of leverage in choosing the right financing packages for your business ahead of time (before you really need them) to make sure that you can capitalize on time sensitive or surprise opportunities.
Almost never too early to begin searching for financing options and getting all of your ducks in a row, so to speak.
Breaking Down Debt vs Equity Funding
While there are a myriad of small business funding and financing options available (as we highlighted above and will dive deeper into below), everything available kind of breaks down into two different groups – debt funding versus equity funding options.
Choosing the right solution for your needs is a big piece of the puzzle.
Debt Funding
Debt funding for your small business basically works the same way that traditional loans do, in that you take on debt to finance your operation – borrowing money and agreeing to repay it (plus interest) over a very specific block of time.
For the overwhelming majority of small business owners this is the right way to go. Debt funding options for small businesses are usually available for most kinds of businesses, entrepreneurs with average credit, and many of these options can even be taken advantage of online.
Equity Funding
Equity funding, on the other hand, is a way to boost your cash flow and get any injection of capital by selling off ownership of your company. You basically take on investors, give them a portion of your ownership (as well as some control), and in return you get the capital you need.
These kinds of options are not ideal for small business owners, particularly since the biggest and most influential investors in this line of work aren't going to be looking to offer this kind of funding for anything they don't see as a homerun hit potentially worth millions and millions of dollars.
You also give up a lot of control and a lot of ownership of your company and should you turn your business into something really big that can end up costing you millions (if not more).
Choosing Your Small Business Funding Options
Regardless of how you go about leveraging small business funding options, choosing the financing packages you pick for your business will come down to a variety of different factors.
These factors include (but aren't limited to)
Your industry and whether or not there is a predisposition to offering one kind of financing package or another to businesses in this industry
The network that you have access to, particularly when it comes to connections with influential investors or lending institutions
The specific amount of funding that you are looking to take advantage of to begin with
The timeline that you are looking to receive funding on as well as the timeline you have for repayments
The overall amount of control you want to keep exerting on your business, today, tomorrow, and years into the future
… And that's just the tip of the iceberg.
You really need to think about how you want to proceed when it comes time to get small business funding, and you need to take both a short-term and a long-term approach before you jump right in.
This is often going to be a high stress and anxiety ridden decision to be sure, but or time and space you have – and the more options you consider – to make the right decision for your business the better off you are going to be.
Highlighting Debt Business Funding Options
Traditional Loans
Traditional small business loans are the easiest to understand, in that they are so similar to consumer style loan (car loans, personal loans, etc.) that the odds are pretty good that you've already taken advantage of similar lending packages in the past.
These kinds of low are great for business owners that want to maintain a lot of ownership, don't want to give up any equity, and are looking to borrow money over a longer block of time but want to manage their monthly repayment schedule as well.
SBA Lending Packages
The US SBA is very friendly when it comes to offering small businesses long-term, low cost loans and financing packages – but the process of getting your hands on these lending packages can be a bit more involved than a lot of people realize at first.
Borrowers are going to need to have rock solid credit before they begin the application process, will have to have owned their business for at least a year already, and are actually going to have to go through traditional lenders to get the financing they are after – though the US SBA does guarantee these loans through the lender, which makes getting them a whole lot easier.
Anticipate a mile of paperwork to fill out before you get approval as well as a long and drawn out application process.
Business Lines of Credit
Business lines of credit are maybe the most versatile and flexible of all the different small business funding packages out there, giving you a lot of opportunity to use cash and capital to build and grow your business as you see fit without a lot of distractions on how you use that money.
Any business that has unpredictable or you regular cash flow, seasonal capital, or just want a lot of flexibility to do what they need to on a spontaneous basis – shifting gears when new opportunities arise or change – should look into these kinds of lending packages.
Business Credit Cards
There isn't a lot of surprise to the way that business credit cards work.
You're talking about the same kind of plastic you likely have in your pocket already, though the terms, limits, and interest rates are almost always going to be quite a bit different than the plastic you're using in your personal life.
Business owners that do not need a pile of capital to work through when it comes to small business funding, do not need immediate access to giant reserves of cash, and are comfortable using faster to pay for business expenses and the like are really going to find these kinds of offers attractive.
It's never a bad idea to look for business credit cards that offer some sort of reward system, either. With the kinds of dollar figures that run through these types of cards you can begin to rack up points and benefits in a hurry.
Equipment Financing Packages
Equipment financing packages are great for small businesses that have equipment on hand and other assets that can be leveraged for financing, helping you to purchase the equipment and materials you need to upgrade or overhaul your business while securing loans through the assets you already have on hand.
Kinds of financing packages for businesses can be a little bit restrictive in how they are used, however. You'll need to drill down into the ins and outs of your specific arrangements before you pull the trigger on this kind of move.
Different offers will have different restrictions attached to them so be sure that you are really sure of what you're getting into the for you sign on the dotted line.
Invoice Financing Packages
One of the biggest challenges you'll have as a small business owner is waiting around for your clients to actually pay you after they have been invoiced – a challenge that every small business on the planet is going to have to wrestle with far more often than they'd like.
Invoice financing small business funding packages can help you leverage those unpaid invoices to get cash and capital that you need ASAP, using the actual invoices themselves as collateral and getting in advance on those invoices to keep your cash flow a lot more consistent.
One of the big benefits here is that any business with invoices can take advantage of these kinds of lending packages regardless of their credit score, credit history, or overall credit worthiness. The invoices themselves are more than enough to get the ball rolling, giving you an opportunity to use financing packages even if you thought traditional opportunities were closed off.
Short Term Loan Packages
If you are on the hunt for cash and capital quickly you can expect to pay a premium to take advantage of these kinds of lending services.
Short-term loans kind of sit in that sweet spot between speed and overall cost, giving small business owners an opportunity to get their hands on the money they need when they need it most without having to mortgage their future financial situations along the way.
These kinds of loans are very flexible, offer almost instant payouts, and are usually pretty affordable – basically acting like a condensed down version of more traditional term loan packages like the ones we made mention of earlier.
Getting Creative with Your Funding Options
Creative small business funding options are available as well and you shouldn't overlook them, even if they don't appear to be quite as "old-school" as more traditional lending services we've already discussed.
Small business funding grants are a great way to get a lot of cash and capital you wouldn't have had access to otherwise, but you'll need to set aside plenty of time to apply for them and go through the entire (often grueling) grant process to land the capital they provide.
Crowdfunding solutions are becoming really viable these days, already one of the most popular channels for small business funding for startups and new entrepreneurs that are tech savvy. This is another approach you might want to go down if you're willing to take on the risk that it entails.
Finally, you can always reach out to your personal network (your friends and family members) that may be willing to help you make your entrepreneurial dreams come true.
It can be a bit risky to mix business and family or other important relationships, but plenty of people have been able to make it work – and have credited these kinds of lending services with allowing them to make their financial future a reality.
Closing Thoughts
At the end of the day, there's no simple formula for calculating exactly how you should approach small business funding for your specific needs.
You'll instead have to really assess where you are as a business, what your cash flow situation is, the needs you have to take care of with this financing, and the flexibility of not only how you can use the funding but how you can go about repaying the loans moving forward.
Hopefully we've been able to shine a little bit of light on the best small business funding options available today and have helped you make the right choices for your business going forward!