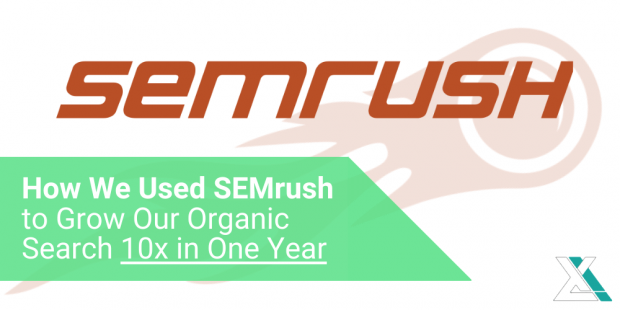 Are you a business owner wondering how to stay ahead of constant changes in the SEO arena when you have enough to deal with running your business? SEMrush helped us improve our marketing with a collection of useful tracking and reporting tools. Learn more below.
As someone without prior digital marketing experience, when I was just starting out marketing my business, SEO seemed like a very long uphill climb. Like Everest high.
Add to that the fact that we're in an extremely competitive space– business loans– which has an average competition score of .93. We had a lot of hurdles to cross to gain visibility.
Many of our competitors have been cranking out content for years, and a lot aren't half bad at it. So, I knew looking at what they were doing would be the best place to start.
My only problem was… we had no idea how to do that or where to start.
In came SEMrush to help.
SEMrush's Domain Overview Search helped us get clarity about our competition
After doing a little digging around, I decided to give SEMrush a try after seeing it recommended so many times on various guides.
The first report I started using– and still the main one we use– was and is the Domain Overview Search report.
We're primarily a small business lender, so I started by pulling data comparing our biggest competitors in the small business lending space to find out what topics and keywords they were ranking for:
Running the Organic Search Positions report on each of our biggest competitors helped identify other terms both big and small.
That not only helped show us what terms we should be targeting but told us more about their own keyword strategy as a whole– what's working for them and where they're falling:
We created pages for our major keywords early, but with little to no domain authority, we weren't seeing much results.
However, what really worked well for us was targeting some of the less competitive keywords in our niche, terms we were able to identify and rank for with the Domain Overview Search report:
SEMrush's Organic Research Tool told us what was working (and what wasn't)
Once we had a good collection of content up and we were working on our on-page and off-page SEO, we used the Organic Research Tool to regularly monitor our rankings:
The report not only showed us how our rankings were improving day-by-day but both our visibility and changes in our traffic for each individual term.
Another really useful tool we've used this report for is to pay attention to what SERP features we have.
With snippets becoming such an important part of SEO, we're constantly trying to snag new snippets for various terms– and this report helps tell us when we were successful.
We also used the Position Changes report on a daily basis to see how rankings were fluctuating. The report is especially useful for finding out when a page is newly ranked:
Between these reports, we had pretty much all the information we needed to know what was working and what wasn't and make changes accordingly.
And don't forget to set up the Position Tracking Tool, which is useful for setting up automatic updates on your focus keywords to go out to you on a daily basis.
It's especially nice if you're too busy to remember to check your reports daily, which is bound to happen especially for other business owners:
And their Site Audit and Sensor Helped us stay on top of issues
Chances are if you've never done a site audit, your website has a ton of on-page and/or performance issues that are affecting your visibility and ranking.
In addition to creating great content and monitoring how that content was doing, we used the Site Audit tool to help us take care of issues plaguing the site, which we were quickly able to minimize and keep down:
We then use the Sensor tool to keep on top of any potential Google updates in relation to our industry so we can know the moment an algorithm update might have gone live that could affect our rankings:
Backlink Audit tool helped us avoid a major ranking hit
Another tool we've used to similar benefit is the Backlink Audit tool. It's helped us identify toxic domains that are linking to us that could set off a red flag to Google.
When we notice a problematic link, we can easily handle it right then and there in the Audit tab within a matter of seconds:
Earlier in the year, we had a big hit to the site caused by some bad links that affected our rankings that were acquired via a negative SEO attack on our site by what appeared to be one of our competitors.
At first, we weren't sure what was causing it and were worried we'd just been hit by an algorithm update or something.
However, with this tool, we were able to identify several bad links that had just been directed at us and disavow the links that were causing the issue, fixing it right then and there.
One Year Later: Major results with SEMrush
Just over a year from the moment we started our big push, the site's rankings have taken off thanks in part to the SEMrush tools we utilized and traffic is climbing at an accelerated pace.
This is what our charts look like from December of 2018 to December of 2019, one year later:
And the number of keywords we rank for has exploded (and our number of top three and #4-10 place rankings):
SEMrush's slew of comprehensive reports and tools not only helped us create a plan of attack by running effective research on our competitors that informed our keyword strategy, but it also gave us the tools to monitor that growth on every level and remove– and avoid– issues that could potentially affect our ability to rank.
The end result has been big gains for us in a short window of time with a concrete impact on our bottom line (and continued growth even now).
If you're a business owner who doesn't know much– if anything– about SEO, I can't recommend the SEMrush tools more for crafting your keyword strategy, helping you rank, and making sure you stay there.