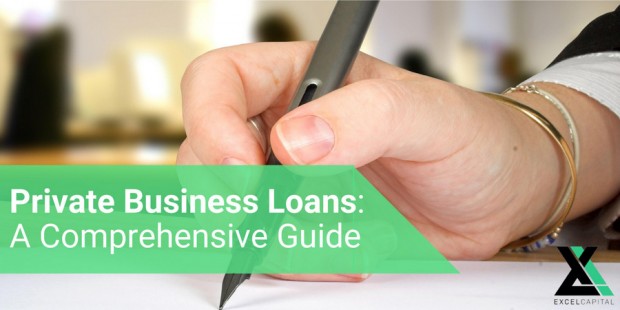 What are private business loans?
If you've recently applied for a bank loan, you know being approved by a traditional banking institution isn't easy. 
Fortunately, as a business owner, you now have several options for obtaining the capital you need to grow your business, thanks to private business loans. 
A private business loan is a loan offered by any non-banking institution (i.e. a private company, hence private business loans). 
For example, many new private lenders have sprouted up over the past 2 decades thanks to the fintech and general digital revolution.
Why is this a good thing? 
As a private lender, we're able to offer much more flexible terms compared to a traditional bank. That means it's easier for you as a business owner to get approved for financing than it's ever been before. 
In the past, if you needed funding for your business you ideally acquired an investor. And if you didn't have an investor, you went to the bank. 
If you couldn't get a bank loan, your options were to give up the business idea or use personal savings. 
But that just wasn't an option for many types of businesses that needed a large sum of money to get started (such as restaurants). 
Why were private small business loans created? 
Following recent economic events, especially the housing crisis, banks became much more strict about who they lent to. 
As a result, it became much more difficult for business owners to be approved for funding virtually overnight.
Private lending came out of that need.
With a need in the market that wasn't being met, private lenders arose to meet that demand.
And they did it with lending products that offered more flexible terms, accessible qualification requirements, and many new options for obtaining small business funding. 
And just like that, a dire situation for business owners turned into a fresh new opportunity with the growth of the private lending industry. 
A word on choosing a reputable private lender for small business loans
At Excel Capital, we value providing quality service. 
We've established great long-term relationships with many business owners because we know the secret to business success includes strong customer relations.
Most private lenders understand this and have built reputable brands with high service ratings as well.
But not all private lenders have been kind to their customers. A few, most notably in the beginning of the private lending boom, have been found using predatory practices and shut down.
For that reason alone, but also because you should learn about the lender you're choosing to work with in general to make sure their solutions fit with your financial goals, it's important to do your research before deciding what private lender to work with for your small business loan needs. 
Pros and cons of private business loans
Private business loans tend to work a bit differently than traditional bank loans. 
That's mostly a good thing. However, there are not only pros but also cons to this as well.
Before deciding how you'll be funding your business capital needs, you should know what those pros and cons are to help you make an informed decision. 
Pros of private business loans
The major overarching pros of private small business loans are:
Faster turnaround: Banks are notoriously slow and paperwork is abundant. Not so with private lenders. You can be approved and even funded for most types of private business loans within a matter of days. 
Customized funding options: Private business loans is really an umbrella term that refers to many different types of business loans all offered by private lenders. The number of these options are many with several perfectly suited to certain industries. 
Flexible terms and qualification requirements: terms are often very flexible for private business loans, with less emphasis put on credit and more on your overall business health. 
Within these points are many positive subpoints such as no hard collateral requirements, little or no credit requirement in many cases, and more convenient terms.
However, each lender is different. Make sure to take time to look at your options and go with the product, lender, and terms that make the most sense for your business and its goals.
Cons of private business loans
When it comes down to it, there really is just one primary con of private business loans: higher rates.
Not all private business loans have higher rates, but most do. That's for one primary reason: most have different qualification requirements. 
As we touched on a moment ago, private business loans have more flexible terms and qualification requirements. In particular, that means two things:
You don't need great or even good credit to get a private loan.
Most business loans through private lenders don't require hard collateral like bank loans do such as property, a vehicle, or cash savings. 
Those are big positives. However, the flip side of that is many private loan products have higher APRs and shorter loan terms to make up for that increase in risk the lender takes on as a result. 
It's important to make sure and review any loan contract before signing to make sure that the numbers make sense for you and your business. 
It's easy for a high APR to become overwhelming. But many private lenders offer fair and competitive APRs, so do your homework before taking that final step. 
How many types of private business loans are there?
Private business loans encompass a whole suite of lending products. 
Some are short-term, some medium, some long. Some offer a one-time lump sum, others a more continuous flow of capital based on your needs. 
And still others are designed specifically for certain types of businesses, including those which invoice their customers.
The more you know about each loan type, the better you'll be able to identify a funding vehicle that's the best fit for accomplishing your business goals. 
Here are the main types of private business loans:
Term loans
Term loans are primarily separated into 2 different loan types: short-term and medium-term.
Term loans is a blanket term which refers to virtually every type of private business loan, including:
Unsecured business loans
Business lines of credit
Merchant cash advances
Invoice factoring
Asset-based loans
Learn more about short and medium-term business loans.
Business lines of credit
A business line of credit is a unique lending vehicle that gives you access to a pool of credit that you can tap into whenever you need it.
When you're approved for a business line of credit, you're given a credit limit. All you have to do is make sure that you pay off your balance regularly and you'll be able to continuously tap into it over time.
This makes a business line of credit especially great for seasonal businesses. 
Learn more about business lines of credit.
Financing
Financing is an umbrella that includes two main types of funding products: equipment financing and invoice financing: 
Equipment financing
Equipment financing gives you the ability to get the funding you need to finance a vital piece of equipment when you don't have the cash to get it on hand. 
You're able to fund the full cost of that piece of equipment with the equipment itself working as collateral as you pay it off at interest. 
Learn more about equipment financing.
Invoice factoring
Invoice financing works similar to equipment financing in that you use one or more (often many) of your business's invoices as collateral (instead of a piece of equipment) to obtain financing which you then pay off at a specified interest rate. 
Invoice financing is useful as a way to bridge the gap when you have open invoices in your accounts receivable and need to maintain a steadier cash flow, something many businesses suffer from.
Learn more about invoice factoring.
Merchant cash advance
A merchant cash advance is a unique type of business financing in that it uses your daily credit card sales as a form of soft collateral that also determines your loan amount.
You get an amount based on your regular credit and debit card sales which you then pay off with interest by setting up an ACH auto debit straight from your credit card processor each time you batch out. 
MCA's are flexible in that because you're paying the loan off at a percent of your credit card sales; when your sales dip so does your loan repayment amount go down. 
Learn more about merchant cash advances.
Hard money lending
Hard money lending is a type of asset-based lending, a type of financing secured by a tangible asset such as a car, property, or liquid asset such as cash savings.
Hard money lending specifically works as a short-term "bridge loan", named so because it's designed to help businesses bridge the gap on large projects where the project must be completed before getting paid.
Think hard money lending is the perfect option for your business? See what you could be approved for. 
Peer-to-peer lending
Peer-to-peer lending (also referred to as P2P), is a form of crowdfunding which has become increasingly popular over the past few years. 
With P2P, a group of people come together, typically on a P2P lending platform that facilitates the transaction, and offers a pool of funds to a borrower at interest. 
Learn more about peer-to-peer lending.
Funding your business is easier than ever
No matter what funding vehicle you choose, funding your business is now easier than ever thanks to newer private lending options.
Whether you accept invoices, have high seasonality, need a single lump sum fast, or want something backed by the SBA, you have several options that can fit your specific financial needs.
It was once incredibly difficult to obtain funding for a new or existing business. Then it got even tougher. 
But now, you can be approved for a private small business loan whether you have good or bad credit, little or no collateral, and even if you need that funding within a matter of days.
Take the time to research and review your options to find something that makes the most sense for you and your business.