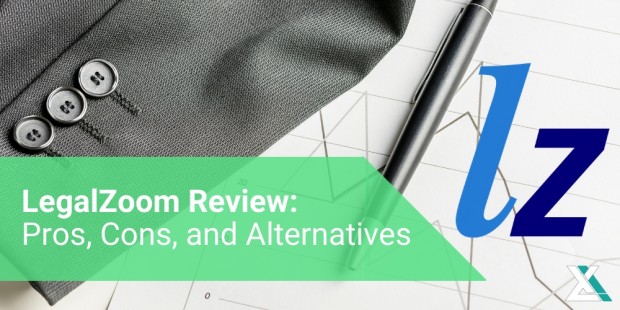 Since 2001, LegalZoom has been the face of digital legal services.
From incorporation to setting up a trademark, LegalZoom has established itself as the forerunner in business and legal services for business owners everywhere.
But are they the best option in 2020?
Where do they excel?
And what competitors exist?
These are questions we'll help you answer throughout this guide.
Table of Contents
Pricing 
Pros and Cons
Online reviews for LegalZoom
Best LegalZoom Alternative
Final Verdict
LegalZoom review: Should you use them for your legal and technical business needs?
Boasting a nearly 20-year history, LegalZoom has helped nearly 5 million customers throughout the U.S. establish a business or set up a patent, trademark, or other business service and make their dream a reality.
LegalZoom offers dozens of various business-related services, but most of their services fit neatly into one of three categories:
Starting a business
Creating an estate plan
And protecting your work
Some of their other services include LegalZoom:
Business name change
Cohabitation reviews
Dissolutions
Estate planning
Trademark
Bankruptcy
Divorce
Building agreements
And LegalZoom living trusts
If you're a small business who can't afford a legal team, LegalZoom could be just what you need to take care of these vital business services without having to pay an arm and a leg.
LegalZoom Pricing
LegalZoom is generally considered more expensive than its competitors, but that isn't the case for all of its competitors, most notably for its biggest competitor in Rocket Lawyer who is slightly more expensive across the board.
Here's a quick overview of LegalZoom's pricing for its various services:
Keep in mind that for every service, there are typically add-ons that can inflate the price if you choose to opt-in to them.
The most common of these add-on services is expedited processing for business formation, often costing an extra $100-200.
Also, their Business Advisory Plan includes several different services in one for a flat monthly fee, including:
Consultations with an attorney
Discount on attorney fees for additional services
Contact with tax professionals
Document review
Annual business evaluation
LegalZoom Pros and Cons
LegalZoom's overall offering has many pros but also cons you should be aware of.
Read on to get the most complete view of the positives and negatives of LegalZoom:
Pro: Money-back guarantee
Despite having spotty online reviews, one of LegalZoom's saving graces is their 60-day money-back guarantee.
If you're not satisfied with your service, you can get a full refund within 60 days (or cancel your subscription any time if it's a monthly service along with a prorated refund).
Pro: Affordable tax advice
While many of LegalZoom's competitors offer legal advice, where LegalZoom has differentiated themselves is in also offering affordable tax advice.
Available with their Business Advisory Plan for just $31.25, it's one of the most affordable tax advice services available online. Plus, considering the fact that it includes everything else you get in the plan, it's an even better deal.
Con: Inconsistent customer service
Likely the biggest and most commonly mentioned con of LegalZoom's service, while some customers say they had a great customer service experience, others say they were downright ignored and the service they paid for unfulfilled.
Con: Costlier than most competitors
LegalZoom is known for being more expensive than most of their competitors. Their pricing for most services is anywhere from $20-30 more expensive, not including upsells which LegalZoom is known for pushing to the point of annoyance on the part of customers.
Online reviews for LegalZoom
We touched on their reviews earlier, but it's worth highlighting this point as it's the one big blight in terms of LegalZoom's service as a whole.
LegalZoom has many happy customers, but when you look at their reviews online, it's anything but happy.
This is LegalZoom's rating on Consumer Affairs:
And on the Better Business Bureau:
Keeping in mind that the BBB's online ratings often include many negative reviews (after all, you're typically motivated to leave a review most when you have a negative experience), that's still not ideal and should be taken into consideration when choosing whether to go with LegalZoom or a similar service.
What is the most common complaint within these reviews?
In our research, the most oft-mentioned complaint was that the customer purchased a business establishment service, such as a DBA set up, and correspondence was dropped mid-process without the customer being able to get a hold of anyone in customer service.
Whether that's a question of negligence or an overtaxed customer service team is impossible to know, but it is important to know that it's a common complaint nonetheless.
Best LegalZoom Alternative: Rocket Lawyer
While many happy customers report being satisfied with LegalZoom's services, many other negative reviews exist to counterbalance that.
If you're unsure about whether you want to use LegalZoom, there are many great alternatives.
One such alternative that stands above the rest as a worth competitor is Rocket Lawyer, which offers a comparable set of services and boasts great online reviews both with the BBB and Consumer Affairs (4 stars average, as opposed to LegalZoom's 2 ½).
What services does Rocket Lawyer offer?
Rocket Lawyer's services are virtually identical to LegalZoom's.
According to their website, they offer:
From starting a business to planning your estate and protecting your business ideas, Rocket Lawyer offers many of the same services as LegalZoom.
However, they're also known for being a bit more expensive.
Rocket Lawyer vs. LegalZoom: Who is cheaper?
So, who is more affordable?
LegalZoom tends to be a bit cheaper for most services than Rocket Lawyer. For example, their basic LLC filing service is $90 while LegalZoom is $80 ($79.99).
Not a big difference, but it is still worth noting that most of their services cost $10-30 more than LegalZoom.
However, what Rocket Lawyer does have that LegalZoom doesn't is a monthly subscription service for those with recurring or frequent legal needs.
If you need regular access to attorney advice or something similar, or regularly need to make use of various services that include corporation filing or registered agent services, you can pay $39.00 for Rocket Lawyer's monthly subscription and get most services for free (with a few at a steep discount).
LegalZoom does have a similar service in their Business Advisory Plan for $31.25, though that only includes year-round legal help from an attorney and not the legal forms, incorporation filing, and other services that Rocket Lawyer's service offers which could save you hundreds of dollars or more depending on how often you need to make use of such services.
Alternatively, LegalZoom's service offers tax advice. So, if that's more of what you're in need of, their plan is likely the better option.
LegalZoom review: Are they good?
If you're in need of legal and tax advice, LegalZoom is likely the way to go, especially with their Business Advisory Plan.
However, if you're in need of one-time or other recurring business services such as legal advice by itself, registered agent services, or frequent incorporations, there are better options out there.
No matter which you choose, take the time to consider your options and what is most important to you.
Frequently asked questions
Why is LegalZoom so expensive?

While LegalZoom is more expensive than some business formation services, it's cheaper than others. However, it's price sits on the high end, so check around for pricing on comparable services before committing to anything first. 
Is LegalZoom trustworthy?

LegalZoom has received mixed reviews for its services online. Some say they received top-notch customer service, others say their payment was taken then communication went dark.

We can't rightfully suggest one way or another whether you should use LegalZoom or not, whether you're starting a business, planning your estate, or setting up a trademark or similar protection. 

However, we hope this guide helps you make an informed decision about whether LegalZoom is a good choice for the business services you need.