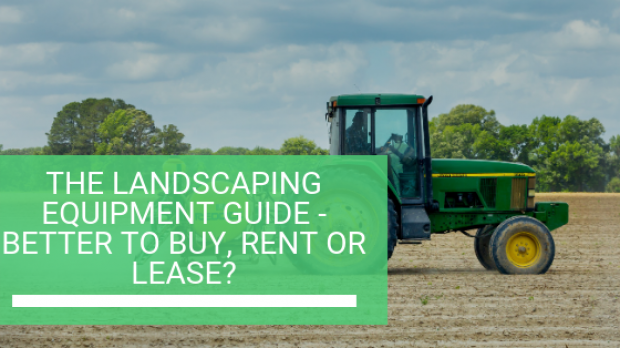 In this Guide we Explore Landscaping Equipment Funding Types
As a business owner, you are going to have a lot of different decisions to make on a day-to-day basis – with each and every one of them significantly informing how your business grows and whether or not you are able to make as much money with this operation as you'd like to.
Some of these decisions as a landscaping company are pretty simple and straightforward. Updating your website, buying new business cards, or rolling out new advertising and marketing campaigns are pretty much no-brainer decisions all smart and savvy business owners make.
Others, like whether or not you should buy, rent, or lease landscaping equipment – the landscaping equipment that allows you to have a business in the first place – are nowhere near as easy to decide on.
To better help you navigate the sometimes rough and rocky roller coaster of picking between which pieces of equipment you buy, which you rent, and which you lease out we have put together this quick guide.
Let's dig right in!
So whats the difference between Buying, Renting and Leasing Landscaping Equipment?
For starters, it's important to understand that there is a world of difference between buying, renting, and leasing landscaping equipment – even if the end result (your landscapers actually using the equipment) is identical.
On top of that, your business, your financial goals, and how you see your business growing over the next five or 10 years will significantly inform these decisions as well. You'll really want to combat these decisions from a multi-angle and holistic kind of approach rather than just going with a short-term solution.
Buying Equipment
Buying landscaping equipment is never going to be an inexpensive proposition when it comes to cash flow – particularly if you are pretty much a seasonal operation that can count on three months (at least) of downtime or slow time where your equipment is just sort of sitting around costing you money rather than making you money and having to put up all the funding upfront taking away from the working capital reserved for your business operation.
Deals can be found on last years models, preowned equipment, and the like to be sure. But for the most part you are going to be ponying up a premium to get your hands on total ownership of this equipment, and most of the time that just isn't a financially smart move to make – at least in the early stages of building a landscaping company, anyway.
Renting Equipment
Oftentimes confused with landscaping equipment leasing, the truth of the matter is landscaping equipment rental agreements are quite a bit different than a leasing program from top to bottom.
Rentals are almost always short-term in nature (we are talking about just a couple of days or at most a week or two), very expensive compared to leasing and even purchasing equipment, but may be ideal in certain situations.
For example, maybe you have a very specific project that requires very specialized equipment that you do not use all that frequently. In these circumstances renting equipment becomes a no-brainer decision – giving you access to the professional landscaping tools and equipment you need to get the job done without having to spend a mountain of money buying or leasing equipment you might not use again for quite a while.
Bottom line, renting landscaping equipment is a smart and savvy decision on an "as needed" kind of basis. Buying and leasing are much better options for the "bread and butter" tools you'll use day in and day out.
Leasing Equipment
With how expensive landscaping equipment for sale can be (especially newer equipment) the overwhelming majority of landscaping operations choose to lease equipment before they even think about buying something.
Sure, you can find great deals on used landscaping equipment that might help cut down on the overall cost of ownership upfront. But even then you might be ponying up $50,000 or more for a piece of equipment that you could have leased for a few hundred or a few thousand dollars each month – letting you use that tool to make you money and essentially pay itself off along the way.
Another huge advantage in leasing commercial landscaping tools is that you'll always have access to the latest and greatest tools and technology in the industry. Keeping a short lease allows you to consistently upgrade to the most efficient and professional landscaping equipment.
Landscaping companies that purchase their commercial lawn equipment out right may have brand-new toys for a couple of years. But as they continue to pay off those expensive loans their equipment gets older and older – and by the time they own their tools out right those machines are legacy tools that have been leapfrogged by more modern solutions.
With leasing, that's never a problem. Your lease expires, the equipment is returned, and you lease new models with new advances, new technology, and ways of helping you make money more efficiently.
At the end of the day, the right business lending organization can help set you up with the kinds of financing packages you need to secure top-tier professional landscaping tools and equipment leases without having to deal with any headache or hassle whatsoever.
For most operations, this is the way to go!