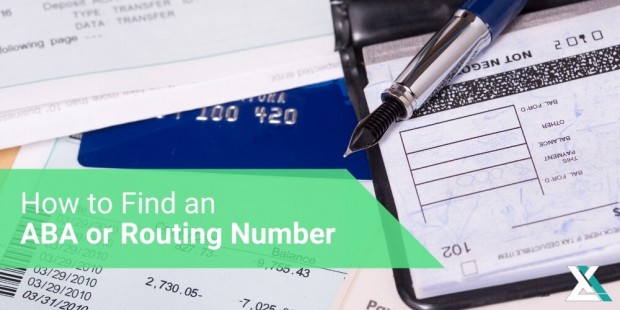 What is an ABA routing number?
An ABA number, more commonly known as simply your routing number, is the nine-digit code that identifies which bank you do business with (see bottom left):
So, what is it used for?
Chances are you've already used your own bank account's routing number to do an automatic bill pay transaction, transfer money to an acquaintance, or set up direct deposits at work.
Where did ABA routing numbers come from?
ABA numbers have now been around for more than a century, having been created in 1910 by the American Bankers Association (or ABA).
ABA numbers were created as a system that would allow banks and other institutions a way of easily identifying a particular bank.
For example, if your employer banks through Chase but you have a checking account through Bank of America, the routing number on your checking account will help Chase identify where to send the money, at least down to the particular bank (account number does the rest).
In the past, this was only relevant to paper checks. However, over time, this expanded to include various electronic transfer types like the ones we mentioned earlier.
How ABA / routing numbers work
Nowadays, the process of utilizing your ABA number (or routing) is as simple as providing your routing number along with your account number to a particular vendor or institution.
From there, computer systems will automatically take care of all the heavy lifting.
Even if your bank fails or is merged/sold to another, you'll automatically receive a new ABA number without having to do anything.
You can even often continue using your old number uninterrupted in some cases.
So, exactly how does a routing number work?
Digits 1-4 of your routing number are designated for your bank's physical address. Nowadays, due to merges and other factors, that's not always the case though.
Digits 5-6 tell the computer system which Federal Reserve location your money will route through when you set up a transfer of any kind.
Digit 7 designates which Federal Reserve check processing center was assigned to your bank.
Digit 8 tells which Federal Reserve district your bank is in.
And digit 9 tells the checksum.
Checksum is a number calculated using the first 8 digits of your routing number designed as a security check. If the checksum number doesn't add up when trying to set up a transfer, the account is flagged.
How to find your ABA or routing number
If you ended up here because you need to get your routing number for the first time, whether that be to set up direct deposit with your employer, set up bill pay, or transfer money somewhere, we've got you covered.
There are a few easy places to get your routing number from.
First, the most commonplace to get it by logging in to your online/mobile banking account.
For most banks, you should have a login where you can view your balance and all kinds of jazz.
From there, you typically need to click on the specific account you're looking to set up the transfer/deposits to or from (because each account has a different account number, and you probably need both your routing and account number at the same time).
For example, with Bank of America, once you click on the particular account, you can access your routing and account number by clicking on "Account Details" (keep in mind this information is subject to change as their website is updated and menu items are moved/changed).
Look for an "account information" or equivalent selection, where you'll be able to view both your routing and accounting number.
At this point, you might get a bit tripped up wondering whether you should use your print or electronic routing number.
Generally, you'll be using your electronic routing number if you're setting up something like direct deposit or bill pay.
And if you're not sure, defaulting to your electronic routing number is always a safe bet (though it doesn't generally matter which you use, so don't worry too much).
A second and very easy place to grab your routing number is from your checks.
Checks are a bit dated now, however, if you happen to have ordered checks when opening your bank account or you need them for business, it's incredibly fast to grab your routing number that way– if you know what you're looking for.
Here's where to look:
Keep in mind, though, that this might not be the correct routing number for ACH or wire transfers.
So, if you're unsure, call your bank with your online banking account open and ask them which of your listed routing numbers is the one you should use for your particular case.
Frequently Asked Questions
How do I find my ABA or routing number without a check?

While finding your ABA routing number with a check is quick and easy, nowadays, it's just as easy to find it by logging into your online banking account. 

For most banks, after logging in you simply click on the particular account, then account details, then you can view both your routing and account number simultaneously. 
Are bank routing numbers public information?

Your bank account number is unique to you and private as it's used to identify your specific bank account.

However, the routing number on your account is used to identify information such as your banking institution, its location, and the location of the nearest federal reserve bank, not your personal information. So, it's public information and not exclusive to your particular bank account. 
Is an ABA or routing number the same as an account number?

Your bank account number and routing number are two different numbers that serve different purposes. 

An ABA or routing number identifies banking institution-related information, not information specific to you or your bank account. Your bank account number, however, identifies your specific bank account and should be kept private. 
Where can I find my ABA routing number online?

In most cases, your bank's online banking should make accessing your ABA routing number quick and easy. 

Each bank is different, however, by clicking on the particular account (each of your bank accounts will have a different account number, though the routing will likely be the same), you should see a section which will provide "account details" or something similar. This is typically where your account and routing number is located.