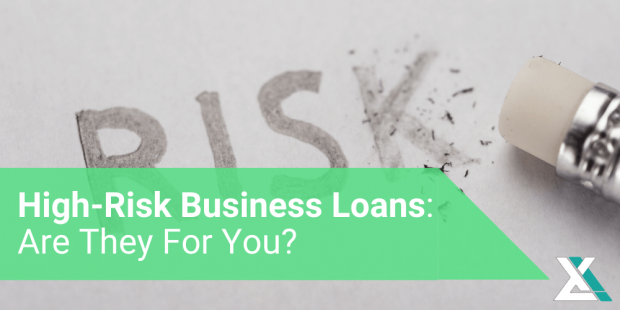 What is a high-risk business loan?
High-risk business loans are small business loans offered to business owners with bad or inadequate (not enough) credit or considered to be operating in a high risk industry.
Approval for traditional loans is based mostly on credit– often in the 720+ range– which in the past meant that if you didn't have good credit, you were out of luck.
With high-risk business loans, though, you can be approved for a loan on bad credit, often at a higher interest rate. Hence, the term 'high-risk' refers to the risk the lender takes on when approving a high-risk loan, not the borrower.
What do lenders consider high risk?
So, what exactly is high risk?
We've touched on credit so far, but exactly what credit score is considered high risk? And what other factors make you high risk?
Factor 1: Credit score below 600
If your credit score is around 600 or lower, you're considered high risk. Keep in mind that this includes several other credit factors as well, including:
Too little credit history
Marks on your credit report, including judgments, liens, and bankruptcy
Factor 2: In business less than 2 years
Virtually all banks require you to have been in business for at least 2 years to approve you for any kind of business loan.
In fact, most require you to have been in business for 5 years.
This is the simplest and most straightforward factor and it comes down to one thing: the lender wants to see that you're an established business that will be here tomorrow, so to speak.
Factor 3: You're in a high-risk industry
Certain industries are considered more high risk compared to others. This could be because of regular volatility, seasonality, they way they're paid, or because they're taboo.
High-risk industries include:
Auto sales
Construction
Trucking
Cannabis
Strip clubs
Gun shops
Keep in mind that this is a short list, there are many more industries that your lender may consider high-risk.
If you have one or more of these factors, the best thing you can do is to review your business reports, such as profit and loss, as well as your credit report and try to clean things up as much as possible.
Factor 4: You're not showing profit
A final but equally important factor is showing profit or loss. If your business doesn't show profit, or is operating at a net loss, lenders will be very wary of working with you.
The basic idea is this: if you're not showing profit, how will you have the extra cash to pay off your loan? Lenders want to see a consistent history of net profit to ensure they'll be able to recoup their investment.
How can lenders approve high-risk businesses?
A common question asked by business owners looking for and applying for a high-risk loan is: how can I be approved in the first place if my business is considered to the lender?
Lenders are in the business of lending money, but if they don't get that money back, they're out of business. So, why would they approve you if you're considered high-risk? What's the catch?
In the past, banks approved businesses based almost entirely on credit. If you didn't have amazing credit, you were out of luck.
In some cases, loans have been offered at lower amounts and with higher interest rates in exchange for lower credit requirements. This is where the term "high-risk loan" originated.
Yet, the restrictions placed on these loans have often been unfavorable for business owners in need of substantial capital to grow their business.
However, now there are many alternative lenders who will approve you for a loan that is comparable to a traditional bank loan in terms of approval amounts.
And it comes down to the fact that they take more than credit into consideration when factoring their approval.
What other factors are those? Your business's overall financial health, including:
Cash flow
Revenue
And more data related to your business health
By taking all of these factors into consideration, alternative lenders are able to qualify you more effectively than simply taking your credit score and report into consideration.
What about collateral? How do alternative lenders secure loans?
Most alternative loans don't require the typical "hard" collateral you're used to, such as property, vehicles, or cash.
Instead, they secure the loan with your business revenue, in some cases purchasing a portion of your future business sales as a form of soft collateral.
This is beneficial because if, in the unfortunate case, you're forced to close down your business, you won't be on the hook to pay that amount back.
So, there's no risk of losing your personal property or cash savings if your business goes under.
High-risk and alternative business loans options
If a traditional bank loan is out of your grasp, there are a few options you have in terms of obtaining financing.
Over the past decade, many alternative options have arisen to fill the hole left by banks with increasingly more rigged qualification requirements (even though the average credit score has gone down).
Here are a few of your options:
Peer-to-peer lending
Lending through peers is about as old as money, but modern peer-to-peer lending takes that to another level.
With P2P lending, you can apply for funding on a platform such as Prosper or Upstart and get a sum of capital which is comprised of a collection of smaller investors who believe your business is worth investing in.
Credit union
Credit unions have long been good alternatives to traditional bank loans because they tend to offer competitive rates and member discounts.
The only negative is you'll need a local credit union and you'll likely have to become a member of that credit union to apply for a loan.
Alternative lending
Alternative lending comprises many different options such as business lines of credit and unsecured business loans.
Alternative lenders such as Excel Capital offer these options to business owners who aren't in a position to be approved for a traditional bank loan due to bad credit or no collateral and need an alternative to get the capital they need to grow their business.
Get the funds your business needs– fast– with Excel Capital
We know how difficult obtaining a bank loan can be.
If you have bad credit, not enough credit, or a blemish on your credit report that could keep you from being approved for a loan, let us take a look and assess your business financial health.
Our system offers a more complete view of your business and allows us to approve you based on more than your credit alone (often even with bad credit).
Click here to apply and find out what your options are: Apply Now