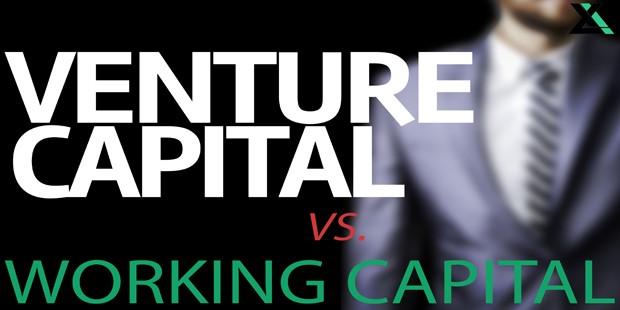 Most business owners will apply for some sort of capital at least once over the business' lifetime. This capital can be used for various reasons at various stages of the business life cycle: business start-up, expansion, equipment, purchases, hiring, etc.. When it comes to the growth of any business, money is essential.  What the capital is being used for determines just what type of capital it is – venture or working – and how one goes about acquiring it. No matter what though, as a business owner it is important to do your homework and know what type of funding you are applying for and how it can affect your bottom line in the long run. Let's take a look at the difference between venture and working capital funding and the funding process for each.
VENTURE CAPITAL FUNDING
Venture Capital is normally sought after by up and coming business owners that are early in the life cycle of their endeavors  – startups and seed stage – but can also be used by business owners who are later in the business cycle but are looking to fund new ideas. If these types of business owners can't get the money from a friend or family member who believes in their idea (business means big bucks, and a lot of times close acquaintances just can't help out) they are usually able to do so through a Venture Capital investor who strongly backs their business plan. What complicates this process is the fact that most investors will want to see revenue generated for the long-term. They are now part owner and in it for the long haul just like the main business owner themselves, generally looking for a return of at least 5x their initial investment amount.  
Venture Capital investors or companies will analyze to see if there is a market for a business owner's idea. If they feel that your business won't be success, they most likely won't take the risk of investing any money into it at all. Their goal is to see a big profit and have a hand in many major business decisions. It's usually not simply a labor of love. Expect for investors to ask for a C-Level title and/or seat on your board of directors if you have one. At the very least, they will usually ask to be an "owner." This results in relinquishing full control, ownership and an agreed upon percentage of future earning until you have enough capital to buy them out.
When it comes to qualifications, Venture Capital investors or companies typically only fund businesses in the amount of $1M or more, and also only fund specific industries which puts limitations on many business owners. They tend to look for big industry-specific companies with big, commercial ideas, a strong team, and some existing momentum and paying customers. This can be great, however, if you are just starting out, run a company on your own, or don't necessarily have the plan to back up such a large sum of money, this can prove to be extremely overwhelming. Garage Technology Ventures, an early-stage venture capital funding company highlights the specifics of these qualifications in their article Critical Factors for Obtaining Venture Funding. Aside from all of  this, finding a reputable investor in itself can be a tough task. You should always do extensive research to ensure the investor has you and your business' best interests at heart. Vivek Wadhwa's article, Venture Capital: The Good, The Bad, and Ugly on Bloomberg.com highlights some other important factors when it comes to considering Venture Capital. Check it out.
WORKING CAPITAL FUNDING
Working capital is sought after by business owners for any number of reasons during any stage of the business' lifetime – including the startup stage (normally lenders require a business must be operating for at least 3 months, but this can still be considered the startup stage). The capital is usually used for equipment purchases, new hires, expansion, inventory, and more. While lenders generally do care about the product or service the business offers, what business owners do with the capital (within reason) is their business. They are no way, shape or form now an owner after funding a company and don't require that you list them as an owner, sponsor, or member of your board of directors. You make all of the business decision and once the funding is paid back their is no further obligations.
Typically, to qualify for working capital funding by a lender, a business owner must provide 4 months of recent bank and credit card statements (if applicable) to show their ability to pay back the advanced money. This capital acquired is generally structured as either a loan with fixed payback terms and fees or a purchase of future receivables at a discount rather than an investment expected to generate 5x the initial amount. Most business owners sleep a little better knowing this much and even reach out for additional capital numerous times over the course of their business' lifetime. Lenders tend to develop genuine and trusting working relationships with many business owners and offer various financing solutions to work harmoniously with a business.
At Excel Capital Management, we offer many different financing products to help you obtain the Working Capital your business needs to grow! Our funding specialists will work diligently to ensure that you receive the best products available to achieve business success!
APPLY NOW!