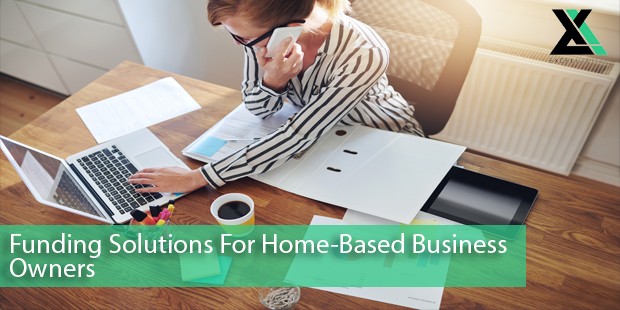 Whether large or small, all businesses play an important role in our economy. While your home-based business may not be a multi-billion dollar company just yet, it is possible. Companies like Hershey's, Apple, Ford Motor Company, and many more all started out as home-based businesses. In fact, according to the Small Business Administration (SBA), more than half of all U.S. businesses are home-based. Unfortunately, federal agencies cannot provide home-based businesses with grants, however, there are many low-interest loan programs available when it comes to financing, as well as access to venture capital and investors; but what are the funding alternatives when these options don't pan out? Let's take a closer look at what's available.
Aside from the tedious process of starting a home-based business, applying for licenses, filing taxes and much, much more, acquiring capital to start, grow, or expand the company is a process all in itself. Catching the attention of an investor or accessing venture capital is also nearly impossible especially in the beginning stages (Excel touched base on that process in our previous blog: Funding: Venture Capital vs. Working Capital), but thanks to the ever-growing alternative finance industry, hope is still alive when it comes to funding your home-based business. Let's focus on two of the main funding solutions available to home-based business owners – the Merchant Cash Advance and ACH Bank Loan.
The purpose of a Merchant Cash Advance or ACH Bank Loan is to service the financial needs of small to medium-sized business owners. Unlike traditional bank loans, funds from a Merchant Cash advance or ACH Bank Loan disburse in as little as three to four business days providing fast and easy access to capital. These funding products do not require a minimum credit score to qualify, making the application process much easier for home-based business that are just starting and have little to no credit, or those who run into tough times over the years. Similarly, both products also do not require any collateral to secure the capital. Lastly, since Merchant Cash Advances and ACH Bank Loans do not typically have fixed payments, home-based business owners do not have to worry about making large monthly payments, balloon payments, and do not accrue interest over time – these products are classified as a purchase of future sales at a discount.   
When it comes to repayment, there are two common collection methods used by alternative financing lenders. For a Merchant Cash Advance, payments come from a set percentage of credit and debit sales. ACH Bank Loans are a common funding solution for home-based businesses that do not accept credit cards or want to pay based on a set repayment schedule. Therefore, the repayment process is done via the Automated Clearing House (ACH) method with fixed daily, weekly, or monthly payments. This allows alternative financing lenders to withdraw the predetermined amount from the business owner's bank account seamlessly. Finally, a lesser common, but alternative repayment process is through a lock-box agreement. With this method, the home-based business' daily credit and debit sales are deposited into a lock-box account and then withdrawed by the alternative financing lender.
Finally, what are the benefits to these funding solutions? Well, for starters, you can forget the lengthy traditional bank loan application process. No need to provide piles of paperwork and applications, and no need to wait weeks to receive an approval or decline. Alternative financing lenders typically only require a one-page application, four months of recent business bank statements, and four months of recent credit card processing statements (if your business accepts credit cards). That's it! Home-based business owners can receive financing offers and approvals in as little as two business days!
Now if the time to grow your home-based business into a multi-billion dollar corporation just like Hershey's, Apple, and Ford Motor Company! While owning a home-based business can be a little tougher than usual, access to working capital doesn't have to be! For more information on the alternative financing solutions Excel Capital Management offers, check out our Solutions page.
Latest posts by Excel Capital (see all)