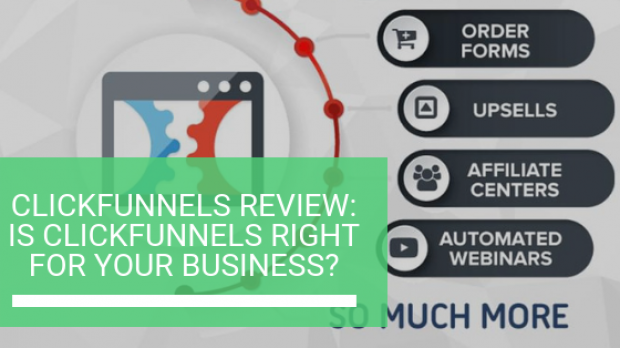 Many online businesses fail to grow and become profitable not for the lack of marketing, but in failing to convert potential customers into paying customers. There are many ways for a business to increase its sales and, subsequently, its profitability, but one of the most common methods of visualizing this process is through the marketing and sales funnel. ClickFunnels is a tool that makes use of the marketing and sales funnel to help any business to improve how they market and sell their products online.
When most people think of an online business, they think it is only about creating a website and starting to sell right away. In reality, it takes a lot of effort take a customer through a process from marketing all the way to the point they make a purchase. If you make the mistake of losing a customer's attention at any point during the process, then they may leave your website. Therefore, it is very important to make the process easy to follow, and this is done through the funnel.
What is a marketing and sales funnel?
Any entrepreneur who has been interested in growing their business may have already stumbled upon the cone-shaped funnel. It is a visual representation of the process through which a business markets their products to new customers and eventually convert them into actual customers. The conical shape also illustrates how one cannot convert all of the potential customers but the number decreases down the funnel. There are 5 steps involved in any sales funnel, and these are:
1. Awareness
In the first step of the process, you get to introduce your company and products to potential customers. You can do this by sending marketing emails, advertising your website/blog or even through social media. At this point the customers don't know a thing about you or your business, but it is also the time when you introduce yourself. To make a positive impact on their minds, you will need to present yourself as a thought leader in the industry to get them interested in your products or services.
Considering that those who you market to don't know the value of your products and services, it is not advised to immediately try and sell to them. If you do, then your advert will seem more like a sales call and potential customers are more likely to skip through. Instead, try to demonstrate what you have to offer that will keep them interested in you specifically. A good way of keeping them engaged is to give them a taste of what you can offer.
Let's take the example of a web developer who would like to gain more customers through a funnel. At the awareness stage, they might offer a 30-day trial for their customers to evaluate the quality of websites. By doing so, you're already keeping them engaged and discouraging them from the competition, at least for the period of the trial.
2. Consideration
Now that you have already introduced yourself to the client, their interest is peaked and it's time to strike. This is the time to introduce your products to your client but not yet to sell them. They may be interested, but you can bet they are considering others too. Therefore, you need to set yourself apart by targeting their specific problem. Presumably, you have learned their particular needs by now after being in contact for a while, so you know what they really want.
In our example with the web designer, you may have noticed that the customer's need is more focused toward e-commerce. To demonstrate how your services would fulfill this need, you can incorporate these features into their trial website. The thinking is that once they see their problem being solved, they will be more likely to stick to what worked.
3. Conversion
Those customers that reach this stage of the funnel are already well educated about your products and they need only to make the purchase. Although they have already seen the value of your products and services, most will still need that final nudge. Here you want to illustrate the benefits of what you offer rather than overwhelming them with more details. Show them why you are the better option compared to the competition and then offer incentives. Some of the best incentives are discounts that make your products/services cheaper than the competition and one-time offers that create a sense of urgency.
4. Loyalty
After descending the funnel in the previous steps, it is clear how difficult it is to convert a potential customer into a paying one. So why would you want to throw all that effort away and start all over again? You wouldn't, which is why you must continue to keep your paying customers loyal. Even the Harvard Business Review talks about how a company's profits increase with time if the existing customers stick to them for longer.
To keep your customers loyal, some companies offer special discounts for longer-term purchases. Say, the web developer is paid $50 for maintaining a website for a month, which equates to $600 a year. They might offer a yearly fee of $500, thus saving the customer money for staying loyal. This would incentivize customers to stay loyal for longer and build a lasting relationship.
5. Advocacy
By now, the customer is a huge fan of your work, and they can be turned into marketers. By constantly providing top notch services to them, they will talk about you to their friends and even advertise on social media on your behalf. The best way to do this is by starting a loyalty or affiliate program where they have a real incentive for advertising your products and services.
What does ClickFunnels do?
Creating a sales funnel is not an easy thing to do, especially for a single individual. Just look at the entire process listed above that is involved in the making of a funnel, with so many things to consider. To convert just one paying customer means going through the process of email and social media marketing, responding to their communication, getting them to make that first purchase and then following up thereafter. It would take an entire staff to keep up with just 10 customers who all have different demands, and that is something many entrepreneurs don't have.
This is where ClickFunnels comes in to cover all the bases needed to make a sales funnel work and actually produce results. ClickFunnels now has over 92,000 users and over 5 million funnels all of which have been able to process about $3.7 billion in sales so far with much more to come. In fact, ClickFunnels is now one of the most popular sales funnel tools available to everyone around the world with some good reasons.
Why is ClickFunnels so popular?
The first advantage ClickFunnels does better than the rest is being usable by everyone regardless of their expertise. First, creating a website is easy through a drag and drop webpage editor that doesn't take a lot of effort to end up with a good-looking and responsive website. Neither do you have to worry about hosting charges because all those charges are covered too. Furthermore, marketing efforts are all automated by email and through Facebook and payment systems integrated. All these are available from a single dashboard that is easy to use by anyone and that makes the whole process easy.
What's more is that ClickFunnels has an affiliate program that can increase your sales even further. While ClickFunnels' own funnels are very effective, word of mouth marketing can significantly increase your reach to customers and thus increase your business' profits. Under the affiliate program, you don't pay any upfront fees as you would with other marketing strategies, but only after a sale has been made. This means that you never pay for anything that was not effective.
Affiliates in ClickFunnels promote your products and services so you can reach more clients without taking any more time. When you think about it, it's like having an entire marketing team that does the work and is paid afterwards. This feature is referred to as backpack and it doesn't take any more resources because you only pay after a sale has been made.
Any disadvantages to using ClickFunnels?
Some may consider the monthly fee charged for their services as a disadvantage. A subscription to ClickFunnels costs $97 per month, which some people may not be prepared to pay, especially if it is a small startup. Besides, there may be some cheaper options out there, but they obviously don't have everything offered by ClickFunnels. With all that you get from this company, it's definitely worth it, but to get more you will need to pay a bit more.
Some of the additional features include Actionetics MD that provides targeted marketing options to customers, but you need to pay more for this upgrade. However, even with the basic features only, ClickFunnels is able to greatly improve your business and help your company grow at a much faster rate.