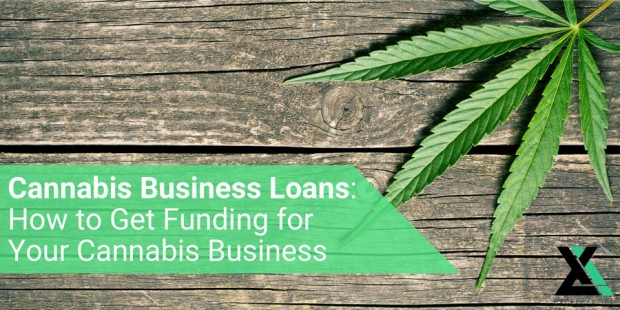 How are Marijuana Business loans possible?
With cannabis now legalized in many states and legislation in place to expand that further, the cannabis industry has exploded into a multi-billion dollar industry practically overnight. 
However, regulations surrounding the cannabis industry are strict and tricky to navigate, making acquiring cannabis business loans difficult for any Marijuana-based business.
Why is it so challenging to get financing for your cannabis business, and what can you do about it? 
The challenge of Obtaining Cannabis Business Loans
The heart of the challenge of obtaining cannabis business financing comes from the legalities behind cannabis itself. 
Cannabis is now legal for recreational use in 11 different states, with more states expected to pass legislation in the near future:
Alaska
California
Colorado
Maine
Massachusetts
Michigan
Nevada
Oregon
Vermont
Washington
Washington D.C.
However, cannabis isn't legal on the federal level, and that's where the main challenge arises in terms of obtaining financing.
All banks are regulated by the federal government (even the little ones) and are required to flag illegal transactions under the Bank Secrecy Act based on federal law. That means they must fall in line with the law or risk huge fines– or much worse. 
As a result, you can't walk into your local bank and open any kind of business account (including a loan) as a cannabis business.  Making it very difficult for a federally chartered bank to provide any Marijuana Business loans.
The good news is, there are alternatives. 
Alternative options for obtaining cannabis financing
Fortunately, federal law nor compliance keep you from being able to acquire business financing. You just need to know where to look to get it. 
If your local bank and credit unions have turned you away, consider these options for obtaining the capital your cannabis business needs:
Equity financing
Equity financing is one of the best routes to go with any cannabis business as the industry is considered very desirable among investors.
With equity financing, you can go two different routes, venture capital or angel investing:
Venture capital
Obtain seed funding from venture capitalists specific to the cannabis industry. 
See the most current list of VCs at New Cannabis Ventures and take some time to search for cannabis-specific VCs such as Snoop Dogg's Casa Verde Capital. 
Angel investing
Similar to venture capital, acquiring angel investors is another viable route for cannabis business loans with its own set of benefits. 
With angel investing, you have more control due to no one investor having such a prominent position of power over the company as in the case of a VC. 
AngelList is the best place to find angel investors and you can do a cannabis-specific search to identify investors who have specifically identified themselves as interested in investing in cannabis-related businesses here. 
Crowdfunding
Crowdfunding is another great option for obtaining a cannabis business loan. 
Both Kickstarter and Indiegogo, the two most prominent crowdfunding platforms online, are decent options for funding your startup or next product. 
In addition to the major platforms, cannabis-specific sites exist as well and may serve as better platforms. Cannabis crowdfunding sites include Fundanna and CannaFundr. 
Alternative lending
Another great option for obtaining funding for any kind of cannabis-related business is alternative lending.
If you're interested in obtaining a more traditional loan and don't want to have to answer to investors, alternative lending is a solution to the lack of bank funding. That's because many alternative lenders openly work with and lend to cannabis businesses. 
Alternative lending is an umbrella term referring to any financial product offered by an alternative or private lender.
Within that umbrella, there are several options for financing your cannabis business: 
Term loans
If all you need is a single lump sum to get off the ground, or to get your next product up and running, a term loan may be the perfect fit. 
With a term loan, you get a sum of capital in exchange for paying that amount back at a specified interest rate based on your business qualifications. 
Learn more about small and medium-term loans.
Business line of credit
With a business line of credit, you don't just get a single sum of money but a recurring amount you can access whenever you need extra capital. 
A business line of credit is ideal if your cash flow is uneven. For example, if you have one or two vendors that make up a large part of your business and you're often waiting for payment.
Learn more about business lines of credit.
Merchant cash advance
An MCA is a much newer but increasingly popular form of business financing that involves obtaining an advance sum based on your regular credit card sales.
Those sales are then also used as a kind of collateral to pay back the loan. Once approved, you pay that sum back based on a percentage of your credit card sales.
Learn more about merchant cash advances.
Additional resources for growing your cannabis business
In addition to the above ways to obtain funding for your business, with the rise of the industry as a whole, many new resources are now available to help you grow your cannabis business. 
Here are a few of the best new cannabis-specific resources to help grow your business: 
CanPay (Debit system)
CanPay is a debit system specific to the cannabis industry that allows you to accept debit payments from customers provided they also use the platform. 
This is useful because, as we talked about earlier, most banks won't touch the cannabis industry due to federal regulations. 
That means they won't even allow you to open a business checking account with them, which can make it difficult to accept debit payments as a cannabis business, often resulting in many cannabis transactions to be cash as a workaround. 
However, with CanPay, you can accept debit payments. At least until federal regulation shifts in the industry's favor and a workaround is no longer needed.
Green Bits (Point of sale system)
Green Bits is a point of sale system. There are a lot out there, but what makes Green Bits special is that it was designed specifically for the cannabis industry. 
Their service is designed to help you stay compliant, that alone making it far and above the best value of any other point of sale system out there for cannabis businesses. 
Higher Yields (Consultation services)
If you're in the beginning stages of your business or have hit a rough spot and could use some industry-specific advice for growing your business, Higher Yields is a cannabis-specific consulting firm worth looking into. 
Their services include help with licensing, facility design-build services, financial plans, cultivation management, marketing, branding, compliance, and more. 
As per their website, "The medical and recreational marijuana markets are complex, ever-changing, and full of pitfalls that experts can help your business navigate. Protect your investment with the know-how of professional marijuana business development consulting services."
9/25/19 Update: Historic vote on new cannabis banking bill paves way for providing key financial tools to business owners
U.S. News recently reported that a new measure, designed to protect financial institutions that service cannabis companies, passed the House of Representatives in a bipartisan vote just last month (Sept. 25th, 2019).
The bill, the first standalone cannabis-related bill to pass a chamber of Congress, is designed to protect financial institutions who support cannabis businesses from criminal prosecution and other negative action.
If the legislation ultimately passes, it will be a huge win for the cannabis industry. No longer will cannabis businesses have to take inconvenient steps to process payments and run their business in general. 
If the bill passes, they'll quickly begin to have access to all the same financial tools (access to business bank accounts, online payments) that other businesses have. 
"We applaud the House for approving this bipartisan solution to the cannabis banking problem, and we hope the Senate will move quickly to do the same," Neal Levine, chief executive officer of the Cannabis Trade Federation and one of several groups who lobbied in support of the bill, told U.S. News. 
The bill, referred to as the Secure and Fair Enforcement Banking Act of 2019, passed by a vote of 321-103. However, it's not yet known what its chances are in the Senate. For that, we'll just have to wait and see. 
Don't let compliance and legislation hold your cannabis business back
There are still hurdles to be overcome if you want to start a cannabis business, but those hurdles are quickly disappearing.
Use the tools and resources we discussed, from ways to obtain the funding your business needs to additional resources to help it grow and stay compliant, to overcome those hurdles maximize the growth of your business.