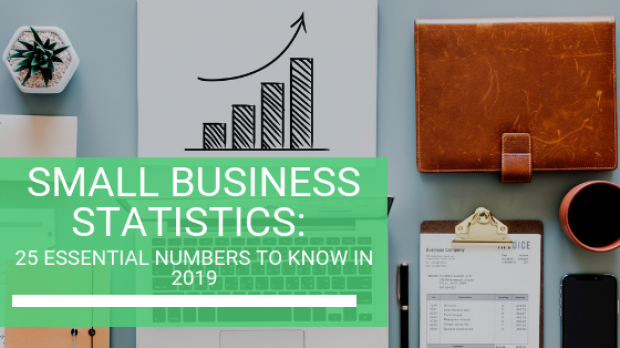 Small businesses are the lifeblood of the US economy and below are the small business statistics every business owner needs to know. The overwhelming majority of businesses in the United States are classified as small businesses, and almost half of the employees in the United States are working at these kinds of operations as well.
The face of small business in the US is changing, however – and it's changing faster than ever before. A lot of these small businesses are moving online or at the very least taking full advantage of everything technology has to offer. Here are some pretty interesting, exciting, and insightful small business statistics which include things from how many businesses are going to be started this year to how the economy will change and even how many businesses have to face challenges to get an unsecured business loan and much more which will help you better understand the lay of the land in 2019 and beyond.
Interesting Business Statistics in 2019
How many small businesses are there in the US?
According to the US SBA, there are 30.2 million small businesses in the United States. This is 99.9% of ALL US businesses.
Source: SBA Report
How many people work for small businesses?
The SBA also tells us that there are 58.9 million people in the US working for a small business, representing 47.5% of everyone working in the United States as of 2018.
Source: SBA Report
Will there be more small businesses in 2019 and beyond?
Almost certainly. The US economy is growing faster than ever before, the employment rate is lower than ever before, and the growth of small businesses in the US continues to explode.
Source: SBA BEA 2018 Information
How old are small business owners in general?
33% of small business owners are in their 50s, with another 21% at least 60 years old or older. That represents more than 50% of all small business entrepreneurs in the United States today. Young people are getting into the swing of things frequently though, with nearly 20% of small business entrepreneurs younger than the age of 39.
Source: Guidant Financial
What kinds of small businesses are being opened?
Service businesses lead the way, with 11% of all new small businesses being related to the business service industry. Food and restaurant businesses are next in line at 10%, with help, beauty, and fitness businesses and general retail just behind at 7% apiece.
Source: Guidant Financial
How much money does it take to start a small business today?
Most small businesses in the US will need anywhere between $2000 and $50,000 to get started.
Source: Business News Daily
Where are small business owners finding employees?
56% of small business owners report difficulty finding the right employee, and 57% report that they still depend on word-of-mouth and referrals to staff their businesses. 31% post on social media, 28% post on online job sites, and 12% still use newspapers.
Source: Indeed.com
How many women and minorities are opening up small businesses?
There are 8 million minority owned businesses in the United States (a 38% increase since 2007), with 11.6 million small businesses owned by women.
Source: MBDA.GOV and NAWBO.Org
Online Business Statsistics
Are all small businesses online?
Almost 60% of all small businesses have yet to build an online presence or even set up a website. Almost 20% of small business owners without a website have no plans to go online anytime soon.
Source: GoDaddy Annual Report
Do small businesses see the internet as an advantage?
75% of all small business owners online see internet marketing as an effective or very effective tool to win new business.
Source: MediaPost Research
Has the online/e-commerce market been tapped out?
Internet traffic around the world in 2020 is anticipated to be 95 times higher than it was in 2015, with more people – and customers – jumping online than ever before.
Source: Cisco Research
Are small businesses handling their own marketing or leaving it to professionals?
71% of all small business owners are taking care of their own marketing (online and off) rather than outsourcing the work to freelancers or agencies.
Source: Linchpin Research
Small Business Financial Stats
How often are banks approving loans for small businesses?
Major banks are approving small business loans at a 25.9% rate, with local banks and credit unions approving loans at a 49.4% rate – higher than any other point in decades.
Source: Forbes
How much money (on average) are small businesses asking for from lenders?
The average small business owner is only looking for between $60,000 and $80,000 from traditional lenders.
Source: Fundera
How much money do small businesses in the US make annually (on average)?
On the average, small business owners in the US make between $34,000 a year and $75,000 a year. 86.3% of small business owners report making less than $100,000 a year, and 30% say that they don't pay themselves a salary at all.
Source: SmallBizTrends.com
How many small businesses in the US are "bootstrapped" or self financed?
Fully 75% of all small businesses in the United States are self financed or "bootstrapped", using existing cash flow to build and grow operations in the early stages. This is the number one form of financing used by most small businesses and startups.
Source: Entrepreneur.com
How many small businesses fail every year?
Fully 1/5 of all small businesses fail in the first year and nearly 50% of small businesses fail within five years. Only about a third of small businesses survived 10 years or longer.
Source: BusinessKnowHow
Why do most small business fail?
46% of small businesses report their operation failed because they weren't sure of what they were getting into. 30% report a lack of experience and managerial support. 13% report catastrophic failure related to neglect, fraud, and outright disaster, and 11% report losing passion in the project.
Separately, 82% of small businesses report failing because of cash flow problems that stem from many of the issues we highlighted above.
Source: ISBDC.org
How many entrepreneurs have started another business before?
47.1% of all entrepreneurs that succeed for at least five years in their first business go on to start a second business. Of these serial entrepreneurs, the average amount of companies that these repeat business owners create sits at three.
41.4% of all small businesses are started by entrepreneurs that are building their first company.
Source: StartUpBros.com
Small Business Marketing Stats
How are small businesses finding customers?
68.8% of small business owners use online and off-line marketing to find new customers. 28.9% reported that they do not market online and off-line, but market with one approach or the other.
Source: Micro Business Marketing Mix Report
How important is online advertising?
51% of small businesses today use social media to grow their business, and 65% consider social media advertising to be effective. $45.4 billion will be spent on search engine advertising and pay per click advertising, almost doubling the amount of money spent in 2014. Google is still the king of the ring when it comes to online advertising, with 88.56% of all online searches conducted on that platform.
Source: Iron Paper and Statista
How important is mobile advertising and marketing?
Mobile device internet usage overtook traditional laptop/desktop usage in 2018 for the first time, with mobile devices being used 51.3% of the time to go online. 80% of internet users around the world have a smart phone, and 56% of all internet traffic is generated by mobile devices.
Source: StatCounter and Smart Insights and Similar Web
Is email marketing still effective?
By the beginning of 2019, 54% of the world's population will be using email. Google passed the 1 billion monthly active users on Gmail in 2017, and anticipates that number to hit 2 billion users by the time 2020 rolls around.
Email marketing also has a return on investment of 122% – four times the return on investment of social media marketing, paid online advertising, and traditional direct mail marketing campaigns.
Source: Lifewire and MediaPost
What about social media marketing?
A million brand-new social media accounts are created by people every day. Two thirds of the world's population (with internet access) has an active Facebook account. More than $40 billion are expected to be spent on social media marketing campaigns by the end of 2018.
On top of that, 64% of all small business owners use social media for business purposes. Social media marketing from small businesses has doubled over the last year, and is expected to double again in 2019.
Source: Social Media Today and Business Insider and Adobe
Are mobile applications critical for small business success?
47% of all small businesses are likely to have a mobile application developed for them by the end of 2018. Smart phone conversion rates are up to 64% compared to traditional online advertising, and 78% of mobile searches for local businesses resulted in a sale.
Source: Clutch and KISSMetrics