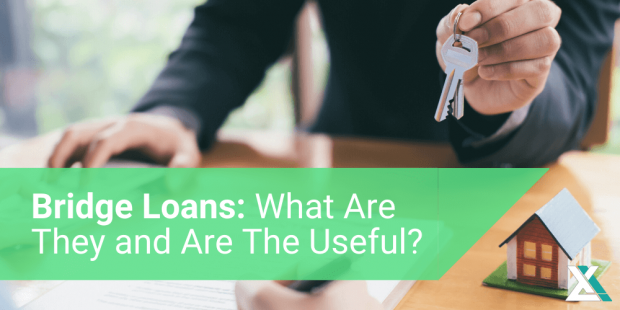 What is bridge funding?
A bridge loan– sometimes referred to as a swing loan, bridging loan, or gap financing– can be defined as:
A short-term, temporary funding solution that helps "bridge the gap" until a longer-term funding method can be secured by the borrowing party.
A bridge loan has several unique applications, especially in terms of real estate where a bridge loan can allow you to purchase a new property before selling your current one.
For that reason, bridge loans are often secured using an existing property. 
Table of contents
How do bridge loans work?
Bridge loans work differently depending on the reason why they're being used.
However, in terms of real estate– the most common use of bridge loans– they work like this:
The borrower decides they want/need to purchase a new property before selling their current one
They apply and are approved for a bridge loan
They then use the equity in their home as collateral for the down payment on the new home loan
They begin paying back the bridge loan
Keep in mind that it's possible you'll need to begin paying back the bridge loan before the old property has sold.
That can put added pressure on you as you've just taken up a new mortgage (depending on whether that new mortgage is more or less expensive than the old one).
Bridge loan vs. Traditional loan
Often, approval for a bridge loan works a bit differently than a traditional loan.
How are they different? Here are the main ways a bridge loan tends to be different from a traditional bank loan:
They often have faster approval time and funding speed
They also typically have higher interest rates
Terms tend to be shorter than traditional loans, from a few months to one year in most cases
Approval factors tend to be different than traditional loans as well, with lower FICO requirements and debt-to-income ratio guidelines.
Real estate bridge loans
As we talked about earlier, bridge loans are common in real estate as they serve as an effective way to close what can be an awkward gap between waiting for a property to sell and buying the next.
With a real estate bridge loan, the property owner can move forward with purchasing that new loan without having to wait for the old property to sell, giving them added flexibility especially if they think the property may take a while to sell.
How does it work exactly? Real state bridge loans combine the two mortgages together, with the loan itself covering 80% of the combined value of both properties.
However, it's important to know that real estate bridge loans often have stricter credit and debt-to-income ratio requirements for approval.
Pros and cons of bridge loans
While bridge loans have several unique qualities, there are also disadvantages that make them great for some in certain situations and not in others.
Here are the pros and cons of bridge loans:
Pro: Flexibility to bridge the gap between important purchases
The primary benefit of bridge loans, the flexibility you gain by being able to bridge the gap between a sale or more secure funding for a large property or equipment purchase isn't a small thing at all.
Pro: Might skip payments
Depending on various circumstances, by using a bridge loan to purchase a new property before your old one sells, you can often skip several mortgage payments in the process.
While this might sound like a small plus, considering that could be all or most of the time you need to get the sale, that can often be the perfect reprieve to manage the challenge of handling both mortgages while waiting for that old property to sell. 
Con: High interest rates
Bridge loans typically have higher interest rates than home equity loans, typically about 2% higher than the average 30-year fixed-rate mortgage, making them more expensive in the short term. 
Con: Handling two mortgages at once can be stressful
While a bridge loan rolls both mortgages up into one, you're still handling the two simultaneously, which can create added stress while you're looking for a buyer for the old property.
Is a bridge loan for you?
Whether a bridge loan is the funding tool you need depends on what you need funding for and your timeline.
If you're looking to make a new real estate purchase and you're on a short timeline, or it will take time to sell, a bridge loan might be a good option.
If you need to make a large equipment purchase now but securing the funding will take time, a bridge loan could be exactly what you need to get that critical piece of large-scale equipment in place now so that you don't skip a beat.
However, it's also important to know that many other funding options are available to you, so take the time to consider your options and make the choice that best fits your needs.
Frequently Asked Questions
What does a bridge loan cost?
In most cases, bridge loan interest rates range from 8-10%, with closing costs from 1.5-3% depending on your creditworthiness, debt-to-income ratio, and other qualifying factors. 
How can a bridge loan help my business?
A bridge loan is useful if you're in need of making a fast purchase for something like real estate, especially when the market is up and your window to take action is small.