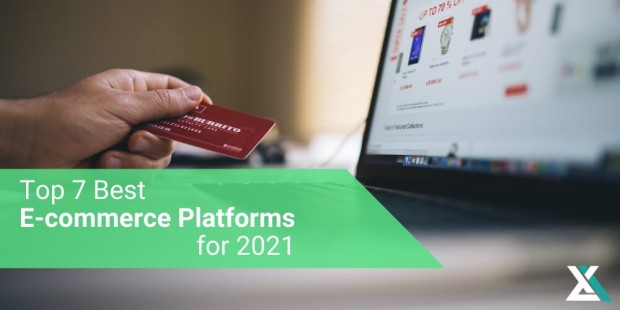 You've spent time coming up with your next big (or first) business idea…
… and now you're ready to pull the trigger.
The only problem?
You have no idea what ecommerce platform to pick.
It's true that there are a ton of great options out there for anyone interested in starting an ecommerce platform in 2021. 
However, once you've found those options, it can be hard narrowing it down to find the one that's a perfect fit for your needs and goals.
That's where this guide comes in.
Below, we'll not only show you what the best ecommerce platforms are for 2021, we'll breakdown the highlights of each so you can make an informed decision on which is right for you.
So, let's get to it.
The Top 8 Best Ecommerce Platforms for 2021
The best ecommerce platforms for 2021 are (in no particular order)…
Squarespace
Wix
Shopify
Magento
WooCommerce
Salesforce Commerce Cloud
Square Online Store
Here's a detailed breakdown of each of the best ecommerce platforms:
1. Squarespace
While not a dedicated ecommerce platform, Squarespace has risen as a major player in the space.
Not to be confused with Square, the payment processor and checkout solution, Squarespace is known for its beautiful site designs and ease of use. 
Similar to Wix, what many consider to be one of the top 3 ecommerce platforms, Squarespace offers a simple drag-and-drop interface that makes it simple and easy to build your ecommerce site from scratch.
It also offers:
14-day free trial
Unlimited products
Physical and digital product compatibility
Mobile-optimized checkout
Multiple payment methods
Ecommerce analytics
Subscriptions
Cart recovery
And more features
Squarespace is particularly well-suited for artists and any creative type selling a custom product or artwork as many of their themes are designed to help you show off your creative work.
It also has nice blogging features and podcast integration to take care of the content marketing side of things.
Pricing
Square space offers several tiered plans at:
Personal: $12 / month
Business: $18 / month
Basic Commerce: $26 / month
Advanced Commerce: $40 / month
However, keep in mind that Squarespace is not a dedicated ecommerce platform.
Their personal plan doesn't offer ecommerce functionality and their business plan has 3% transaction fees while also not having access to 100% of Squarespace's ecommerce features.
To take advantage of the abovementioned ecommerce features, you'll need to go with their Basic Commerce plan for $26 a month.
2. Wix
Wix is well-known for its online influencer and celebrity commercials that show just how easy it is to create your website.
It's not all show, either.
Wix is probably the easiest of the drag-and-drop platforms, and that's saying something since they already make creating a website from scratch far easier than it's ever been before. 
However, Wix has more going for it than just its ease of use. It's also a fantastic ecommerce platform.
You can set up your entire ecommerce website– adding products, details, images, you name it– using that same drag-and-drop functionality.
Plus, Wix has literally hundreds of ecommerce templates to choose from, so you can easily find one that fits your style.
Wix also offers:
A 14-day free trial
Unlimited products
Multiple carrier functionality
Cart recovery
Dropshipping (new)
Zero transaction fees (only payment processor fees from your processor)
And more
Pricing
Wix offers 4 ecommerce plans:
Business Basic: $23 / month
Business Unlimited: $27 / month
Business VIP: $49 / month
Enterprise: $500 / month
Each of Wix's payment plans offers unlimited bandwidth, with only a small difference in terms of features, the main difference being in available storage space.
3. Shopify
Shopify is one of the most well-known ecommerce platforms there is.
The unique part about Shopify, and its strong point, is that it can accommodate the new solopreneur as well as the large-scale startup.
The platform is super easy to use right out of the box with its drag-and-drop functionality, but it also has powerful features that large-scale ecommerce operations need to make the most of things.
Features such as:
14-day free trial
Built-in payment processor
Mobile-optimized themes
Point-of-sale systems available
Gift cards
And more
Where Shopify also stands out is in its award-winning, 24/7 support, which is a rarity in an industry that has notoriously bad (or, at best, shoddy) customer service.
Pricing
Shopify has three different basic plans:
Basic Shopify: $29 / month
Shopify: $79 / month
Advanced Shopify: $299 / month
You'll notice right away that Shopify is much more expensive compared to some of the simpler drag-and-drop platforms such as Squarespace and Wix.
While they're not quite as simple or inexpensive, Shopify contrasts that by offering room to grow with your business, where something like a Wix or Squarespace can feel limiting if your business starts to take off.
However, like the first two platforms we mentioned, Shopify also has a 14-day free trial you can use to check it out first to see how you like it.
4. Magento
Another long-time major player, Magento stands apart as an enterprise-level ecommerce solution compared to the other platforms on this list.
In other words, it's really powerful, but also really expensive.
For example, it's used by companies like:
Nike
Hewlett-Packard (HP)
And Canon
It requires a huge upfront investment but offers features and bandwidth unmatched by most other competitors. 
If you're in need of something much more robust, this might be the right choice for you. Features include:
1000+ themes
Customer segmentation
Industry-leading mobile optimization and features
Instant purchases
Content staging
And more
Pricing
Being an enterprise-level solution, Magento is designed for large businesses.
Its main pricing plan starts at $20,000.
It does have other small business plans, but you don't get the majority of the features that make Magento a stand-out option, so they're not really worth considering. 
5. WooCommerce
WooCommerce is one of the longest-standing ecommerce solutions for businesses online, having been around since 2008.
What sets WooCommerce apart is that it's a plugin designed specifically for the WordPress platform.
So, the main reason you'll likely decide to use WooCommerce is if you decide WordPress is your website platform of choice.
However, that's not the only pro of WooCommerce.
WooCommerce places the majority of its special features in hundreds of free extensions, including subscriptions and additional payment options such as Google Wallet.
Not all of these are free, though. Some of the more premium extensions can cost upwards of $300.
Pricing
WooCommerce itself is a free plugin, so it's the only truly free option on this list and a worthy mention for that reason alone.
Starting a website on WordPress is also free.
However, to make the most of your site you might find yourself wanting to pay for one or more plugins to get features you might otherwise get included in a platform like Wix or Squarespace (though there are typically free alternatives, some of these plugins are less than optimal).
Also, while the price might be attractive it is worth mentioning that it will likely take you a good bit longer to get your website up and running.
It's easy to get your website up with WordPress, at least compared to starting a site a few years back.
However, it still can't be compared to the Wixs and Squarespaces of the world, which make the process quick and virtually painless.
6. Salesforce Commerce Cloud
Salesforce is considered by many to be one of the best and most powerful CRMs on the market.
Now, it's expanded into the ecommerce arena with its own offering.
Similar to the WooCommerce + WordPress combo, going with Salesforce Commerce Cloud means you get the power of the Salesforce CRM and their ecommerce platform in one, which can be an attractive offer when you see everything Salesforce can do. 
It's not particularly well-suited for new businesses and even less suited for solopreneurs without employees.
However, if you have a team, it could be the right fit.
It's an especially good fit for B2B businesses as well as Salesforce CC has many B2B specific features.
One of those unique features is Salesforce's powerful AI tools, which allow for certain automation and data extraction capabilities from things like purchase history and visitor behavior that other platforms just can't do.
Pricing
Being a higher-end (typically enterprise-level) company, Salesforce Commerce Cloud doesn't list their pricing on the website.
In other words, that means it isn't cheap.
Having said that, they do offer a free trial to get a feel for the platform and see if it might offer what you're looking for before jumping in. 
7. Square Online Store
Our final option on the list, Square Online Store is a unique one.
Chances are, you've seen one of Square's physical POS terminals in a business you've bought something from without even knowing it.
That's because, well… they're everywhere.
What isn't as widespread is the knowledge that they also offer an ecommerce platform to go along with those POS terminals. 
Square's ecommerce platform offers a few unique features, such as scheduling pickups and Instagram selling.
However, where it really shines is in the integration of its POS terminals with its ecommerce platform, which opens up a collection of features that are hard to get otherwise.
Pricing
Square is 100% free to get started with.
However, they do have processing fees which are fair and typical at 2.9% + .30 cents per transaction.
Monetarily, where Square really shines is if you decide to integrate Square's POS systems with their ecommerce platform, where you can maximize their combined power for unique features if you have a physical location that requires POST terminals.
Otherwise, Square has a hard time performing on the same level as other ecommerce platforms.
Which of the best ecommerce platforms should you choose?
There really is no one "best" ecommerce solution online.
Which you should choose comes down to a few basic questions:
Do you need POS terminals (i.e. do you sell something in a brick-and-mortar store)? Square is likely best.
Are you a solopreneur or do you have a large team? Wix, Squarespace, Shopify, or WooCommerce is generally best for solopreneurs while Magento or Salesforce CC for enterprises.
Would you prefer a little more customizability (WordPress) or ease-of-use (Squarespace, Wix)?
Is visual style more important (Squarespace) or functionality (Shopify)?
Do you prefer to have more features (Shopify, WooCommerce) or want a simple out-of-the-box solution (Wix, Squarespace)?
Whichever you choose, most platforms offer a free trial period. So, jump in and try a few out to get a feel for which ecommerce platform feels right for you.