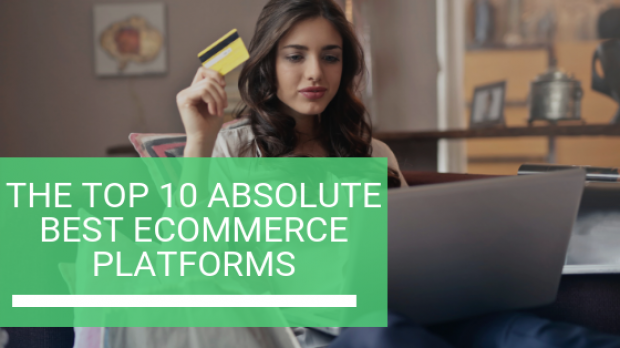 Ecommerce is booming. It's estimated that this year there will be a staggering 1.92 billion digital buyers around the world – and that number is only going to grow as time goes on.
It's no surprise that thousands of budding entrepreneurs continue to launch ecommerce websites with the hope of capturing some of this spectacular growth.  Although ecommerce may seem like it has been around for a long time, it's still a nascent industry with a lot of room for growth!
In fact, estimates suggest that by 2040, 95% of purchases will be performed via an ecommerce website. Which websites do you think people around the world are going to be using?
They will want the fastest and most performant websites that offer a fast and seamless experience. They will want websites that are built using the absolute best ecommerce platforms.
Here's a closer look at the best ecommerce platforms to help you launch a stunning website that will give you the best chances of success.
BigCommerce
BigCommerce is a versatile enterprise ecommerce solution that bills itself as the future of ecommerce. The platform aims to lead the new era of ecommerce by taking responsibility for the security and scalability of enterprise operations.
It aims to help businesses accelerate growth rather than complexity while offering robust security and performance. As an open SaaS solution, it offers a world of possibility to enterprise-class organizations.
This level of scale means that it's not quite as useful for smaller organizations. When it comes to larger businesses, though, the platform is currently used by a wide range of leading brands so it's certainly got a lot to offer.
It is used across a wide range of industries, too, making the tool even more attractive for certain businesses.
Wix.com
Wix is one of the biggest names in website creation. The website builder offers a powerful what-you-see-is-what-you-get editor that means a person with even the most limited level of knowledge can create a beautiful website.
By empowering domain owners to create the websites that they want, Wix bills itself as the place to create professional websites. The tool also offers a huge range of templates and features, making it easy for website owners to select a range of advanced functionality for their store.
There are a wide variety of pricing features on offer, too, and the online stores are very competitive when compared to those alternatives on offer from competing platforms. In fact, retailers can look forward to getting paid with a variety of methods without having to pay commission on sales.
Woocommerce
Woocommerce is an open source ecommerce platform that is built specifically for WordPress. It is heavily customizable and makes it a breeze for business owners to sell online.
The platform prizes itself on its vast customization abilities. If you really value being able to control your own website and really make it your own, you may find that this is the platform that you've been looking for.
Many other users agree, too, and Woocommerce currently powers an incredible 28% of all online stores. This makes it the most popular ecommerce platform on the web and it's used by a huge range of leading companies.
Those companies choose to work with Woocommerce mostly because it has the ability to support unlimited products, there are a huge range of mobile-friendly templates available, and there are thousands of extensions available. All of this makes the tool incredibly flexible.
The tool is quite complex and developers will be able to tinker with it to get the truly best results possible. With that said, there are a wide range of support teams that are spread across the world. These helpful teams are lauded for their ability to help customers get the best from their platform.
ShoppingCart
This platform is a WordPress theme that bills itself as the next generation in ultra responsive shopping. The theme is easy to customize and site owners can call upon a wide range of components to get their website exactly how they like it.
For those professionals who are familiar with WordPress, too, this might be the natural choice. The fact that it's a plugin doesn't detract at all from the functionality and customization options that are on offer – users will find that they can use a range of widgets, menus, logos, color options, and much more.
Of course, the statistics show that people are shopping on mobile devices in greater numbers than ever before – this is why the plugin makes sure that your website looks fantastic whether it's on desktop, mobile, or a tablet device.
Squarespace
Squarespace was one of the original all-in-one solutions for people looking to create a beautiful website without the difficulties that come with more complex avenues. Everything is covered here including domains, ecommerce, hosting, galleries, analytics, and more.
It's worth nothing, though, that this big strength also has the potential to become a huge weakness. Some store owners will want to avoid becoming too reliant upon just a single platform for all of their ecommerce needs.
If that isn't the case, though, many people will be delighted with Squarespace and what it has to offer. They can look forward to using award-winning templates that really do help amateurs to look like experts right from the very beginning. Online stores built with Squarespace look legitimate and inspire customers to browse through and complete their purchases.
Some truly world-class designers have worked on templates that offer a rich product display on the frontend. On the backend, there's a lot going on: website owners can enjoy automatic inventory management, the ability to sell unlimited products, and powerful shipping calculator features.
This truly is an all-in-one service.
Shopify
Shopify purports that it's far more than just a piece of ecommerce software. The platform states that it's also the best ecommerce platform that has everything a business owner could need to sell online, on social media, or in person.
Shopify states that if you have the will to build your business, it has the way. It can help nascent businesses that are just growing and looking to establish themselves on the one hand, while also helping larger enterprises to capitalize upon their existing audience.
The platform does indeed offer more than many of the ecommerce platforms on this list, given that it can also help businesses to sell in-person with point of sale terminals. If you're going to open a business that is a blend between online and offline business, you might find that Shopify is too good to turn down.
Aside from offering stunning templates and building potential, Shopify can also help business owners to market their business while managing every element of their business including orders, shipping, and payments.
This can all be managed from a centralized platform, giving businesses the insights and knowledge that they need to grow no matter where they are in the world. Lots of apps also integrate directly with Shopify, opening up a world of opportunity.
Shopify really is an exciting platform that has the potential to change ecommerce. if you're looking for a full solution that can get your business from a-z, you might want to explore this option in more depth.
Weebly
Weebly is a website builder that sticks to the fundamentals. It focuses on giving domain owners the ability to easily create a beautiful store using customizable templates and easy-to-use tools.
The platform boasts that these professional templates can really give people the opportunity to transform and grow their business. Weebly focuses on four key areas for business owners: it helps them to get going with expert guidance on how to launch a website, before giving them access to the website builder. Next, it helps them to simplify the selling process before lending a helping hand when it comes to growth.
Given that payments are processed by Weebly, business owners can look forward to focusing on their business rather than getting bogged down in the logistics and details. This liberates a business owner's time to help them focus on future growth and new strategies.
Weebly also offer assistance in a range of additional areas like domain management, too, which is a nice touch and really shows how the platform can drive additional value for businesses.
Volusion
Volusion is a piece of ecommerce website store and shopping cart software. The platform suggests that its solution has been proven to sell 4x more when compared to competing hosted shopping carts, so it's making some bold claims!
Given the quality of the platform, we could see this being the case. The platform gives website builders everything that they need to sell online effectively. This means that they can create a store, sell their products, and grow their business.
Over 180,000 stores are hosted through the Volusion platform, meaning that you don't have to worry about legitimacy or an ability to scale. There are some really stunning themes on offer here and it's great fun to whizz through and imagine how your store could be brought to life by one of them.
Like many of the other platforms in this list, Volusion also offers additional assistance with key tasks like inventory management and payment collection. There are also unlimited product options that can be offered via the platform.
Magento
Magento is an ecommerce platform that partners with thousands of retailers and brands around the world. It offers flexible cloud solutions that help businesses to grow quickly and innovate along the way.
The platform suggests that it offers next-generation technology that is capable of offering distinct digital retail experiences to users. This helps businesses and sellers to breathe life into the ecommerce website and set it apart from the competition in a crowded space.
There are a huge range of additional features on offer here, such as the ability to manage Google Shopping Ads through the platform. Businesses will find, though, that this solution doesn't offer the same WYSIWYG editor as some of the competing platforms on this list.
This can make Magento seem like more of an intricate and formal investment, which might make some businesses hesitant to get involved. Still, if the case studies and customer reviews are anything to judge by, businesses can look forward to a pleasant and professional experience when working with the Magento team.
SiteBuilder
SiteBuilder is more of a traditional website editor tool that empowers businesses to create stunning ecommerce websites.
The platform can help with a wide range of areas such as a site's domain name, templates, email addresses, hosting, and telephone support. This fuller package can help some confused business owners to get the best results possible with minimal complexity.
The process of working with SiteBuilder seems very straightforward again, with just three simple steps standing between a business owner and their amazing new online store. As with Magento, though, some business owners will find that this is not quite as flexible and free as some of the other options on this list.
You should be sure to compare pricing and more in order to make sure that this really is the best option for your needs – there's no harm in shopping around and doing your research!
Good Luck Finding Your Ecommerce Platform
As you can see, there are lots of potential ecommerce providers out there. It's a competitive space and there are lots of driven and talented companies looking for provide for the many online sellers out there.
This competition is a good thing and while it means that it can often be a little more complicated to find the option that's right for you, it means that some truly wonderful products are on the market now.
We hope that this closer look at the ten absolute best ecommerce platforms has been useful for you! There's a lot to consider and we can imagine that it will take you a long time until you find the option that's right for you – we're sure that once you find the right option, though, the sky will be the limit!