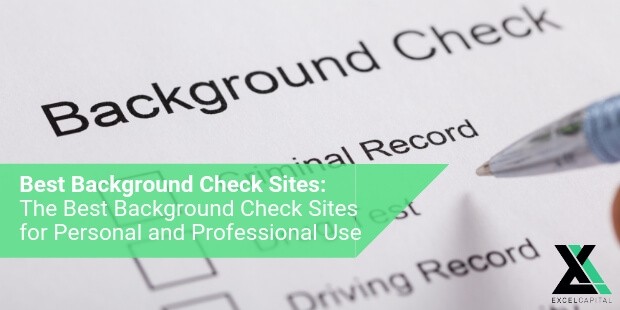 Sometimes, you just need to be safe.

Whether it's implementing background checks for new employees or accessing court records, a background check is a useful way of obtaining information that can help you make smarter decisions.

But what exactly can you use a background check for? Are there free background checks? And what are the best background check sites?

Below, we'll answer all of those questions and more so you know not only the basics about how background checks work online but what the best background check sites are for you to use based on your needs.
Do free background check sites exist?
If you need to run a background check, the first question that likely pops into your mind is: can I run a background check for free?

Despite the apparent advertisement for free background checks from sites like Backgroundchecks.org and even the DMV (where you'll be redirected to BeenVerified), free background checks don't exist.

If anyone claims otherwise– be wary.
What if you do it yourself?
Having said that, if you want to know how to check your background, or the background or someone else, there are things you can do which may allow you to obtain the same or similar information if you're willing to do the work yourself.

Ultimately, it all depends on what you're looking for.

Here are some ways (and sources) for obtaining various types of background information for free with a little detective work:

LinkedIn: The professional's social network, LinkedIn is great for obtaining information about their employment history and academic record. Just keep in mind that LinkedIn profiles are essentially online resumes, so the information may not be 100% accurate.
Court records: Most court records are public, including criminal convictions, marriages and divorces, name changes, and bankruptcies. The only downside here is that acquiring information this way can take some time.
Sex offender registry: All U.S. sex offenders are required to be added to the U.S. Sex Offender Registry, so if this is what you're searching for, the U.S. Department of Justice website is free and search can be done via address if you don't have the person's name.
While there is quite a bit of information you can acquire online if you're willing to do the work, you can pay to obtain a proper background check online in minutes.

But first, what kind of information can you obtain from a background check?
What shows up on a background check?
What information appears on a background check depends somewhat on where you obtain a background check.

However, this information usually appears in a background check:

Criminal record (Most notably for employers, misdemeanors, and felonies)
Sex offender registry appearance
Global homeland security appearance
Warrants
Drug screening
Military records
Employment history & eligibility
Education
Bankruptcies
Lawsuits
Traffic and DUI records
Motor vehicle information
License verification
Credit report
Contact information (Phone number)
What can you use a background check site for?
The information above is a lot to take in. You might already know exactly what you need a background check for.

However, you might just want to get as much information as possible and want to know what kinds of uses a background check can be utilized towards.

Here are some common reasons for obtaining a background check:

Employee verification: Keep in mind that specifically licensed background checks must be used for pre-employment screenings. Regular background check sites cannot be used for employment checks.
Roommate verification: Need to rent out a room or considering sharing rent with someone to afford a pricey area? A background check can help you make a smart decision in terms of both credit and criminal records.
Date lookup: Sites like Tinder have made it commonplace to get together with perfect strangers online. Clearly, that can be a bit scary and you want to make sure you're not running into something sketchy.
Property lookup: If you're considering purchasing a property, a background check by address can help you find out all kinds of useful pieces of information that will help you make a smarter decision.
Court records: Court records, as mentioned in the previous section, can help you uncover several important pieces of information that can affect everything
Self-check: Sometimes, it's not other people you need to know more about, it's yourself. Maybe you received a notice that some new record was added to your report, or maybe your just curious. Either way, a self-check is common.
Family lookup: Some use background checks to locate missing or distant family members they've lost contact with as they're a very effective way of obtaining contact information.
How to pick a good background check site
There are a few important factors to consider when looking for a good background check site.

Keep these things in mind when deciding where to obtain a background check from:
Background options
Most background sites have basic search options such as people lookup, property lookup, criminal record lookup, sex offender search, and contact information search such as reverse email and phone number.

The best background check site for you is the one that has a search based on the information you're looking for, that way you know you're not only getting the information you need before paying but that you're not paying more for it than you should.
Accuracy of information
It's hard to know for sure if all the information on a given report is accurate unless you obtain multiple reports. Sometimes, you might find that preferable.

However, it's important to review how a background check site gathers information and how often it's updated.
Turnaround time
Sometimes, you need information from a background check quickly. This is important to know in advance because some services take longer than others.

However, in general, most background check sites offer either very quick or instant access to results. It mostly depends on what and how much information you're requesting (contact information may be immediate while court records could take longer).
Pricing
Pricing is an obvious inclusion, but it should be mentioned. Every background check site charges differently, most notably based on the information they provide.

The most important thing to consider here is exactly what information you need and whether another site offers less information in general, but still exactly what you need (in other words, less filler stuff you didn't need).
Customer service
Some background check sites offered fantastic customer service and live phone or chat interaction to help answer your questions. Others, not so much.

A mark of good customer service is whether you find it easy to obtain answers to your questions or if it feels like they purposely made it difficult.

This should include easy access a customer service representative over the phone (live chat is a nice plus, but not required) and a comprehensive FAQ page that answers basic questions.
The 5 Best background check sites
So, what are the best background check sites?

In the previous section, we offered a few helpful factors to consider when picking what background site to choose.

The further help that decision, we've reviewed what we consider to be the top background check companies.

In no particular order, the 5 best background check sites are:

For criminal record checks: BeenVerified
BeenVerified is a great all-around background check service.

However, where BeenVerified shines is in criminal background and related information checks.

If you're looking for information such as a criminal record, sex offender registry, judgments, liens, bankruptcies, county records, case numbers, or conviction and arrest details BeenVerified is a great service.
Pros:
Super comprehensive reports
Great for criminal records and similar information
Affordable pricing (Less than $23 / Month)
Cons:
Pricing options are limited and they require signing up for a subscription to obtain background check information
Obtain a background check with BeenVerified

Best for multiple reports: Instant Checkmate
Instant Checkmate has incredibly comprehensive reports, possibly the most comprehensive.

However, where Instant Checkmate stands out is in two areas: family search and value for multiple reports.

Instant Checkmate offers a family search function, making it very easy to locate missing or distant family members if that's your purpose.

In addition to this, Instant Checkmate offers the best value if you need multiple reports. For $35, you can obtain as many background check reports as you'd like, where most sites charge slightly more than that for a single report.

You have to pay a small fee ($2.99 as of writing this) for each report you download. However, even including this, the site offers a much more affordable service for multiple reports.
Pros:
Can obtain multiple reports with a subscription for the price of one from competing sites
Easy to search for information
High report accuracy
Cons:
Need to pay $2.99 per report download
No option to purchase single reports (only subscription)
Obtain a background check with Instant Checkmate

Great for education background: Intelius
Intelius is one of the most comprehensive background check sites online, so you can't go wrong going with them for virtually any need.

However, one area where Intelius is unique is that you can obtain education background information with their reports.

Most background check sites do not provide this information, so if it's part of what you're looking for, they're definitely worth considering.
Pros:
Can purchase single reports without the need to sign up for a subscription
Education history search
Cons:
Slightly higher price among background check sites
Can't download reports
Obtain a background check with Intelius

Best overall value: US Search
US Search is a solid all-around background check service.

However, where US Search shines is in their value.

Not only are individual reports an option, where many background check sites require a subscription, but reports are also on the lower end at just $39.95 per report.

In addition to this, you can purchase a basic 'people search' report for just $2.45 if all you're trying to do is locate someone. If this is your primary reason for obtaining a background check, US Search is the best value by far.
Pros:
Can purchase single reports
Low price
People search for just $2.45
Can download reports for free
Cons:
Reports not listed chronologically, which can appear somewhat confusing
Obtain a background check with US Search

Most convenient: TruthFinder
Truthfinder doesn't specialize in a particular type of background information, but it's background checks are some of the most comprehensive we found.

Truthfinder allows you to obtain all the typical information you can get from a background check in addition to running an in-depth web search that can pull information such as social media profiles and a substantial list of emails.

This is information you can obtain manually through your own effort. However, it makes Truthfinder's service more comprehensive and convenient if you don't have the time or simply would prefer the convenience.

In addition to this, Truthfinder has a well-designed Apple and Android app which you can use to obtain their comprehensive background checks from your mobile device, making Truthfinder one of the best background check sites in terms of convenience.
Pros:
Mobile app for convenient access to background checks on any device
Comprehensive web search including social media profiles
Cons:
Hard to find pricing information and structure can be confusing
Obtain a background check with Truthfinder
Get the information you need quickly and easily
Ultimately, the best background check site is the one that gives you exactly what you need when you need it.

For that reason, it all depends on your needs.

But by using the information we've provided above, you not only have a list of high-quality background check sites to start with but a list of factors that will help you identify which is the best fit for you.