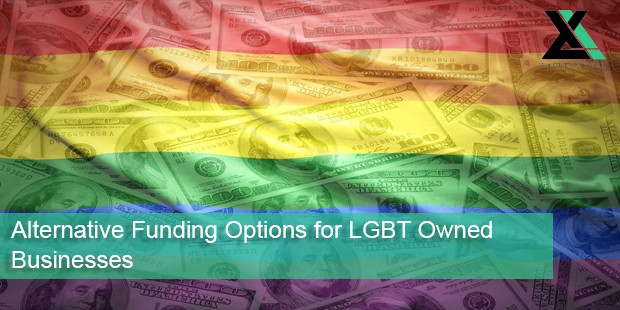 June is Lesbian, Gay, Bisexual, and Transgender Pride month each year in honor of the 1969 Stonewall riots, a major turning point in the U.S. Gay Liberation Movement,  in Manhattan, NYC. Since those days, great strides have been made in terms of progressive thinking and equality. The LGBT community also makes up a large number of business owners in the United States.
As we know, most businesses will need to apply for some sort of working capital during their lifetime. Traditional loans are not always an option to many business owners due to the lengthy paperwork required and strict rules and guidelines, however, progress is being made when it comes to providing the LGBT community with business-funding options. For instance, the Small Business Administration (SBA) has set up a few different programs and outreach initiatives. Aside from the SBA and other traditional business loan options,
There are many alternative funding solutions that may be more suitable and easier for LGBT-owned businesses to obtain when it comes to growing their businesses. Here are a few options:
Merchant Cash Advance: Short-term financing transactions that are collected through a set percentage of your visa and mastercard sales  that are accepted at your place of business. Probably the most common term used in the industry. These do not have a set repayment schedule and are based on the volume of your businesses credit card processing sales. These are usually only guaranteed by the future sales of your business.
Minority Business Loans: There are many options avaialable in this category and its not just catered to the LGBT community. We have put togher a full list of Minority Business Loan options available. Many of these are grants and offer zero interest funding programs.
ACH Loan Products: These are a bit different than cash advances as they are considered loans and may have personal guarantees. They have a fixed repayment schedule that is paid either daily, weekly or monthly. These products are catered to industries that do not accept credit cards and need a fixed payment.
Accounts Receivables Financing: This is one of the oldest forms of funding in history. This is used mainly when a business is due some sort of capital for work complete and is billed on a net 30, 60 or 90. for example, ABC Trucking delivered goods for xyz logistics but only receives payment from xyz logistics in 60 days. ABC can then factor the money due from XYZ at discount to receive the capital due in 60 days today.
Invoice Factoring: The purchase of accounts receivable for immediate cash.
Equipment Financing: A type of loan or extension of credit to a business, with the purpose of helping the business acquire new equipment. Equipment Financing Extends only the capital needed to purchase a specific piece of equipment and is most commonly written as a lease.
Business Lines of Credit: A rotating loan that gives business owners access to a fixed amount of money, which they can use day-to-day according to their need for cash. Interest is only paid on the amount of the advance actually used.
Start-Up Funding/Loan: A type of loan that provides a new business/company with sufficient upfront capital to get off the ground.
Asset Based Loans: A business loan secured by collateral.
SBA LOANs 504 Loans: The US Small Business Administration 504 Loan or Certified Development Company program is designed to provide financing for the purchase of fixed assets, which usually means real estate, buildings and machinery, at below market rates.
Term Loans: A loan that is backed by a bank for an exact amount that has a specified repayment timetable and  interest rate that are adjusted accordingly. Terms mature between 1 and 10 years.
Excel Capital Management is a proud supporter of the LGBT community, and we are here to help with all of your business funding needs! For more information on Excel and the funding solutions we offer, APPLY NOW! For even faster service, contact one of our funding specialists TODAY at 877-880-8086.