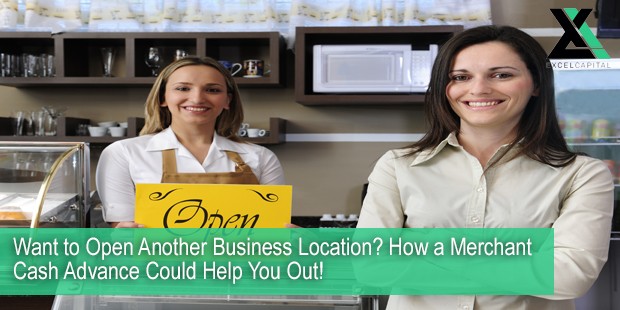 There are many reasons why business owners choose to open up a new location. Maybe business is doing fantastic, and you need to open up an additional space to meet the demand for your products or services. Maybe, financially you just aren't happy with your current location and need a location with cheaper rent. Or, maybe you feel your business has outgrown its current location and neighborhood, and you're just in the mood for a change. Any of these circumstances will require business owners to have a little working capital to make a move possible. Think of the cost of movers, the business being closed down for a few days during the move, the cost of building and materials for the new location, hiring additional staff, etc.. Before you know it, the cost of moving your business can cost well into the hundreds of thousands of dollars, all while still needing to operate and keep things running smoothly and seamlessly.
Many business owners choose to apply for some sort of working capital through a traditional lender such as a big bank. Unfortunately, when business owners are in need of working capital fast – especially those who need the opening of and moving to a new location to happen quickly – this is not the most feasible option. The application process for traditional financing is a hefty one, not to mention the mounds of paperwork you must provide, and an approval or decline process that can take weeks! For more on that, check out one of our recent blogs: 3 Reasons Why Business Loan Applications Get Declined By Traditional Lenders and Alternative Financing Solutions.
So, what is a business owner to do? Consider an alternative financing option to get the working capital you need. Consider a Merchant Cash Advance.
What is a Merchant Cash Advance and Why is it Unique?
A Merchant Cash Advance is a financing solution perfect for business owners that struggle with no collateral, less than perfect or no credit, and who find it difficult to qualify for traditional financing. Technically, a Merchant Cash Advance is not the same as a traditional business loan. Merchant Cash Advance lenders package their deals where they collect remittance using a small percentage of daily debit and credit card sales. Therefore, there is not fixed interest rate of payment. If a small to medium-sized business owner can demonstrate strong credit and debit sales, they can qualify for a Merchant Cash Advance.
Another key aspect that differentiates Merchant Cash Advances from traditional business loans is that the lender often partners with credit card processors. If this is the case, the credit card processing company agrees to hold back a specific percentage of the business' credit and debit sales from the merchant. This guarantees remittance from the business owner to the lender that originally provided the advance.
A Closer Look at a Merchant Cash Advance:
Unlike traditional business loans, funds from a Merchant Cash Advance disburse in as little as three to four business days.

Merchant Cash Advances do not require a minimum credit score to qualify. Therefore, any company struggling with a weak credit profile qualifies for the funds they need.

Traditional business loans typically require some form of collateral to secure a loan. The collateral requirement causes many business owners to face the fact they may lose precious assets in case they cannot make their payment. However, Merchant Cash Advances do not require any personal collateral to qualify. Business owners who have limited assets never need to worry about losing their collateral.

Since there is no fixed payment with Merchant Cash Advances, business owners who run into financial trouble or weakening sales do not carry the burden of a fixed remittance.

Since payments come from a small percentage of credit and debit sales, a business owner will actually see their payment decrease during lean times. There is no advantage quite like this with traditional business loans.

What's even better, alternative lenders that provide Merchant Cash Advances typically only require a one-page application, four months of recent bank statements, and four months of recent credit card processing statements in order to present a business owner with an offer. Funding can even occur in as little as three business days! For more on Merchant Cash Advances, and other alternative financing solutions to obtain the working capital your business needs to open a new location, click HERE. What if your business doesn't accept credit or debit cards? Not to worry, check out another popular financing solution similar to the Merchant Cash Advance: ACH Bank Loan.
Latest posts by Excel Capital (see all)