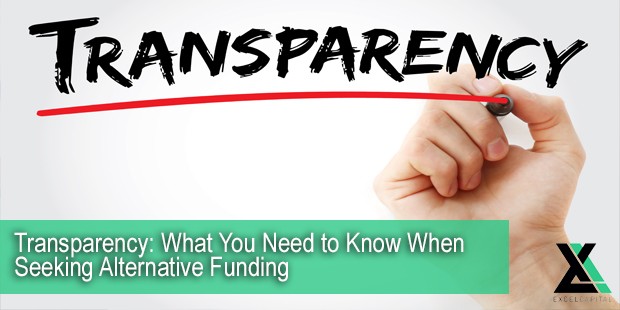 Today, there is a big spotlight on the issue of transparency within the working capital industry. Making the decision to obtain working capital is a big step for small business owners. Typically done during pivotal transition periods, it's important that you work with a lender you can trust. As alternative funding lenders, it is our responsibility to make sure that you are in the know.
The Merchant Cash Advance sector was developed because people saw a need in the market that was not being filled. Small business owners who sought funding from banks were being denied and had no alternatives to help them stay in business. The alternative funding industry flourished through the work of companies that keep the merchants' best interests in mind. Here's a checklist of things you should know while working with an alternative lender:

Know What's in the Fine Print
Whether you plan to use working capital for new equipment; inventory; payroll; or marketing expenses, it's crucial that the company you work with is upfront about all terms and fees. Transparency should be encouraged and you should know the full cost of borrowing.
Before You Stack, Know the Facts
The term stacking refers to a merchant having an existing unsecured loan or cash advance and taking an additional one. In other words, stacking happens when a merchant who is making payments on a loan taken out from Lender 1 and takes another loan from Lender 2 on top of it. The problem comes when a merchant continues to seek working capital 3 and 4 times after the original loan. While you may think that you are doing a good thing by securing more capital, you are actually compounding your financial burden and increasing the risk of your business' failure.
Know Your Limit
Will the money you borrow  pay off the balance of your existing loan? Will you be able to keep up on the payments, or will the fees and interest make the price of borrowing money too expensive? These are all questions you need to ask yourself. At the end of the day, alternative lending is a product that you are buying. Therefore, you should treat it like any other purchase you make in life. For any other big purchase like a car, TV or computer you would research the specs and compare prices between brands and retailers before making your choice. Your search for alternative funding should be no different. Make sure you plan how you are going to use your funds and that the agreement best fits you and your needs.
Ask Questions
Your lender is there to successfully guide you through the alternative lending process. They should be willing to answer any and all questions you have about the details of your agreement. If you need something clarified, don't be afraid to ask questions. Alternative financing solutions were created to ensure that businesses have the chance to thrive. Do your due diligence and ask questions.
Latest posts by Excel Capital (see all)