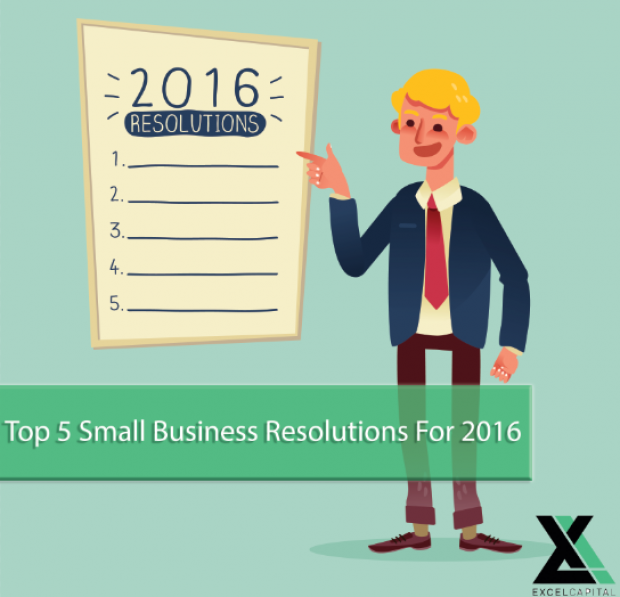 It's that time of year again. As December 31st approaches, we all make a list of our New Year's resolutions. The average Joe wants to lose weight, go on a vacation, and land that big promotion at work. We can all attest to how easy it is to make a promise to ourselves, start out strong, then all of a sudden our resolutions fall to the wayside, and we're back where we started. The issue is no different for small businesses, so here are some realistic short-term and long-term resolutions to help your company achieve great success in 2016.
Resolution 1: Create A Marketing Campaign (Short-Term) – Once business is flowing in and momentum is strong, it's very easy to sit back and get comfortable, however, this is not the time to slow down! Small businesses should constantly be working on their marketing campaigns to secure a constant flow of business and income. Try promoting your company's services through deal sites such as Groupon or Living Social, engage with potential clients through various social media sites, and send out newsletters and email blasts. Keep existing clientele engaged, identify prospects, and generate new business.
Resolution 2: Seasonal Hiring (Short-Term) – For many businesses, certain times of the year are busier than others. To make sure your clients are receiving the best service possible, hire additional seasonal employees if necessary. During the busy holiday season, a restaurant wouldn't assign twenty tables to one waiter.  An online store that receives 150 calls per day wouldn't have just one representative answering the phones. Quality customer service and an adequate staff make for happy clients, which in turn generates more business and revenue.
Resolution 3: Refresh and Update (Short-Term) – Let's face it! First impressions are everything, and sometimes we do judge books by their covers – especially when these books are metaphors for businesses. No matter how well the old ways work, when it's time to clean up and get with the times, you just have to do it! Whether you need to purchase new carpeting, implement credit card processing, repaint the walls, design new uniforms, or create a new web site, sometimes an upgrade can be the one thing to turn things around.
Resolution 4: New Product Development or Equipment Purchases (Long-Term) – Many small businesses find their niche quickly, but what do you do when competitors come in to play and customers go elsewhere? Re-evaluate and create! Does the new pizza joint make a great slice with more toppings than yours? Update your recipe! Does the other local hair salon offer massages along with their hair styling services? Hire a masseuse and buy a massage table! Times change, and we must constantly change, compete and grow with them to stay relevant.
Resolution 5: Expansion or New Location (Long-Term) – There comes a great period for small businesses when times are just better than ever, and lines of customers are around the block (literally or figuratively). Maybe it's time to expand or open up a new location. Word travels fast when business is hot. Try opening up a location in the next town over so everyone in your area can experience your product or service, create an online store, or add on that outside-seating or parking lot.  When the business is bursting at the seams, you're doing something right, so take advantage of it!
Latest posts by Excel Capital (see all)