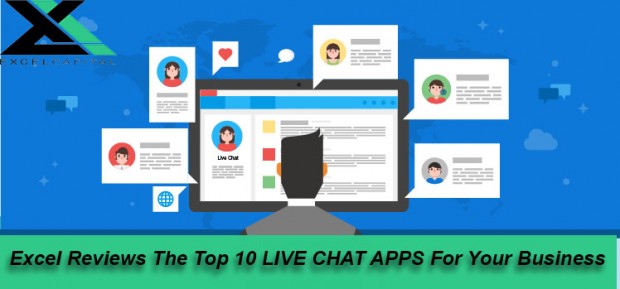 If you are a businessperson with a huge customer-base, you may have already experienced handling lot of complaints. As much as you want to satisfy all of your customers, you will always come across few who are less than fully satisfied or demand immediate attention. They want solutions to their problems, and they want them real quick. It's observed that 42% of consumers complaining in social media platforms expect a response within 60 minutes. Live chat apps are the best way to cater a direct response to your  customers and stay engaged with them to learn more about their requests about your product or service
To illustrate more on the customer service 'Expectations vs Reality' gap, a study titled "Closing the delivery gap" was done by Bain & Company during 2005 and it states that 80% of companies believe they are delivering superior customer service but only 8% of customers believe they are receiving excellent service.
So, how do you bridge this gap and respond quickly to customers? Answer: Live chat apps. Live chat apps could be one of those untapped potentials for your business. You can have quick real-time conversations with website visitors. It is the most effective channel of communication because it's 100 times faster than social media or email. Customer service response times for different digital service channels are:
Live Chat Apps – 2 minutes
Social media – 10 hours
Email – 17 hours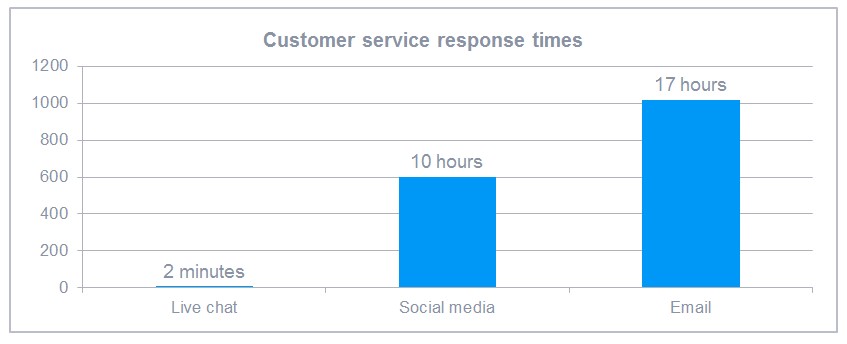 A survey from emarketer.com shows the impact of live chat apps on online buyers in the USA. It says that 63% were more likely to return to a website that offers live chat.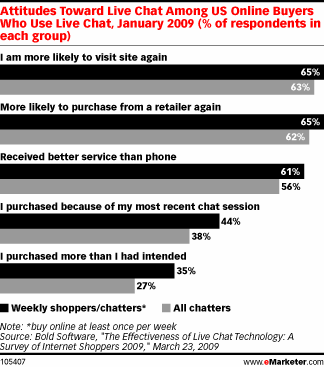 Now, let us take a look at the top 10 live chat app software for your business:
1. LivePerson – $18/ agent / month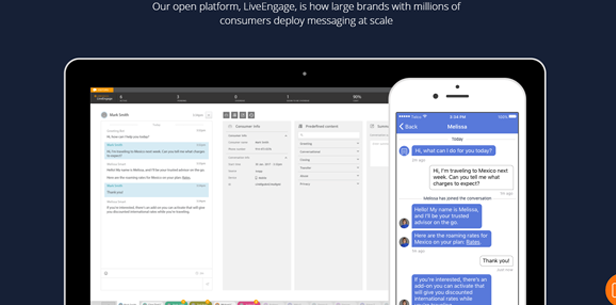 LivePerson, a New York-based business, is transforming the customer care industry, helping world's largest brands convert from analog voice to conversational era. LivePerson is the leading provider of mobile and online messaging business solutions. LiveEngage, company's cloud-based platform, helps consumers to chat with large brands just as they do with their family and friends. This level of engagement has scored 92% CSAT. It serves more than 18,000 businesses, including Adobe, Citibank, EE, IBM, Orbitz, PNC and The Home Depot.
2. Clickdesk – $14.99/ agent/ month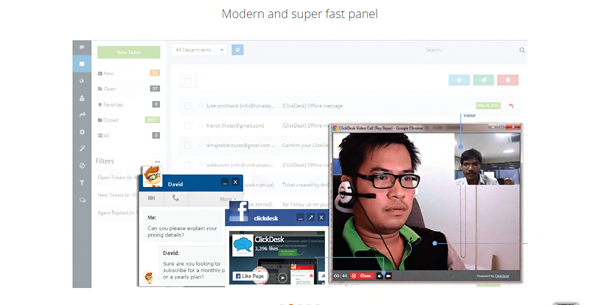 Clickdesk, a Silicon Valley-based company, offers a reliable combination of live chat, helpdesk, voice and video tools for your website. It's trusted over by 1,85,429+ businesses, offering live chat service to companies across the globe. It provides live chat, video chat, help desk along with social toolbars and mobile app which has offered a 99.95% uptime guarantee for their customers.
3. Agile Live Chat – Free (along with marketing and sales features)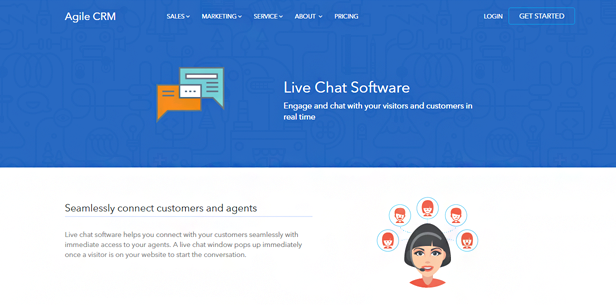 One best benefit of Agile live chat software is that it tracks leads, drives sales, increases conversions, and provides great customer service – all of this included in their free plan – help desk, groups, labels, canned responses, views, activities, reports, API etc. Along with customer support, it offers sales as well as marketing features like email tracking, appointment scheduling, email campaigns, web engagement, contact level analytics, landing page builder and a lot more.
4. Freshdesk – $18.44/ agent / month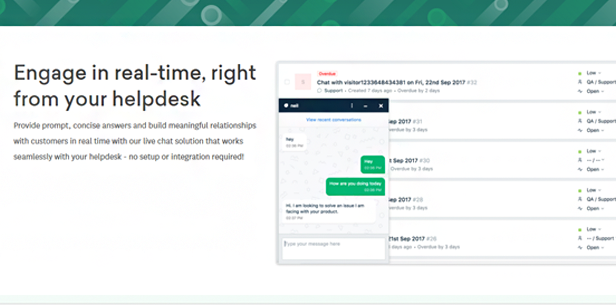 A product of Freshworks Inc supports over 100,000 businesses – HP, Schneider, Pearson, Harvard University, Decathlon, American Express, Henkel, DHL etc. It is a cloud-based customer support software that focuses on cross-functional team collaboration to deliver excellent customer support. It streamlines customer conversations across multiple channels, like email, phone, chat, and social media and puts them in one place. It includes advanced social network integration.
5. Zendesk – $14/ agent/ month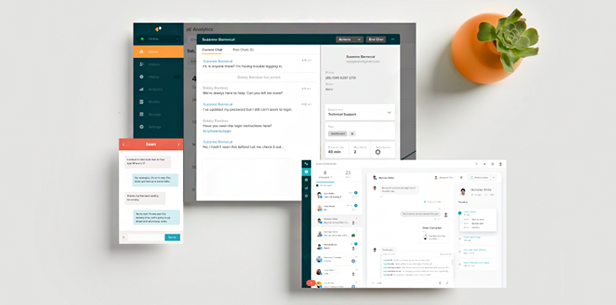 Zendesk, a CA-based company, believes in making better customer relationships. It serves over 2,00,000 businesses including, Uber, Box, L'Oreal, Shopify, Groupon, and more. It's built to make customer conversations more personal, meaningful and productive. It provides proactive engagement where you reach out and talk to customers even before they initiate the conversation. Your agents can engage with customers over websites, mobile apps, Facebook, Twitter, Messenger, LINE.
6. SnapEngage – $60/ 4 agents/ month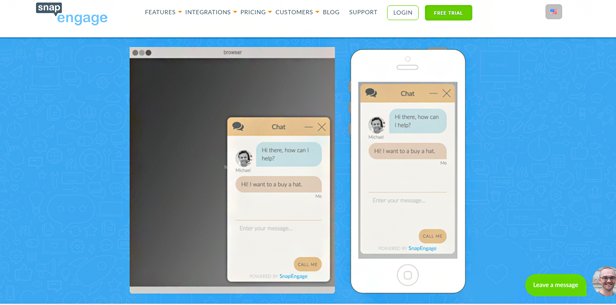 SnapEngage focuses on every customer touch point and offers engagement solutions for every stage of the customer lifecycle. It's a CO-based company serving over 21,000 companies including Weebly, ExactTarget, HootSuite, HubSpot etc. It's Design Studio provides user-friendly, flexible tools to design online & offline buttons, pre-chat and offline forms, logo and white label options. Its starter plan is at $60/ 4 agents/ month, which includes unlimited chat, concurrent chat, chat transfer, pre-chat forms, Full customization, click-to-chat buttons, visitor analytics, and more along with SMS-to-chat offer for an additional $25-$35/ month/line.
7. Velaro – $19.95/ user/ month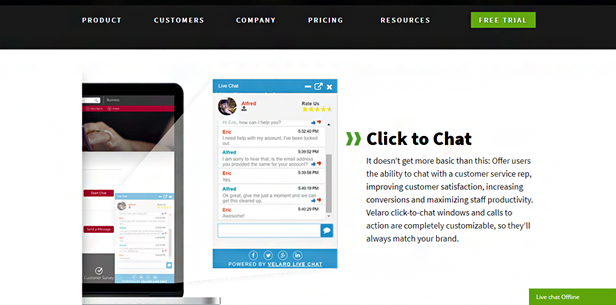 Velaro, a website live chat software, is based out of MD, USA. It serves industries like e-Commerce, education, healthcare, technology and 10,000+ companies, Comcast, Pfizer, LG, Lillian Vernon etc and helps them deliver stellar customer service across devices. Every customer of Valero is assigned a dedicated success manager, who can help them to succeed. It offers performance management suite which offers in-depth analytics and reporting tools designed to drive agent excellence and customer satisfaction.
8. Olark – Free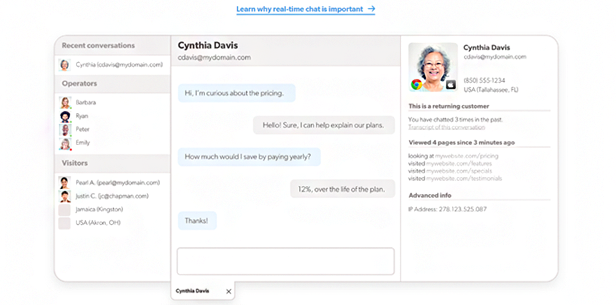 Olark, an MI-based company, is a live chat software used by over 12,000 businesses worldwide. It can be used for marketing conversions, sales funnel growth along with customer support. Olark allows simple customization where you can easily match exact colors, add your own text and even change the language of chat box across different pages of your website. It offers real-time reporting, automated messages,  unlimited conversations and searchable transcripts.  
9. Pure Chat – Free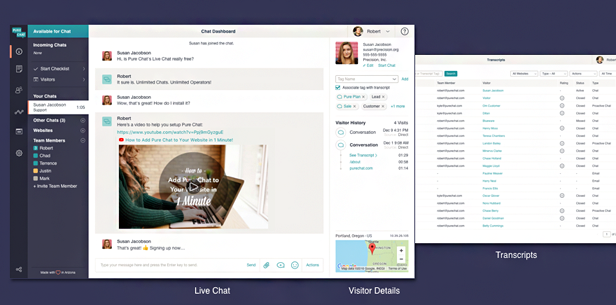 Pure Chat was launched during 2012, and since then 14,000 businesses have generated over three million chats on the platform. It's based out of Arizona and serves many small businesses. It offers unlimited live chats for unlimited users. Its free plan includes canned responses, unlimited chats, integration with three websites, powerful dashboards, visitor information and location details, email forms when operators are not available to chat, along with mobile apps for iOS and Android users. It provides easy customization of chat box and fields, security roles for admins/ operators/ users. It can be easily integrated with apps like Zapier, HubSpot, Google Analytics, Infusionsoft and more.
10. REVE Chat – $13.5/ agent / month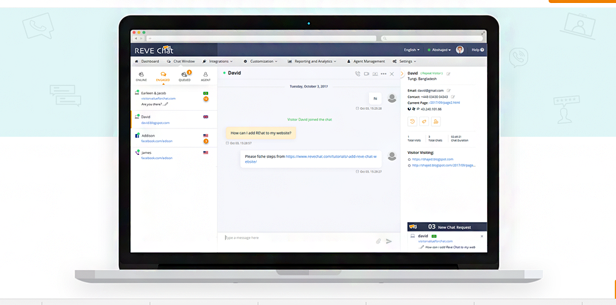 REVE chat is a cloud based multi-channel live chat platform that helps businesses to easily interact with their website visitors. It provides multiple features like live chat, video chat, voice chat, auto triggers, visitor analytics, canned responses, Facebook messaging, queuing, proactive chat and more to improve customer conversations and boost up sales.
Latest posts by Excel Capital (see all)