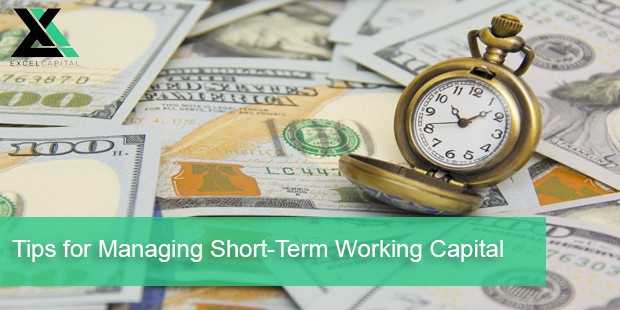 Once the short-term working capital a business needs to help with growth and expansion is obtained, it's fairly easy for many business owners to lose sight of their short-term goals and mismanage the new funds. Here are a few helpful tips for managing your business' short-term working capital and using it to the best of your ability.
Set Cash-Flow Management Goals:
The most important thing  business owners can do once they obtain short-term working capital is develop plans and goals for their cash-flow management. Your ultimate goal should be to see positive cash flow over negative cash flow. In simpler terms, this means that the money coming into your business should exceed the amount leaving via expenses, payroll, debts, etc.. In order to ensure positive cash flow, business owners should make use of software such as Quickbooks or work with their accountants and financial advisors to pull monthly cash flow statements. Once this is done, you can perform a monthly analysis to gauge how much money is coming in, going out, and where it's coming from and going to. These analysis will help you to rectify any problems you may notice, and you can use your newly acquired short-term working capital in those areas if necessary.
Prepare for the Worst:
It's a great practice for business owners to put some of their short-term working capital into areas of their business that may help when problems arise in the future. For example, maybe your business is located in an area of the country that is frequently hit by hurricanes. This is a great time to prepare a disaster plan and invest your short-term capital into things that could protect your business (ie: lightning protection, reinforced walls, temporary locations, etc.). Similarly, maybe your business slows down during certain times of the year, and this slow period is the worst you've seen yet. Now is the time to invest your capital into customer loyalty, marketing, and advertising campaigns to generate new revenue and sustain cash flow (check out our recent blogs, Summertime Sadness: How to Curb Slow Summer Business and Advice for Seasonal Business Owners  for more tips on this). When business is booming, life is great, but business owners should always have a backup plan for unforeseen circumstances.
Apply for Additional Capital if Necessary:
The beauty of acquiring short-term working capital is that typically, through alternative lenders, you can always apply for more as it runs out as long as you are in good standing with them. If your business is doing well, and you could use more funds to, let's say, open a new location, hire additional staff, train new employees, and/or implement new marketing and advertising campaigns, you should do so! Or, maybe business is just doing good, and you need to purchase more inventory or new equipment to continue to generate revenue and growth. That's okay too. This is all what working capital is for, and you should definitely develop a plan and take advantage. *Take a look at the many alternative working capital products Excel Capital Management offers!*
Latest posts by Excel Capital (see all)