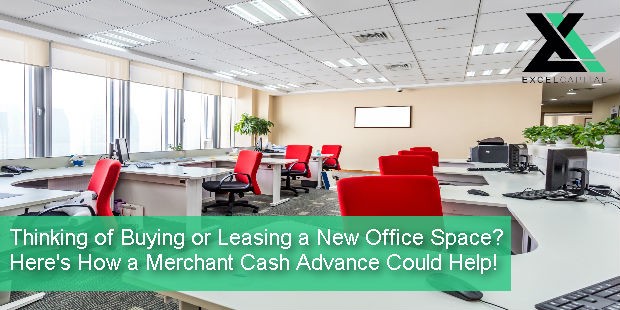 It's about that time for your business. Your company has outgrown it's current office, and you are looking to expand or move entirely to a new space. Whether you are deciding to rent or lease, coming up with the money needed for a security deposit, rent, down payment, or simply all of the extra moving expenses can be difficult. This holds especially when you must still keep your business running during the move. Sometimes, a little extra capital is needed for the expansion and move to occur at the right time, and as you know, office space goes quickly, you definitely want to grab it while you can! Here's how a Merchant Cash Advance could provide your business with the capital needed to make the move as fast and as seamless as possible so you can get right back on track and working!
What is a Merchant Cash Advance?
Merchant Cash Advances are considered to be a strict sale of future credit card sales at a discount. This means that they are not categorized as a loan and do not have an APR percentage attached to it. There is one set cost attached to the capital over the duration of the advance which is generally estimated to be repaid in 6 – 18 months. They are collected as a split percentage of credit card sales – meaning for every dollar spent in a merchant's place of business via credit card transactions, a predetermined percentage is withheld and used towards the outstanding advance. These are advantageous for the following reasons:
What are the Pros of a Merchant Cash Advance?
Their is no set repayment schedule so you pay at the pace of your business without strict penalties for late payments

No minimum or maximum funding amounts

Approvals in 24 – 48 hours

Funding in as little as 48 hours

No personal guarantee

No collateral needed

No credit requirements

Can be used for cash flow, inventory, equipment, expansion or anything else related to the business
What Are The Cons of a Merchant Cash Advance?
Have a higher cost of capital attached then a traditional loan and are more in line with a high yield credit card.

Short-term, typically 6- 1212 Months and can be extended to 1824 months for well-qualified candidates.

Sometimes hard to forecast payments since a percentage is tied to sales

May require a change in the existing credit card processing company to apply the split-delay your credit card deposits by 24 – 48 hours in some instances
What is Needed to Qualify?
At least 3 months of operating history

$35,000 or more of monthly gross credit card sales

Documented gross monthly sales of $7,500 or more

No open bankruptcies allowed

Startups are usually ineligible

For approval, all you need to do is complete an application and send it back with 3 months of bank and credit card statements
Interested in a Merchant Cash Advance to help your business relocate? APPLY NOW to see what you qualify for!
Latest posts by Excel Capital (see all)