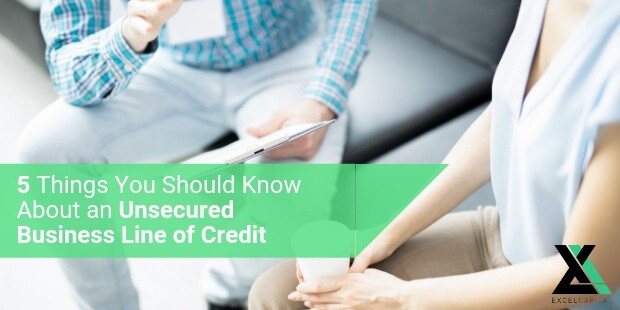 An unsecured business line of credit is a flexible form of small to medium business financing that is not backed by hard assets or collateral.
You can borrow from it whenever you're in need of cash whether its to pay for marketing, need supplies before a construction job where payment is made only when the job is complete, or to hire extra help to brace for a seasonal spike in business.
But before making the jump– it's important to understand how they work.
That's because, while unsecured business lines of credit is a valuable tool for many types of businesses, however,  no one financing product is perfect for all businesses.
So, it's a wise choice to fully understand how they work first. That way you can judge for yourself whether this or another financing vehicle is ideal for you based on your needs and wants.
5 Things You Should Know When Applying for an Unsecured Business Line of Credit
Here are 5 things you should know about an unsecured business line of credit:
1. They're different from the secured bank loans you're familiar with (unsecured vs. secured lines of credit)
A traditional business bank loan, the only major type of business loan available to business owners until around the turn of the century, is typically secured.
A secured loan is one where some form of collateral is used to guarantee the loan amount to the lender.
Think of this way: You ask an acquaintance to borrow $100 of which you promise to pay back within 30 days (your specified repayment date).
However, while this acquaintance knows a bit about you– maybe they're a coworker– they don't know you well enough to take you at your word alone.
They require something to make sure that, even if you weren't to pay back the loan, they wouldn't be out $100. So, you let them hold onto something of yours that is of roughly the same value.
This is loosely the same thing a lender does.
They will run a credit check, (some will be a soft check and some institutions might do a hard credit inquiry) study your business bank statements, and the like to mitigate their risk, but they're a business. So, they need a way of guaranteeing they'll get the money back that they're lending.
And that's where the secured part comes in.
A secured loan uses collateral to secure the remaining loan balance in the event that the borrower can't pay back the loan. This collateral can be cash savings, property, vehicles, or anything else relatively liquid. 
However, an unsecured loan doesn't require traditional collateral.
It may require a percentage of future invoice sales, a kind of "soft" collateral. But if your business closes down, you're not on the hook for the remaining balance. (Whereas you'd lose the collateral you put down in the case of a secured loan.)
2. Pay attention to fees
All financing products have fees. However, it's important to understand that because a line of credit (or simply LOC) works differently from other types of loans, some of the types of fees are a bit different as well.
One of the more unique fees subject to a business line of credit as opposed to a traditional loan is a transaction fee.
Most lenders will charge what's called a drawdown fee each time you draw from your line of credit. (At Excel, we do not have drawdown fees.)
In some cases, a maintenance fee may also be charged as well by the lender in exchange for their continued maintenance of your line of credit.
3. Is it a variable or fixed interest rate?
Many loans offer a fixed interest rate, some a choice between fixed or interest.
However, typically, a line of credit uses a variable interest rate which is a percentage of and fluctuates based on the prime lending rate.
Most unsecured business credit lines carry a fixed cost of capital that accrues monthly and carry a higher overall rate.
Secured lines of credit that are backed by property typically come with a variable interest rate due to the lower overall rate.
It's important to consider what your lender is charging you in terms of interest on their business lines of credit.
Use that information when considering who to work with and how much you'll pay in interest with a line of credit vs. something like a short-term business loan.
4. You can use a line of credit as many times as you'd like (provided you pay off the balance)
A business line of credit is unique among lending vehicles, so it's sometimes misunderstood.
As opposed to being a one-time sum of money that is repaid at a specified interest rate, a business line of credit can be borrowed from repeatedly.
Provided you pay off the balance of the line of credit, you can use it again, pay it off, and use it again.
This makes it entirely unique among business financing vehicles. And it's specifically useful for businesses that consistently need cash for investing in supplies or creating product long before obtaining a return on investment.
5. The Small Business Administration (SBA) offers several types of secured and unsecured business lines of credit
One of the SBA's most popular lending programs is the SBA CAPLines programs.
The SBA's CAPLine program is a collection of several business lines of credit, each with their own terms and conditions (typically offered through their flagship 7(a) loan program but can be offered as a standalone LOC).
The SBA CAPLines program offers these LOC programs:
SBA Seasonal CAPLine: For seasonal businesses, whether it's pay for supply or making additional hires before a busy season.
SBA Contract CAPLine: Used to pay for labor and material costs with assignable contracts.
SBA Builders CAPLine: Capital for contractors to build and/or renovate residential and commercial real estate.
SBA Working Capital CAPLine: Gives businesses the ability to use short-term assets (invoices, etc.) to get working capital.
Lastly, keep in mind that the SBA doesn't offer unsecured business lines of credit directly.
Instead, they match small business owners with lenders through their Lender Match program, helping them secure the funding they need.
Learn more about the SBA's CAPLine business line of credit program.
Utilize the flexibility of an unsecured business line of credit
An unsecured business line of credit isn't just the most flexible form of small to medium business financing.
With no collateral necessary there's little risk involved for you as the business owner as well.
But an unsecured business line of credit isn't for everyone.
Maybe you'd prefer a lower interest rate in exchange for collateral. Or maybe you need a larger single sum (which an unsecured business loan can fill the role of) of capital.
Whatever the case, now you know what an unsecured business LOC has to offer and how it can help grow your business.
And the more informed you are, the smarter choices you can make to keep growing it.