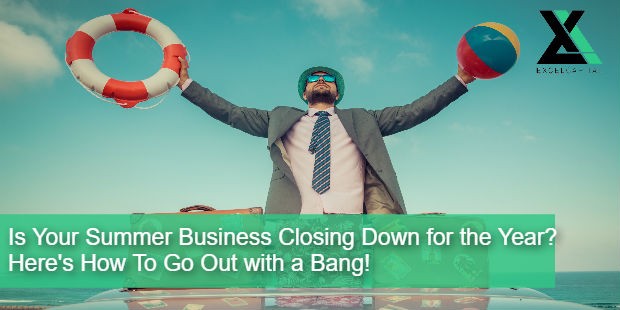 September is officially here, and it's time to pack in your seasonal business until next summer. Many seasonal summer business owners get a little anxious around this time  due to preparations for next year and wanting to generate enough revenue to cover inventory purchases, repairs, and other expenses during the off-season – not to mention, it's always bittersweet to close up shop and say goodbye to staff and customers, but it doesn't have to be a sad time. Now it the time to take advantage of the last few weeks or days and go out with a bang! Here are a few tips to end your season on great note!
Run a Special Sale or Promotion:
Aside from cashing in on sales, the end-of-season period is when many business owners will want to make sure they sell the rest of their inventory, generate the most revenue possible, and make a profit. A great way to attract customers during the last few weeks of the season is to run a special sale or promotion. Offer products at a special discount to increase sales, and promote the sale by using your social media accounts, email marketing campaigns, print ads and signage, and even your local newspaper.
Attract Last-Minute Shoppers by Staying Open a Little Longer:
Let's face it. A lot of us are so wrapped up in our busy lives that we don't get around to doing the things we want to – especially shopping. Take seasonal businesses into account, and many prospective customers may miss out on great products and services due to the end of the season. Let your customers know that your value their business and get them excited by staying open a little longer – maybe a few weeks, maybe a few days, or just a few hours. When customers know they have one last chance to take advantage of your last minute deals before the season's end, they usually will!
Stay Connected with Customers:
Just because your business is closing until the next summer season comes around doesn't mean you and your customers can't stay connected. Keep the momentum going by making sure all of your customers sign up for your newsletter and email marketing list. This way, you can send out news, upcoming products and services, and even simple, friendly emails. Similarly, be sure to constantly update your social media accounts and stay engaged by providing customer service and answering questions year round. Keeping customers engaged is key to another great summer season ahead!
Start Preparing for Next Season:
Lastly, on the business side of things, now is the time to start gearing up for the next busy season. Get together with your financial advisors, bookkeepers, and staff to build a plan for the next year. You should also be working on inventory purchases, supplies, new hires if necessary, marketing and advertising campaigns, and more. Just because the business is closed, doesn't mean the gears should stop turning!
Latest posts by Excel Capital (see all)