Stay Ahead of the Trends and Start Accepting Mobile Payments at Your Business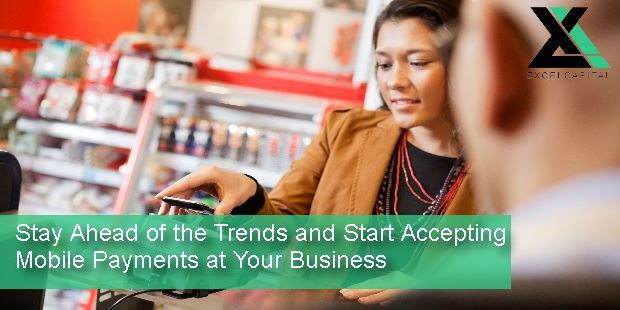 According to eMarketer.com, "Mobile Payments in the US Growing Fast, but Still Far from Mass Adoption," however, that doesn't mean your small business shouldn't stay ahead of the trends. With the recent creation of mobile wallets such as Samsung Pay, Apple Pay, and Android Pay, more and more consumers are using mobile payments to make their shopping lives easier. We're sure you've seen the technology used before, maybe at your local Starbucks or Walmart. This type of payment system usually requires you to link an app on your mobile phone to your bank account or credit or debit card, thus allowing you to simply scan your phone at the register to complete a payment. No need to whip out cash or cards.  While these payment options haven't caught on 100% just yet, implementing this type of technology in your small business could keep you ahead of the curve. Customers can enjoy one more payment option aside from the traditional. Offering mobile payments will also help to establish your company as one of authority and relevancy in your industry.
To get started with accepting mobile payments at your business, you will need to follow a few initial steps. To start, you will need a POS terminal that is compatible with mobile payment technology. You will also need to get signed-up with a digital wallet provider such as Apple Pay, Samsung Pay, or Google Wallet. Discuss your options with your current POS terminal provider, and they should be able to point you in the right direction. For more information on accepting mobile payments, check out this great article: The Ultimate Guide to Accepting Mobile Payments.
Latest posts by Excel Capital (see all)