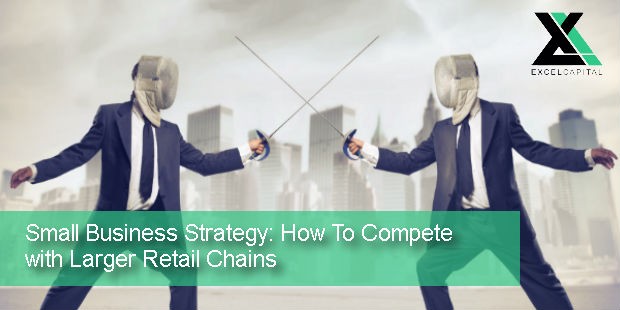 According to the Small Business Administration, "28 million small businesses in America account for 54% of all U.S. sales." This means small business owners like you make up over half of all businesses in the United States. In addition, it is noted that, "Small businesses provide 55% of all jobs and 66% of all net new jobs since the 1970s." So, how do you compete with the other half? How do you compete with larger brands and retail chains to keep your business alive and prospering? How do you keep new employees interested in working for your company and customers coming back? Here are a few tips!
Treat Your Customers Like Family
Probably the most important way you can set your small business apart from the rest, as well as prove why you're just a good as the larger chain retailers is by providing extra special attention and superb customer service to your customers. Becoming familiar with your regular customers and offering a friendly and engaging attitude to new customers adds a special personal touch to each sale. Many people will opt to come to your smaller retail store rather than a larger chain based on this alone. Just as you would like your customers to value you products and services, they will appreciate it when your value their business and time spent at your store and will more than likely recommend your company to their friends, acquaintances, and family,
Keep Your Staff Upbeat and Motivated
Having a friendly, upbeat, and motivated staff goes hand-in-hand with providing excellent customer service. When you and your staff are happy, motivated, and invested in the business it will shine through in their overall work performance and interaction with other staff members and customers. Keep your employees motivated and happy by providing constructive criticism, positive feedback, and special bonuses and incentives for a job well done. One-on-one and group meetings to discuss questions and concerns, team building activities, and after-work get-togethers are also great ways of showing your staff your appreciation.
Offer Unique Pricing and Specials
What's great about running a small business rather than a larger chain store is the ability to pretty much set your own pricing. Customers will enjoy knowing that pricing can be negotiated in some circumstances (maybe you can price match against a larger retail chain), special discounts and coupons will be offered, and they are getting the best bang for their buck. Running your own small business allows you a certain flexibility that larger chains just won't have due to having to consult many company officers. Use your ownership to your advantage!
Stay Connected
Lastly, one of the most important things you can do is stay engaged and connected with your customers. Sure, many larger brands send out email blasts and coupons, but being that you run a smaller business, you can try taking the time to add a more personal touch, or at least stay engaged more regularly on average. Take advantage of the many social media networks out there such as Facebook and Twitter to answer customers' questions, and use an email marketing service such as MailChimp to send out monthly newsletters, coupons, and other important information. Letting your customers know that you are truly thinking about them goes a long way!
Latest posts by Excel Capital (see all)