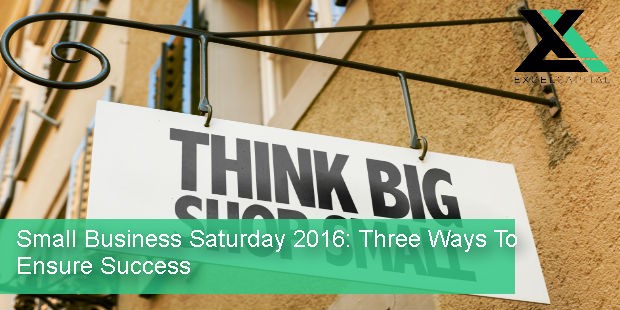 It's that time of year again! Small Business Saturday is back, and the November 26th date is quickly approaching. Small Business Saturday was launched by American Express back in 2010 as an initiative to encourage customers to shop small and support local businesses. Each year, Small Business Saturday conveniently positions itself in between the big guys, Black Friday and Cyber Monday, as a way for Main Street to cash in on the holiday rush. Now that you've signed up, let's discuss how you can make sure your business is a success for the big day!

Promote, Promote, Promote
After you've signed up and provided the details of your business, you have the ability to download the free Small Business Saturday marketing materials. Use these personalized digital banners and logos for your social media platforms and web site as a way to promote your products, services, and special sales for the holiday season. Be sure to make use of the #SmallBusinessSaturday hashtag to ensure that your posts pop up when customers are searching for businesses taking part in the event. It is also a great idea to send out an email blast or newsletter remind your existing customers of the big day as well!  
Make Use of Your Storefront
Aside from the digital marketing materials you will receive, you can also make use of your storefront as a means of promotion. Print out Small Business Saturday signs and posters to hang in your store window or even try flyers to spread the word around town.
Extend Your Business Hours
Small Business Saturday is a special event, and you and your staff should think of it as one! Make the most of the day by extending your business hours. Doing so will allow customers more time to shop and take advantage of any special sales and promotions you have going on. Not to mention, your business will enjoy the presence of more customers and some extra revenue! If your regular Saturday hours are 10am – 6pm, maybe you can stay open one or two hours later, or even consider opening an hour or two earlier.
As you can see, Small Business Saturday is a great way to take advantage of the holidays, attract existing and new customers, and increase your sales for additional revenue just in time for the end 2016 and the New Year! Get creative, have some fun, and good luck!
Latest posts by Excel Capital (see all)