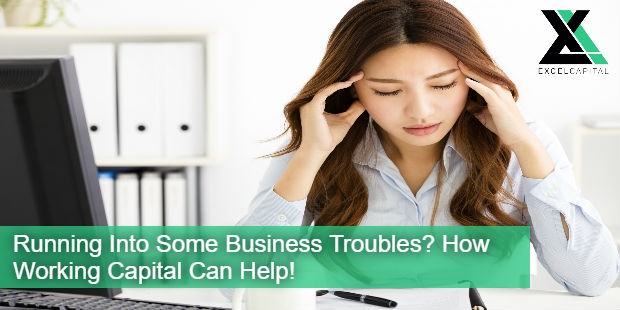 Running your own business is no easy feat! You must constantly be on top of your business' game plan, products, services, employees, expenses, and so much more. Every now and then, you will run into some tough times. These tough times are usually related to your business' financial state. Aside from issues that can be under your control, many cannot such as natural disasters, unforeseen circumstances, local competitors, etc.. This is when the need for working capital comes into play.
The most common hurdle most business owners run into is a slow growth period. You've put your business plans and budgets together, however, you aren't seeing any revenue. To make matters worse, when the economy isn't the greatest, generating a profit could take weeks to months! Another headache that is bound to arise at one point or another is some form of unforeseen circumstance – usually multiple. Maybe your business is in an area of the country that is heavily affected by hurricanes, and the damage is overwhelming. Maybe one of your star employees becomes ill and must take a few weeks off. Unforeseen circumstances and financial troubles are tough, but with preparation and some additional working capital they can be remedied!
Lastly, as a business owner you understand that great minds thinks alike. Competitors are always right around the corner, so you must make sure your products and services are up to bar and the best around! What do you do when a new similar business moves into town? How do you keep your existing and prospective customers interested? This is when great marketing and advertising campaigns are crucial, however they can be costly. Not to worry. Working capital can help you out with that!
Based on all that we've discussed, let's take a look at a few popular working capital  funding solutions your business can take advantage of to obtain the working capital you need:
Merchant Cash Advance
:
Short-term financing transactions that are collected through a set percentage of your Visa and MasterCard sales that are accepted at your place of business. Probably the most common term used in the industry. These do not have a set repayment schedule and are based on the volume of your businesses credit card processing sales. These are usually only guaranteed by the future sales of your business.
ACH Loan
:
These are a bit different than cash advances as they are considered loans and may have personal guarantees. They have a fixed repayment schedule that is paid either daily, weekly or monthly. These products are catered to industries that do not accept credit cards and need a fixed payment.
Term Loans
:
A loan that is backed by a bank for an exact amount that has a specified repayment timetable and
 i
nterest rate that are adjusted accordingly. Terms mature between 1 and 10 years.
Business Lines of Credit
:
A rotating loan that gives business owners access to a fixed amount of money, which they can use day-to-day according to their need for cash. Interest is only paid on the amount of the advance actually used.
Equipment Financing
:
Any type of loan or extension of credit to a business, with the purpose of helping the business acquire new equipment. Equipment financing can take the form of a lease, SBA loan, and or not restricted to Merchant Cash Advances and ACH Loans.
Any of these financing solutions could be the answer to your business problems! As a business owner, you are free to use the working capital you acquire for anything that pertains to your business! Whether you need some additional capital to cover large business expenses or to purchase inventory during slow growth periods, make repairs and adjustments after a bad natural disaster, hire temporary employees during seasonal periods or while top employees are on leave, or to spruce up your marketing and advertising campaigns – obtaining working capital to do so is easier than ever! For more on these working capital funding solutions and more, click here!
Latest posts by Excel Capital (see all)