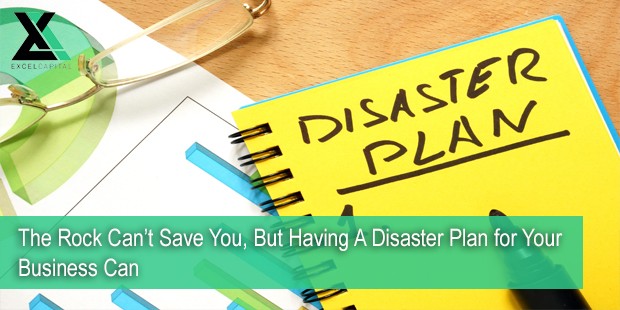 If you haven't created a disaster plan you are certainly not alone. According to the U.S. Small Business Administration, 25% of businesses do not reopen after experiencing a  large-scale disaster, and a 2015 study shows that 75% of small businesses in the U.S. do not have a disaster plan. While it may all seem to work out in the end in movies, unfortunately, this is real life and you won't have Dwayne "The Rock" Johnson there to save you San Andreas style. Whether it's natural or man-made, disasters can happen at any time. Although the type of disaster may vary depending on your business' location, most people use the fact that these events are rare to justify the lack of planning.  As a business owner, it's imperative that you prepare yourself and your employees. Here are some tips to help you get started:
Set an Evacuation Route and Meeting Location
Depending on the emergency, the amount of time you have to leave the premises may only be minutes. Plan at least two places for your team to assemble; one nearby and one a further in case the first location isn't a viable option. Make sure that your exits are easily accessible and clear of obstructions.
Train Your Employees
While there is a lot that can be learned online, organizations like The Red Cross provide training programs to prepare your office. Performing fire drills and informing your staff about proper fire safety are also important tools.
Stock Up on Supplies and Prep Your Space
Prep your office by having an emergency medical kit and an emergency stash of food and water in case you and your staff is unexpectedly confined to the office. Flashlights, batteries, battery-run or hand crank radios, and lanterns are indispensable resources. Anchoring bookcases and other heavy furniture to the walls decreases the likelihood of damage and injury to employees. Installing fire sprinklers, emergency lights, and having fire extinguishers handy not only help save property, they save lives.
Review Your Insurance Coverage
It's not enough to just have insurance: Knowing what your insurance covers is crucial. Business owners are taken by surprise to find that many plans don't cover floods or earthquakes. To avoid unnecessary heartbreaks and headaches, read through your insurance policy. Talk to your insurance provider about additional policies or riders to fill coverage gaps.
There are a multitude of websites with information that can get you ready for the unimaginable. For more information, visit: www.ready.gov,  www.redcross.org and www.sba.gov. Don't forget, Excel Capital Management is always here with working capital solutions to help you develop your disaster plan! APPLY NOW!
Latest posts by Excel Capital (see all)