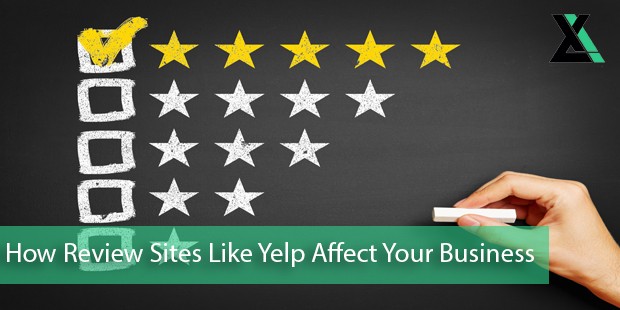 Let's face it, aside from all of your marketing and advertising practices, word-of-mouth and personal opinions are the oldest and most effective form of advertising when it comes to business.  You work day-in and day-out to provide the best service you can for your customers, and in return hope they spread the word of just how great your company is. Thanks to the creation of business review sites like Yelp, the ability for customers to spread the word about your business is easier than ever, and the reach could go far beyond prospective customers in your local area (you've got to love the internet), but in what ways do these review sites really affect your business?  What do you do when a not-so-satisfied customer leaves a not-so-great review? How can you take advantage of these review sites? Let's take closer look.
The Impact of Business Review Sites
When it comes to purchasing a good or service, majority of people rely on personal opinions and reviews from existing clients. These reviews have all the power to influence a potential client's purchasing decision positively, negatively, or even leave them in limbo. In a sense, the business is at the mercy of these existing customers' reviews. On the flip side, many businesses who claim their business on these review sites have the ability to respond to customer reviews positively or in defense. For instance, if a customer leaves a great review, it's a good practice for business owners to respond with a kind thank you or some form of appreciation. Not only does this show existing customers that you take their feedback seriously, it also creates a friendly, caring relationship. On the other hand, if a customer leaves a negative review, business owners have the ability to respond to rectify the situation and hopefully resolve whatever issue that customer had. Lastly, if a customer leaves a mean, nasty review, business owners have the ability to defend themselves, and in some cases if the review is not legitimate and the business owner has proof, legal action may be taken. Overall, customer reviews strongly affect your business and the potential to attain more customers.
How To Use Business Review Sites To Your Business' Advantage
As a business owner, it is a great idea to claim your business on review sites like Yelp. Not only does this give you the opportunity to engage with existing and prospective customers as mentioned above, it is also a great way to increase your company's online visibility – business review sites rank very well on search engines such as Google. Along with online visibility, claiming your business will create a sense of officialism and provide existing and prospective customers will the business' correct telephone number, web site, address, hours of operation, photos of the business, and more. In addition, many review sites have additional resources to take advantage of such as metrics where you can analyze and gain insight on how many people are searching for your business, when to run special promotions, and more. To get you started, Brian Casel wrote a great article for http://www.socialmediaexaminer.com titled 7 Ways to Use Yelp to Improve Local Business.
David J. Greer, an entrepreneur with over 35 years of experience and author of Wind In Your Sails said it best. "A customer talking about their experience with you is worth ten times that which you write or say about yourself." This couldn't hold more true. Business owners are expected to do a little shameless self-promotion here and there, but they should definitely take advantage of the many ways their customers can help. Allowing customers to leave reviews and engaging with them can open up many doors to gain more business and increase your revenue, while leaving a great reputation behind. The next time you decide to check out a new restaurant or buy a new product, think about what ultimately influenced your decision aside from simply being interested in something new or something you need. Majority of the time, a review you read or heard will play a major part in your decision. Keep this in mind when it comes to promoting your business. Take advantage of the tools available to you!  For more review sites you can use for your business, check out Nicole Fallon Taylor's article featured in Business News Daily, Tired of Yelp? 7 Alternate Business Review Websites.
Latest posts by Excel Capital (see all)