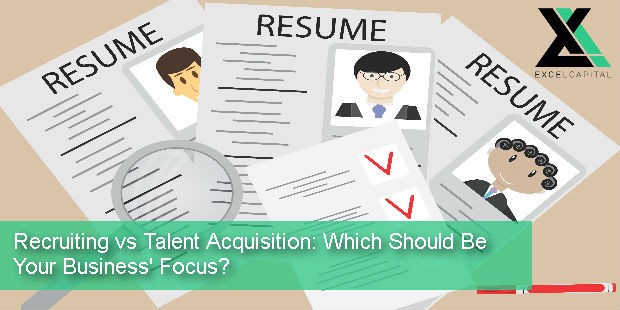 When it comes to hiring staff, many small business owners think about the short-term. There is a vacant position, and I need to find someone to fill it. As a result, they spend their time on recruitment. This is a good strategy for filling an immediate need, but what about the long-term? That is where talent acquisition comes in.
There is a common misconception that recruiting and talent acquisition are the same thing. Whereas recruitment is about hiring to fill an immediate need, talent acquisition is about hiring for any future needs that may arise in your company. It's about finding candidates that have the potential to become future executives, take on team leadership roles, and/or have special skillsets. Take inventory of what positions may be harder to fill and what job positions you may need to create and prepare for, especially if growth and expansion are part of your business plan.
Shifting your focus to talent acquisition, while it may involve more time and planning, does have some benefits. One of them is a decrease in employee turnover. As we discussed previously in Working Capital Solutions To Cover Hiring Costs, "productivity tends to drop during training because your existing staff has to show the new person the ropes, and it also takes time for the new hire to get up to speed." Changing your approach in hiring can improve teamwork as well as strengthen your business.
If you want people at the top of their field to join your team, your company has to put as many resources into attracting and retaining employees as it does on finding and keeping customers. Network and create relationships with people you who are at the top of their field as well as those you see potential in. In addition to looking for the best candidates, you should also put your best foot forward. Use social media and marketing to let potential employees know why they should consider working for you. According to Kathleen Quinn Votaw, author of Solving the People Puzzle: How High-Growth Companies Attract & Retain Top Talents," use your ABCs. Business owners should Always Be Cultivating (ABC) by thinking of recruitment as a sales process.
Latest posts by Excel Capital (see all)